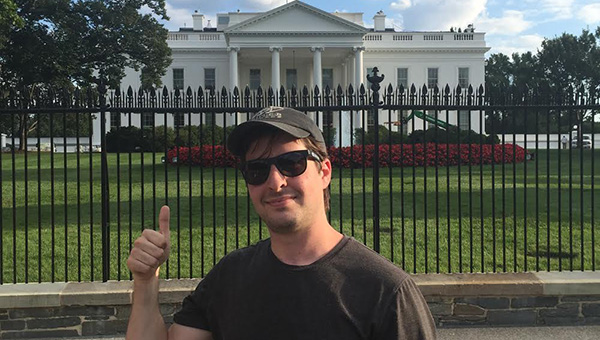 Featuring such artists as Fury, Supertouch, and Clear on its roster, Triple-B Records is one of the best labels in hardcore today. Founded over a decade ago by Sam Yarmuth, the label is also behind the popular America's Hardcore Fest, which has not only included blistering live sets from Triple-B Records acts, but also scene heroes like Give, Pure Disgust, and Bane. Yarmuth is the perfect example of someone who has spent all of his energy and resources to help build on hardcore's rich legacy.
I recently chatted with Yarmuth about Triple-B Records' history, which hardcore bands he thinks we should all look out for this year, and his love for a certain boy band.
When and how did you get into hardcore, and why do you think it resonated with you so deeply?
I first got into hardcore when I was in the 7th grade. I switched schools and became friends with the "punkier" kids that were into bands like Rancid, Operation Ivy, Dropkick Murphys, etc. So, I was fucking with those types of bands and my sister, who was in the 10th grade at the time, started dating this dude that was into hardcore. He showed me bands like Bane, Converge, Poison the Well, etc. This was the tail end of 2001, beginning of 2002. I didn't go to my first real smaller venue hardcore show 'til the end of 2002. That show was The Dillinger Escape Plan, Mastodon, and Norma Jean. I had never even really heard any of the bands before, but my sister's boyfriend was just like, "Hey, there's a show, come with me, it'll be cool," so I went. It was just a surreal experience. People were jumping off railings losing their minds. I had never been exposed to something that chaotic and random.
I was just a dorky suburban Jewish kid in Orlando, Florida. I went to a private Catholic school. I had never been exposed to anything like it before. After that show, I was hooked. Also, I'm not one of those "too cool for my past" kind of guys. Not everyone was born in a varsity jacket with a copy of Break Down the Walls. I still fuck heavily with bands like Converge, Poison the Well, Until the End, Shai Hulud, etc. I'd pay a lot of money to see Poison the Well play The Opposite of December all the way through.
SEE ALSO: 2015 interview with Chris Hornbrook (Poison the Well, Senses Fail).
Were your parents worried about your listening habits?
They definitely didn't understand it. All the kids I grew up with and family friends' kids were like normal ass kids. They wore Lacoste shirts and loved Eminem. I fucked with Backstreet Boys (still do), but most normal civilian shit that was popular in the early 2000s didn't do anything for me. Even throughout high school, they just didn't fully understand my obsession with hardcore and going to shows. I wasn't allowed to go to shows on weeknights. My way around that was saying I had yearbook deadlines and had to stay at school 'til super late at night. Those deadlines happened a lot, just not nearly as often as I'd use the excuse [laughs].
I think my parents thought that hardcore was a fad that I'd eventually grow out of and then I'd become a frat boy beer chugger. I definitely think they thought that would happen when I went to college. I definitely didn't, though [laughs]. My parents are great, though. They're super-supportive of my label and are really psyched with how much it's grown since 2006. To this day, if a kid that looks like they're into hardcore walks into my family's restaurant, my dad will always go up and ask them if they know about Triple-B. So, if you're ever in Winter Park, Florida and see a big 6'4" dude rocking a Triple-B or Triple-B band shirt, you know who it is.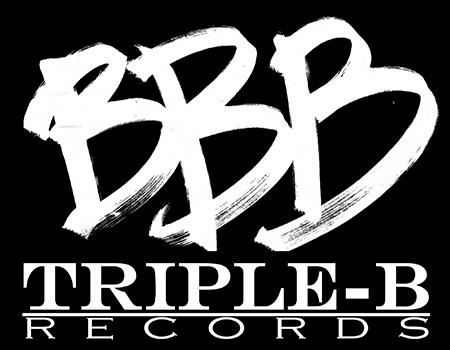 Can you give us a quick history lesson on Triple-B and how you got it started?
The label started in the fall of 2005 with my friend, Colin. We were vinyl nerds and wanted to just see if we could put out a record. The first release came out in February 2006. It was a split with Earthquake and Gak Attack (both from Syracuse). I used to trade Mental and Rampage merch with the singer of Earthquake all the time. I told him that we were interested in doing records and he said that we should do the split. Pretty much since then it's just been slowly banging releases out one by one.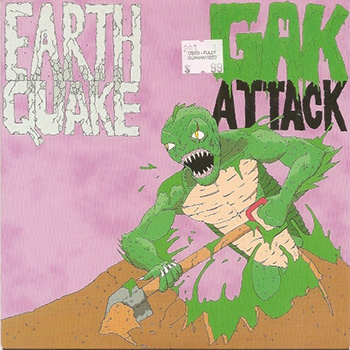 If someone is reading this that wants to start a label, how much money do you think they realistically need to get it going?
To start a label, I would say you need a couple grand, at least. Running a label is cool, but it is super annoying and stressful. You won't make money. You never do. Triple-B can sustain itself comfortably and occasionally buy me chicken wings, but I'm definitely not showering in $100 bills.
SEE ALSO: The New Wave of British Hardcore
Were there any specific labels that you looked up to for inspiration?
Bridge 9, Youngblood, Malfunction, Grave Mistake, and Revelation, obviously, were the big inspirations for starting the label, simply because those were the big labels in the mid-2000s. Everything that those labels touched was gold. I'm glad almost all of them are still around putting out sick records. It's crazy how things work out. Alex from Grave Mistake, over the last few years, has become a very good friend. We constantly talk record stuff on the phone, and even did an Iron Boots discography LP together. That was great. If you told me in 2005 that one day I'd release an Iron Boots discography with Grave Mistake, I would've called you crazy.
With vinyl sales being so much stronger right now than they have been in years, what percentage would you say you sell of wax, CDs, and digital downloads?
Literally don't know any percentages because I'm still one dude in an apartment. I don't even make CDs. I've only done three CDs, ever. They're a waste. Digital is okay. I have probably 30 releases available digitally, and my checks are almost the same amount each month. It's nice extra cash to have for packing supplies and shit like that. Vinyl is what keeps this boat afloat. That's how it's always been since the label first started, and that's how it'll continue to go. Hardcore and punk kids always want vinyl, even when the mainstream public will eventually get bored of it in a few years.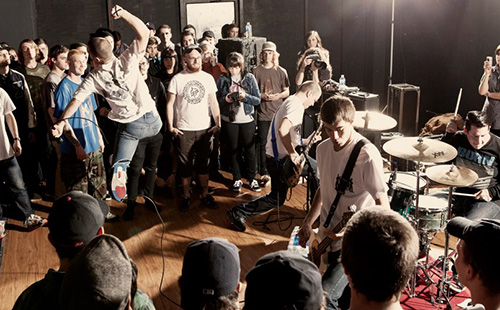 What has been your best-selling release to date? Why do you think it sold so well?
Bane's Give Blood 10-year reissue LP was probably the best-selling LP to date. But that's a given. Have you seen that thing? Gatefold jacket, embossing, 12" by 12" booklet, new artwork by myself and Bedard. That thing was amazing. The new Freedom LP is definitely in second. Those things have been flying off the shelves. I had to order a second pressing while packing the pre-orders... that's insanity. The Fury 7" [Kingdom Come] is probably the best-selling 7" in the label's history. The third pressing is about to come in for those suckers. Why those two sold so well is simple: the music is fucking badass and is a perfect example of how hardcore should be played.
I've noticed that some of your releases have sold out and are currently out of print. How do you feel about people who buy up limited edition vinyl releases only to go on eBay and try and sell them for a huge markup?
I used to get really annoyed. Now I don't care because I don't see it happening nearly as much these days. Maybe it's just me being blind to it, but I haven't seen it in a long time, which is great. Maybe it has to do with making the more limited colors out of 300 instead of 100? But, yeah, I don't really care anymore. If kids wanna pay that much for something, who am I to stop them?
SEE ALSO: 12 Newer Hardcore Bands to Check Out in 2016
Which Triple-B releases do you think are underrated and deserve more attention from the public?
Unified Right's 7". Perfect hardcore record front to back. Lyrically, musically, and visually it's an incredible 7". The record has gotten a good response, but they should be much bigger than they are currently.

Shrapnel's Frenzied State 7". This one is another perfect hardcore record, front to back. I think kids in the US automatically write off international bands, which is a shame because the Shrapnel 7" rips harder than almost every other release from 2015. They just broke up a few weeks ago.

Thought Crusade's It's Our War 7". This is the 14th Triple-B release. It sounds like Step Forward and is a great record.

The First Annual's Carolina 7". This was my friend Greg's rock band that I did a 7" for. I still have like 300 copies [laughs]. They were a great band and the 7" is really catchy. I encourage everyone to check it out.

Demolition's World Gone Mad 7". This one is another example of US kids' ignorance to badass international tunes. This band should be headlining fests. This 7" is straight-up flawless. It's one of my all-time favorite Triple-B releases.
Have you ever agreed to work with a band that sent you unsolicited music? If not, how do you usually find bands to collaborate with?
Demolition was a band that I worked with that was unsolicited. My good friend, Zach, sent me the 7" recordings and told me that I had to sign this band. He was right. The record is incredible. That was one of the first times in a few years that I had "signed" a band that I wasn't already friends with. At this point, any band I want to work with has members that have already been on the label or someone that I've known for a while. GAG are doing a record with Triple-B this year, and I didn't meet those dudes 'til a couple months ago. So, I guess they were one of the few bands that were a band full of strangers [laughs]. I dunno how it works, really. With GAG, I just heard some of their jams, saw some vids, and thought it was badass. It was funny, I hit up Joey from GAG with an email asking if they wanted to play America's Hardcore Fest, be on the America's Hardcore Volume 4 compilation, and if they wanted to do a record on Triple-B. They said yes to all, so that's badass! Those dudes rule.
Are you able to make a living from the label yet? I know running it is a full-time job, either way.
I mean, I could but I don't. The label makes enough to where I could take a very small salary, but I don't. The label pays my cell phone bill and the internet for my apartment. That's about it. As I stated earlier, sometimes I buy myself chicken wings if I've had a long day of packing orders. I'm fortunate to have a very cheap and easy living arrangement that allows me to scrape by with selling shit on eBay and slowly draining my savings. I was going to try and find a full-time job this year, but Triple-B has way too much stuff on its plate, so I'm gonna rock through all that and keep my "sweatpants all day" lifestyle going [laughs].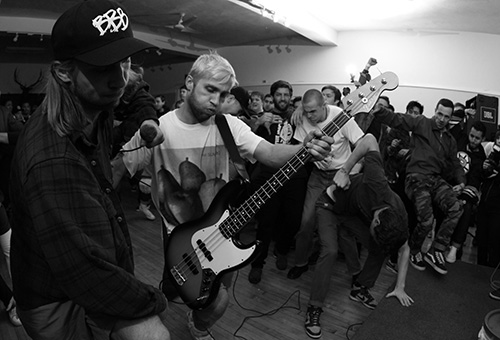 Who are some up-and-coming bands I should keep an eye out for?
I'm going to list a bunch because there are a ton of new sick bands that are a perfect example of what hardcore is about. I also know I'm probably missing a few that should be on this list. There were a lot of great new bands and demos from 2015, so I can barely keep track of them all.
Dame, from Boston, is my favorite demo from 2015 and the only band that I wanted to play America's Hardcore Fest but couldn't. They're a perfect band. I'd love to put out a record for them one day.

Firewalker, from Boston, is my second favorite demo from 2015. It's a perfect hardcore demo all the way through.

Free, from Boston/NY/DC, is comprised of some of my favorite people in the world. I've been hearing about this demo happening for over four years and it was great to finally see it come out.

Civic Duty, from DC/CA, kicked out a badass demo while living on opposite coasts. They played their first gig at America's Hardcore Fest and are dropping a 7" on Triple-B this year.

Prison Hit, from Massachusetts, are a Motörhead-influenced metal band featuring some very good friends of mine. They're dropping a 7" single on the new Triple-B subsidiary label, Frigid Misery.

Direct Impact, from Massachusetts, are young bucks who dropped a badass tape on Moshers Delight. They'll probably be on Triple-B at some point.

Take Control, from Massachusetts, features members of Direct Impact. The best comparison I could make would be Confront and Brotherhood played by 20-year-olds. Their new 7" on Triple-B is at the plant and it's awesome.

Depths of Reality hail from Massachusetts and I can't believe this band. They got a new 7" coming out on Xpressions.

Burst of Rage is from DC and features Jack Daut on vocals. They're an example of a perfect young hardcore band, and win the award for coolest looking live band for 2015. Chris X looks like Todd Youth when he was in Warzone, circa 1987.

Lock, from California, features my buddy Sam Bosson on vocals. They flew out to play America's Hardcore Fest and it was great. Their demo is one of my favorites from this year. They're dropping a 7" on Iron Lung soon, and then doing a record on Triple-B at some point.

Stuck Pigs, from DC, dropped their demo about a month ago and it's a fuckin' ripper. DCHC forever.

Labeled. I'll plug my own band for a second. Why not? We're for fans of NYHC.

Stand Off, from DC, have a new 7" dropping on Youngblood this year. It'll probably be one of, if not the, best 7"s of the year.

Response, from California, features two staff members of Revelation Records. They just dropped their debut 7" on Xpressions Records, and have another new 7" coming out in the next few months on Triple-B.

Society Abuse, from Florida, is not a new band, but they've flown under the radar for too long. They're playing United Blood this year, so hopefully they'll get the recognition they deserve.
What's on the release slate for the rest of 2016?
There's more stuff that I can't talk about right now, but this will give you an idea of what to expect: America's Hardcore Volume 4, Caught in a Crowd LP, Civic Duty 7", Clear's Youth to Youth LP, Free at Last 12" EP, Fury LP, GAG 12" EP, Hard Stripes 12" EP, Self Defense Family 12" EP, Supertouch LP, Violence to Fade LP, Westpoint LP, Wild Side LP, and a new Wolf Whistle 7".
If you had to pick five hardcore albums to take with you on a deserted island for the rest of your life, which ones would they be?
Supertouch's The Earth is Flat is one of my favorite records of all time. I never get tired of it.
Rest in Pieces' My Rage is one of the best and most underrated NYHC gems. This would help me kill a fucking tiger or some shit.
Youth of Today's Break Down the Walls, because Ray Cappo's positivity would help me overcome my deserted hell.
Fury's new LP, even though I haven't heard it yet, but I know it's going to be breathtaking.
Death Threat's Peace & Security, and I don't need an explanation for this one.
Thanks so much for doing this. Is there anything you'd like to add?
Bullies and jocks in hardcore are annoying. If I wanted to be around that, I'd just go hang out at all the bullshit Boston University frats on Ashford Street. Don't be an asshole to the younger kids. They'll be the ones holding it down when you're out talking about "how much better it was back in 2011." Racism, sexism, homophobia, and transphobia is all a bunch of crap that shouldn't even be an issue in 2016. It's embarrassing that some people can't come to reality. Crowd killing is stupid. That's some Warped Tour shit. I have a new band that I'm finishing vocals for this week. That will be up soon and is for fans of Youth of Today. It's tuned a half-step down with a Metal Zone pedal. You can't crowd kill to it.
***
Head to Triple-Brecords.com for more info on the label and its upcoming releases.
Tagged: record label profile