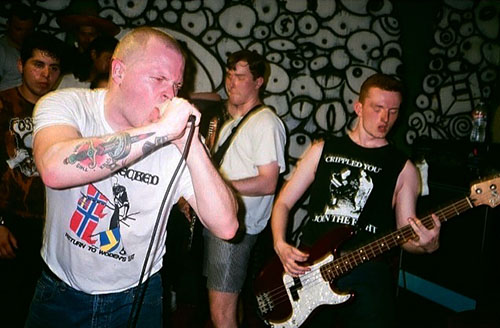 **The photo of the cover of this piece is the band DiE
Britain's burning these days with unrestrained hardcore mayhem courtesy of young bloods, plus some seasoned old-timers bringing loud, fast, and sonic fury to the Royal Kingdom.
I haven't heard so much quality UK riffage since the heyday of the Ripcord/Heresy contingent in the late '80s, or bands like Voorhees in the '90s. Being a lifelong hardcore zealot, it's heartening to see newer bands taking cues from Boston/NYC '80s hardcore, Oi!, and dissonant elements to create their own righteous jams.
Major props to UK scene stalwart Adam Malik of The Essence Records for coining the NWOBHC (New Wave of British Hardcore) moniker.
The following is a short list of recent favorites; some have been around for a couple of years, while others are brand spanking new. They are all deserving of your support, and with upcoming US/European tours lined up, get ready for a British Invasion to hit your town soon in the near future.
Arms Race
These fine gentlemen (and lady) churn out some top notch ragers that reference American Midwest hardcore, circa '82, crossed with across-the-pond counterparts like Chaos UK from the same time period. The mid-tempo parts can't help but sound like Oi! stompers due to the British accent, something I have no problem with. It comes as no wonder that Arms Race share members with London's premier bootboys outfit, Crown Court. Here's to the band releasing a full-length album soon, on the heels of their devastating Gotta Get Out 7" from 2014.
DiE
DiE is a killer band with a huge, full, nihilistic sound reminiscent of Poison Idea around the Kings of Punk era. The no-nonsense vocals and relentless assault are a breath of fresh air in stark contrast to current modern hardcore tendencies. So far, DiE have released two pummeling 7"s that are a throwback to hardcore's straightforward golden days before the creeping influences of crossover, emo, pop-punk, heavy metal, and beatdown, or what have you, took over. Thank the ancient pagan Briton deities for that!
SEE ALSO: Oi! Music: Dig the New Breed
Perspex Flesh
Perspex Flesh is a unique-sounding outfit that has an "outsider hardcore" feel. Oddball '80s hardcore bands like Born Without a Face and United Mutation come to mind, not that Perspex Flesh are carbon copies, but that same weird, discomforting feeling is evident in their music as well. That uncomfortable vibe is grounded by their obvious love of NYHC and classic Boston hardcore; combining it all into a refreshing update of atypical bands from the genre's past, forging their own distinct sound. Their self-titled LP from 2014 is a monster that defies easy categorization, while the newly released Ordered Image 12" ups the ante in the weirdo category, adding neo-post-punk elements to their singular kaleidoscopic vision.
Mob Rules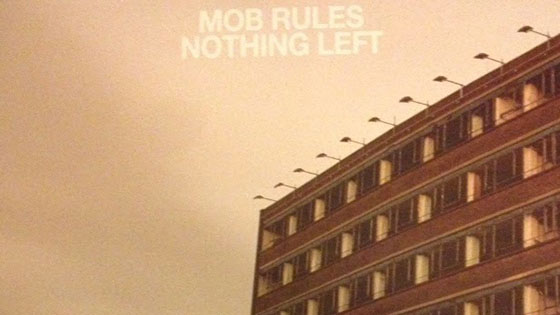 Starting out as a hyper-fast powerviolence band in 2011, Mob Rules changed their approach by the time of their 2014 killer debut album, Nothing Left. Going for a dissonant, My War-era Black Flag and Bl'ast! sound, these guys are in great company among bands that used that template. Haywire and NoNoYesNo come to mind. Mob Rules are a bit mysterious with a minimal online presence. There are just a couple of live sets up on YouTube, but the track streaming here comes off that mind-blowing LP that their record label was kind enough to upload.
Violent Reaction
Violent Reaction are currently darlings of the worldwide hardcore scene, and deservedly so. Originally started as a one-man project in 2012, they've since expanded to become a full-fledged band of straight edge skinheads with tunes that split the difference between the UK82 sound of the No Future records roster and the fury of the early Touch and Go hardcore EPs. This bedlam hasn't gone unnoticed, and after putting out a demo/7"/LP, Violent Reaction became the first non-North American band signed to Revelation Records, with a full-length due out sometime in 2015. Proof positive that hardcore fury combined with Oi! aggro is a stellar combination that never goes out of style.
The Flex
If there is one band that can be associated with the beginnings of this whole NWOBHC thing, it's these guys. The Flex's three demos were eagerly awaited events that built the anticipation for their eventual 7" and LP. The three bands they covered on one of those demos point to their sound: DYS, Youth of Today, and Breakdown. Their music is Boston '82 and NYC '87 converging in Leeds 2014 and wrapping all that up in a ferocious, nonstop display of ferocity. Check out some of their live sets up on YouTube, you will not find a finer display of bare bones, knuckle dragging mongo hardcore violence anytime soon. Their 2014 Wild Stabs in the Dark album closely approximates that live experience for your listening and skanking pleasure.
Insider and Inherit
The aforementioned NWOBHC tag creator Adam Malik sings on this project. He also sang for the stellar but indefinitely on hold London SXE band, Inherit. The Insider material has a direct mid to fast tempo crunch with a nod to New York bands like Underdog and Warzone, plus '90s "revival hardcore" bands like Floorpunch. Don't sleep on the only 200 copies pressed of this 7". Here's to more output from Insider and also from Inherit, who put out two amazing 7"s before going on hiatus back in 2013.
Shrapnel
Shrapnel could have easily been on the New Breed compilation or on the demos rack at Some Records in 1988. It's as if the classic New York breakbeat sound of bands like Breakdown, Outburst, and Raw Deal came with heavily accented British vocals by way of Leeds and not the Big Apple. Shrapnel doesn't ape these influences wholesale, rather using them as a springboard to air out their own frustrations. Technology and the times might have changed, but the same feelings of disgust and alienation that inspired those bands back then is all too real in this modern day frenzied state of ours. Pick up Shrapnel's recently released EP and look out for a full-length by the end of the year.
SEE ALSO: The New Breed Compilation: Where Are They Now?
Higher Power
Higher Power is a brand new band that just put out a four-song demo and damn if it isn't déjà vu all over again for me when I listen to the heavy Leeway vibe on these tracks. I also hear traces of the great, underrated Queens band Cold Front, and even Only Living Witness. This all makes for a groove-heavy, metallish riffing, and melodic yet tough vocals sound combined with hardcore attitude. It's a winning combo that I wish more current bands would attempt. I'm looking forward to more material from them!
Noyade
Veterans of NYHC-influenced bands like Stuck in a Rut, these lads go for a dark and menacing aura that tips its hat off to Cleveland thrashers like Integrity and Ringworm. The formula of crossover and death metal riffs adapted to a hardcore framework is Noyade's modus operandi. Savage, anguished howls of despair complement the punishing soundtrack. The band self-released a CD demo last year and is constantly tearing it up in the northern part of the country. Here's to some proper vinyl documentation soon!
Blind Authority
Looks like what was going on, hardcore-wise, in Boston 1982 and NYC 1988 is a vital point of reference for a good number of the NWOBHC contingent, and Blind Authority is no exception. Hard-as-nails vocals and basic yet effective beats push the songs into maximum overdrive. Starting out with a demo and 7" that leans more into the Infest side things, their upcoming Succumb to Violence album is poised to connect the dots between those heralded East Coast American scenes with a UK flavor to cement the mix.
Young Conservatives
Veterans of '90s UK hardcore bands like the late, great The Horror make up this fairly new outfit that's already released a six-song 12" in 2014. Unapologetically political lyrics with melodic mid-tempo tunes backing tough vocals that at times pull the sound into Leatherface territory. Young Conservatives' patented, rough-as-sandpaper vocals are an important component along with the kind of serious political commentary that used to be standard issue back in hardcore's "golden days" in the '80s. Here's a timely reminder that remaining young in spirit is a useful balm to prevent burnout in a youth oriented culture such as hardcore.
***
It's hard to believe an island roughly the size of Oregon is churning out so many quality bangers. Also keep an eye out for Urban Spirit, Obstruct, Insist, Street Beef, Survival, No, Jaded Eyes, True Vision, Bloodbuzz, Unjust, Regiment, Fade, No Cross, Howl, Grand Collapse... the list continues...
Quality Control is a great resource for UK hardcore releases. Here's a new tape comp showcasing this vibrant scene that comes with the new issue of Artcore fanzine: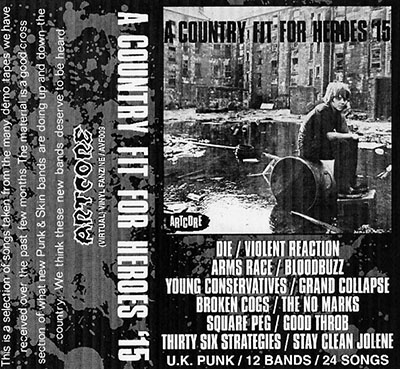 Thanks to all the bands for the raging tuneage, cheers, mates!