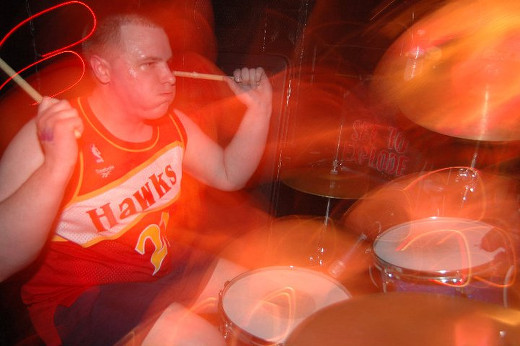 First thing I have to ask you is what the deal is on the next Cold World album. I know you guys are really spread out in terms of where you all live.
I'm relieved to say that the record is pretty much in the can. We're just waiting on some artwork, which we should have in a couple days. We are indeed spread out. I would imagine we're contenders for the most spread out band in existence with members in Boston, Detroit, Phoenix, Wilkes-Barre and England.
What's the status on your Chelsea Girl project? I'd love to hear a full-length album from that sometime in the future.
As of now I have no plans to do any new Chelsea Girl stuff. I did a tape EP with Parts Unknown and released an EP online. They both got a decent response and I'm pretty happy with how they came out. As of now, I unfortunately don't have the time to do much music on my own.
Speaking of Chelsea Girl, one of the styles of music you mine from in your songwriting for that is Latin freestyle. Now, I'm 39 and grew up in NYC, so my love for that kind of music makes some sense. But how does a younger dude from Wilkes-Barre, Pa. discover that stuff?
A large part of my childhood was spent in Florida, and a cool thing to do there was go to the roller skate rink in the late '80s and early '90s, so I remember a lot of those tunes from then. I also remember finding out about a lot of Miami Bass stuff like Gucci Crew II and bigger rave tunes like Smart E's "Sesame's Treet." But, other than that, low rider culture was huge there and Latin freestyle was very 808-heavy so those songs were very popular where I lived.
Another one of your side projects that I really dig is Pegasus. What inspired you guys to get that band going? What's the status of the project?
Pegasus was started by Haroun, Scace and DFJ with the intention of having George from Blacklisted sing on the tracks. He had written lyrics and stuff but every time he tried to record something would go wrong and they never were completed. This was also when Blacklisted was going extremely hard on the road. I wanted to sing in a band so I asked him if he'd mind if I sang on the tracks and he was into it. I recorded my vocals with Arthur Rizk of War Hungry (and sometimes Cold World) and had him rip a couple solos on it as well. He joined the band and we played about 5 shows. I'd love to do more Pegasus material and we talk about it from time to time but it's hard to get those guys together.
Do you have any other side projects in the works we should keep an eye out for?
I sing in a band called Consolation Prize. The band features a couple members of Stick Together and we've recorded a 7" for Lockin' Out Records which should be going to press fairly soon. We take influence from Supertouch, later era Bold and Turning Point. I wanted to start a hardcore band that was different from all the jock bullshit that's going on right now. There's so much crap going on in our hardcore scene and everyone is on each other's dicks so they're afraid to speak out and criticize the wack shit.
I've noticed you're a fan of the Polo brand. Would you consider yourself a "Lo Head" at all? My brother was a big Lo Head in the '90s. I also remember kids getting robbed for their Polo gear when I was in high school.
I wouldn't identify myself as a "Lo Head" because I don't want to be automatically tagged with the stigmatism that comes with it. I don't want to walk into a room and be the mad, old, "real hip-hop" guy. I still have a lot of my pieces but I rarely wear a lot of stuff because I'm almost 33 and I don't feel like wearing an ill-fitting bright yellow and red jacket. Other than Polo I fuck with Undercover, Visvim, Stone Island, Double RL, and a few other brands.
Which rappers have you been listening to lately? I tend to stick with the east coast stuff like Roc Marciano.
I love Roc's material as well. I'm not nearly as conservative as I used to be with hip-hop, so I check out all the new Chicago and Atlanta stuff as well but most of it has little replay value. I usually listen to new shit once, maybe twice. Even if I deem it good, I'll rarely revisit it. I wasn't into Young Thug at first, but once he came out with "Danny Glover," I realized he's ill. French Montana, Lil Durk, Troy Ave, Fredo Santana, Lloyd Banks, Fabolous, Action Bronson, Gucci Mane and Freddie Gibbs have all been consistently putting out good material in the last year or so. I listen to Howard Stern every day so that takes up most of my listening time.
Are you down with the so-called "emo revival?"
To me, emo is meant to be played in a VFW hall by awkward hardcore kids with sweater vests and Malcolm X glasses. Stuff like Frail and Heroin was spontaneous and interesting. I like the bands from then because the aesthetic made sense in that time frame. Do I go back and listen to that stuff often? Not really, but I'll always stick up for it. A nerdy kid in 1993 didn't necessarily want to listen to Straight Ahead, he wanted to do his own thing and that's commendable. I don't care for the new stuff because it's just not interesting to me.