Ian Wise is a being running on momentum and ravenous love of vinyl. Wise currently plays guitar in Fuerza Bruta and puts out killer punk on his label, Foreign Legion Records. After reviving the medium of the Zine (Our Way of Life) he turned to starting his label. In 2015 and 2016 Foreign Legion released seven inch EPs by Snake Handler (a vicious noisy hardcore band which Ian was in with Rich Marafioti, whose art adorns most FL releases), Syndrome 81 (amazing French Oi!), Brick Assassin (Chicago Oi!/hardcore; brickwall meets Tommy and The Terrors), Urban Savage (Thunderous Swedish Oi!/hardcore), Rogue Trooper (great Mass Oi!), and Public Assault (Chicago hardcore), and the cassette only, Lost Legion (glorious punk).
Then in 2017, Foreign Legion released Fuerza Bruta's debut LP (there had been a cassette prior). The internet was changed forever. It sold out in seconds. Every punk wanted their grimy hands on this Spanish-speaking, guitar crazed, charging rhythmic, Oi!-hardcore hybrid of classic stature. Only a few did. Wise released a few versions of this modern masterpiece; a long with Under Watchful Eyes (a great Massachusetts label).
Ian explains his beginnings with the label, the origin story of his recent endeavor. "I wanted to use 'Foreign Legion' as a band name. I knew there was a Welsh band that had used the name. But, I honestly thought most people wouldn't remember them, but they started putting out records again so I used it for the label instead." Ian's instinct were accurate and he decided to go with that for his label's moniker. But there was an unexpected impact.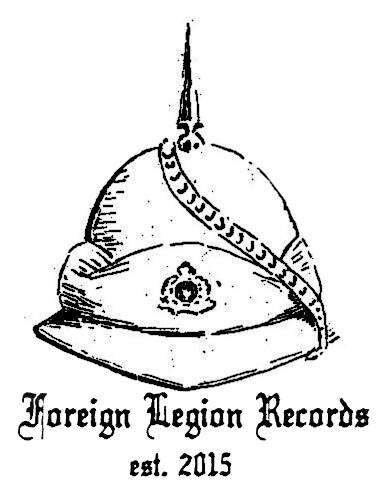 Wise continues, "Honestly it just sounds cool. The best thing about the name is that I've gotten a couple emails from people that obviously Googled 'Foreign Legion Records' asking to see the service records of a family member that had served in the French Foreign Legion. I've actually tried to help people find the information but the French are understandably tight lipped about their military affairs."
As far as the Fuerza Bruta album, Verduga, a few versions have been released; titillating the Discogs hounds. As fans fervently ferret out one of the five or six versions (single sided black, green, clear, etc). The rumbling surges on the vinyl are exceptional Oi! for a new generation as well as any old heads still curious in music after 1984. The eight tracks are incendiary and infectious. The vinyl had to be legendary enough to handle these raging tracks. "The first press was black vinyl with a screen printed b side. We focused more on the audio fidelity and artwork than the colors because I'm usually kind of indifferent to colored vinyl most of the time. We did do a small run of colored vinyl because there are these two girls at the plant we use in Ohio that make these crazy hand-poured color records that are all totally unique. So, that's how we wound up with those weird clear splatter records. I just told them to do whatever they wanted and they came out great.
"The version on Under Watchful Eyes was real over-the-top; screen printed sleeve with a poster and giant liner notes. Our friend Muna that's done art for tons of great bands [Sheer Terror to Cock Sparrer – Hutch] put that together. We gave him almost no direction, just trusted his judgement. We did a second press on green and I'm not sure what the third press on Rebellion will look like, but we redesigned the sleeve and are printing it on uncoated stock, which I wish we'd done before." There was also a three-track single, Somos El Mel; 7" Lathe cut, single sided, Ltd Ed at 50 copies.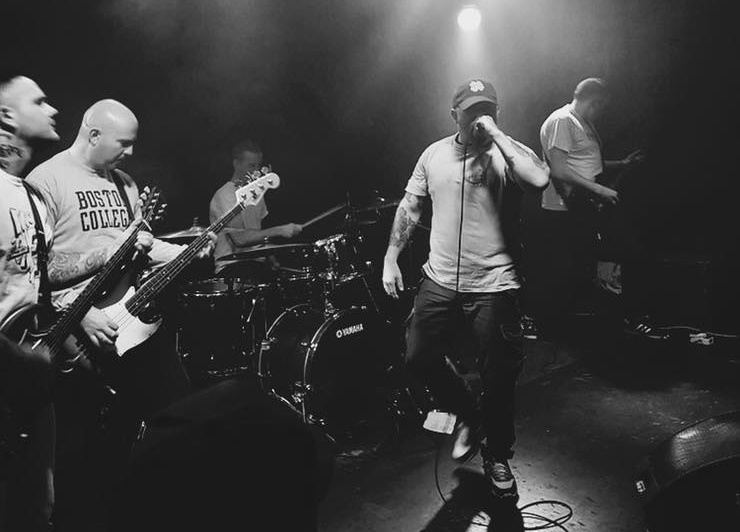 Wise's ardor and passion truly manifest in his desire to expose and share lost and unheard bands. Conversations with Ian usually render him excitedly delving into international scenes and eras where I know one or no band. His encyclopedic memory is vividly indulged when asked about hardcore and punk. Without an ounce of pretense or competition, his intense love for great bands is admirable. This love led to Foreign Legion's most current project, I've Got the Bible Belt around My Throat: A One-Sided History of Punk Rock and Hardcore from Alabama 1983 – 2001.
Wise eagerly shares his obsession. "I did a lot of my growing up in Alabama, I got into punk there and my first bands were from there. When I got into the Bloodstains and Killed By Death stuff, I was always bummed at the lack of southern bands on those comps and knew there was more out there. We could name all these obscure bands from Denmark or ex-Yugoslavia but didn't even have a reference for bands from our own state or region. Of course we knew Koro from Tennessee, Ed Nasty from Mississippi, Anti-Heros in Atlanta, and all the great Florida bands, but was that it?
"I started digging deeper in my late teens and started finding some crazy stuff; but it was finding the Ether Dogs that really set it in motion. I'd met their guitarist Tim outside a gas station in Birmingham and I'd see him around but we only ever talked about metal. I ended up finding this insane recording of the Ether Dogs from 1981 and finding out Tim had been the guitarist, he'd never even mentioned it! I got those tracks and then started hounding other folks I knew; but most of the demos from old bands had been lost. It took years to get my hands on enough to fill out the LP, and I was living in Chicago having to mail literally one-of-a-kind cassettes back and forth with these collectors to source audio. Luckily since I'd grown up down there I knew a lot of older guys in Birmingham and Huntsville and they trusted me enough to let me do this.
"I had to go back through old issues of Maximum Rocknoll looking for any mention of Alabama and build a list for stuff outside Birmingham and Huntsville, where the bigger scenes were. I managed to find some reviews of old cassette comps that included bands from Alabama and then had to go on the hunt for cassette collectors to try and get the audio. Those guys are reclusive and still deal with paper trade lists sometimes so that took a long time, but what took longer was trying to track down some older guys that weren't involved in punk anymore to get permission and hear their stories. I wrote a zine for the comp that explains the stories behind all the bands as well as a history of other things in Alabama that all felt relevant. I didn't want this to be a flimsy bootleg comp, I wanted it to be something legit that kids down there could be proud of, so I'm glad I put in the work. There's one band that I couldn't track down but did include on the comp. Maybe they'll sue me."
Exhausted and exhilarated, Ian released this mammoth undertaking. A fine platter of wax — a robust offering of 20 songs by 17 bands. Wise has this monument of sacrifice and sweat for punk fans to devour. And some introspection. "Here's the thing about putting out something tangible like that, it doesn't all come together at once. You do the art and the record and everything else all separate and then you have to put it all together and it's always kind of cool to see how these different pieces interact with each other for the first time. That record was totally different, the first time I put the record in the sleeve with the zine it was this really big feeling of relief. Like, 'man, I finally finished this thing after so many years.' I love every song on that record, man. But, the Ether Dogs tracks are top notch.
"I was stoked to finally get early GNP demos pressed on vinyl; that band was criminally under rated. Vomit Spots — 'Stupid Punk Rocker' is one of my favorite '80s hardcore songs; and Thik Chicken's 'Road Block' is one of my favorites, too. I managed to squeeze a Green Beret track on at the very end. They were a synth-driven power violence band (they called it 'Devo Violence') from Tuscaloosa that had a huge impact on me as a kid. Jon Ezell from that band used to do a Killed By Death/obscure grind/bizarro punk radio show called 'The Faster and Louder' that I used to tape every episode of and listen to over and over again when I was a teenager. If it wasn't for him the record might not have even been an idea."
Also on deck for Foreign Legion is Sweden's Shipwrecked. Klas and the boys are back after they dropped their 2017, self-titled, 7" when the band decimated the Middle East [the venue, not the geographic area - Hutch] in April 2017. Shipwrecked are a superb hardcore band; with one LP, The Last Pagans, and two EPs. Their sound is dark and evil; ravaging war themes like Blazing Eye, Boston Strangler, NA, and SSD. Foreign Legion provide a platform for the band's newest seven tracks on We are the Sword. But if you are reading this and did not pre-order, you will have to wait for a repress. "Shipwrecked is sold out already." Ugh. You have to be quick for these records!
Also on the horizon, Ian adds: "I've got records lined up for Ultra Razzia (Canada, Blitz style Oi! from members of the Prowlers) *(as I write this; yep, sold out too. Damn. –hutch) and Law/Less (killer UK82 style punk from Milwaukee). After that I'm going on a long hiatus. Blystex recorded a second tape but unfortunately broke up. They were great though. I think they're all kind of doing their own bands which is cool because hopefully it means more good music. Tessa, the bassist, was in another killer hardcore band I did a record for, Public Assault. They're in a band called Pentas now that's cool outsider punk."
My final question for Ian was, "Is the label exciting to you still? Are the pains worth the satisfaction?" obviously I had not gotten the reply of his hiatus. But the man still gave a considerate response. One of a spent man who has so many interests — and jobs. Fuerza Bruta did a Germany show in April. They continue to write and play. Ian also has worked for a few breweries in Chicago and now works for Lagunitas and travels for them as he searches the states for delicious ales and rare records.
Ian concludes, "The label has served its purpose, personally and for 'the scene'. A few years ago, no one cared at all about the stuff I did. Most labels in the US that focused on the more vintage sounding hardcore and 'hard Oi!' or 'Cult Oi!' or whatever had stopped putting out records or were basically vanity labels.
Now, some bigger Oi! labels are actively looking to release that stuff and some newer labels have the same goals I do. And that is great. I look forward to buying records from those labels and seeing how they do things I never would have thought of. I'll know I helped legitimize the genre again, a little bit in the last few years.
But, I also need to focus on other things and not let it take up too much time. I don't really run it as a business, wholesale prices are typically at cost and I try to support the bands first. So, it's not a money making endeavor (I usually lose money); like anything else you need to take breaks to put that money and energy into other stuff. I've got a kid, a very full time job, and a head full of dumb ideas so I have to work on that balance." Raise a glass to a true working man.
You can hit the Foreign Legion Records online store here, and if streaming/downloads are your thing, the label is also on Bandcamp.
Tagged: foreign legion, record label profile