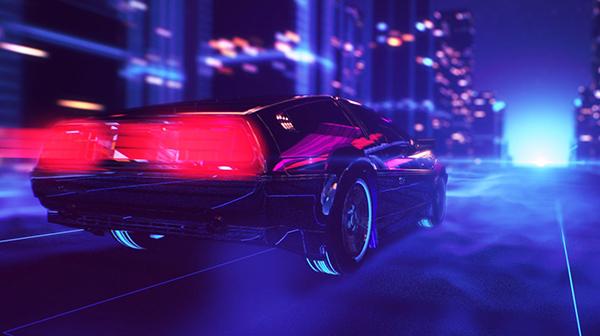 If you're an '80s fetishist like I am, you probably loved the soundtrack to 2011's Drive as much as I did. Cliff Martinez's synth-driven score attracted a lot of attention for its retro-styled influence that brought to mind Tangerine Dream and Vangelis. Quite simply, if you long for the days when scores sounded like the ones in '80s films and television shows like Blade Runner, Terminator, and Knight Rider, Martinez had your number.
As soon as I got home from watching Drive, I started doing some digging on the web and found that there was an underground movement of artists creating music in the spirit of '80s action and sci-fi flicks. Largely known as synthwave, this style of music is easy to find on Bandcamp and YouTube, where you can find musicians from all over the world throwing down their own takes on the nostalgic sound.
The following is a list of 10 synthwave artists that capture the essence of the movement and are keeping the '80s soundtrack spirit alive.
Kavinsky
Arguably the biggest name in the synthwave scene, Kavinsky is the stage name of French musician Vincent Belorgey. His track "Nightcall" appeared in Drive and turned mainstream audiences on to Kavinsky's retro-future sound. Some Hollywood producer asshole needs to give this guy a ton of dough to score the next Michael Mann movie.
Lazerhawk
Lazerhawk is Garrett Hays, an Austin-based musician whose songwriting feel leans on the action film side of the synthwave spectrum. Imagine, if you will, a scene in a B-movie where Colombian drug smugglers are trying to bring in cocaine on a boat while a police helicopter is chasing them from above. That's the kind of shit Lazerhawk's music is all about.
Perturbator
Based in Paris, Perturbator's sound is darker than most of his peers. Ominous bass notes and sparser moments give way to driving keyboard soundscapes that always have a dramatic feel to them. Here's a solid 2014 interview with Perturbator where he spells out some of his influences and thoughts on his scene.
SEE ALSO: '80s Action Film Montage Music
Judge Bitch
Adam Burke, a.k.a. Judge Bitch, is a Canadian musician who I first learned about through his score for 2011's Hobo with a Shotgun, itself a tribute to the over-the-top exploitation films of the '80s. Both of Burke's albums as Judge Bitch (2013's Viper and 2014's Gridiron) are must-owns for any follower of synthwave.
Timecop1983
Timecop1983 is a Dutch producer that creates romantic-sounding synthwave that wouldn't sound out of place in a John Hughes movie. His (her?) use of warmer keyboard tones are a nice touch and fit in perfectly with the whimsical songwriting style. I'm not sure if Timecop1983 performs live shows or not, but it sure would be fun to dance to this stuff in a club!
Power Glove
Power Glove is an Australian duo best known for producing the soundtrack to the video game Far Cry 3: Blood Dragon. Gamers of the world fell head over heels for the duo's score, and I wouldn't be surprised if they don't land another video game gig in the future. Either way, a full-length album of Power Glove's '80s-styled synth needs to happen sometime soon.
Mitch Murder
Mitch Murder is the nom de plume of Swedish producer Johan Bengtsson. Citing musicians/producers Paul Hardcastle, Vince DiCola, and Jan Hammer as prime influences, Bengtsson is one of synthwave's leading figures. The Swede even scored a record deal with Mad Decent, a label founded by none other than Diplo. Plus, he's responsible for this little piece of magic.
SEE ALSO: When Actors Make Records: '80s Edition
Miami Nights 1984
According to his bio, Michael Glover's obsession with the '80s inspired him to start Rosso Corsa Records, a label that has worked with artists like Lazerhawk and Mitch Murder and a revival of synthesizer music. Recording as Miami Nights 1984, the Canadian producer whips up uplifiting synthwave like the gem embedded above.
Carpenter Brut
Carpenter Brut deals out aggressive synthwave that would work well in a movie scene where a dude chases a bad guy into a seedy dance club. I don't know much about the person behind Carpenter Brut, but I do know that they live in France. In a perfect world, this music would make whoever is behind it a millionaire.
Lueur Verte
Lueur Verte is the name the owner of Aphasia Records uses to record and release dreamy synthwave jams that get lodged into your head within a few seconds. Like Carpenter Brut, I don't know the name of the person behind Lueur Verte, but I sure know they are as infatuated with '80s soundtracks as much as I am.