Ace Stallings is not only a contributor to No Echo, but he's also a very active member of the hardcore community in Richmond, VA via his work as a musician (Break Away, Neurømancer) and show booker. His latest project finds him taking on the podcast space with Forum of Passion. "I actually got the idea from a podcast I listen to about films and the film industry, The Bret Easton Ellis Podcast," Ace told me earlier this week via email. "He is my favorite writer and the set up of his podcast I like a lot. I lifted that structure and just applied it to hardcore. I wanted to highlight contemporaries, people involved currently that are making things happen in some way shape or form and define what is going on in hardcore now, not then. I'm going to have a few exceptions to this but I'm mainly going to be focusing on current figures."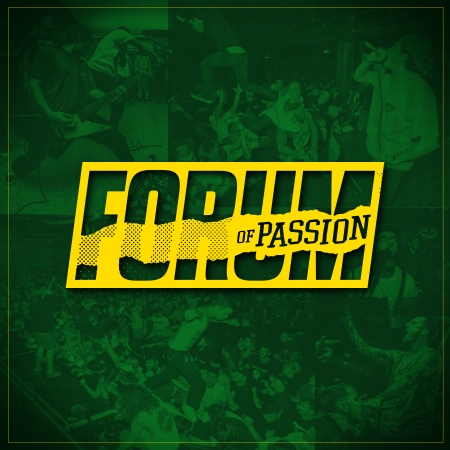 I asked Ace if he got any help and/or guidance once he set his energy on launching Forum of Passion. "Bob Shedd from Axe to Grind went out of his way to give me pointers and ideas, which I greatly appreciate. Away from him, though, I just came up with structure, pacing and tone on my own." How about hurdles? "No real hurdles, I was able to make it happen relatively easily because I have access to an outstanding recording studio here."
Launched earlier this month (May 2019), Forum of Passion has two episodes up for streaming/download so far. David Foster (Cold World, Blacklisted, United Blood festival) and Zachary Lee Acosta-Lewis (Division of Mind, Hard Stripes) are the first two interviewees. I asked Ace describe his podcast, and if he plans on always keeping it within the hardcore community. "It's a strictly hardcore-oriented podcast, might have some 'crossover' types on there but the plan is to only interview people related to hardcore.
"The podcast can be described as an interview podcast pertaining to those that have been shaped by and shape the genre of hardcore punk music."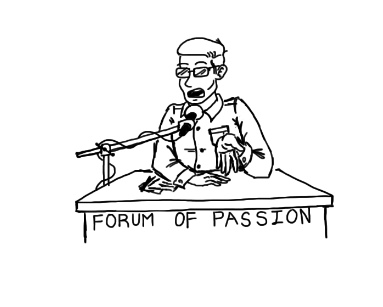 Since I had Ace's attention, I asked him to reveal some of his upcoming guests to the podcast. "Justice Tripp (Trapped Under Ice, Angel Du$t) will be on in early June, Valentina Lopez from Nosebleed I'll have on soon. The next episode is going to be Craig and Scott Kenney from Edgewood Records and Naysayer. I'm going to record Andrew Vacante from Combust in June and hopefully someone from Dead Heat. Going to work that all out."
How about Ace's Forum of Passion dream guests? "Pat Flynn, Todd Jones, Mark Porter, Joe Hardcore... all of which I will somehow make happen."
Forum of Passion can be found here.
Tagged: break away, podcast, united blood