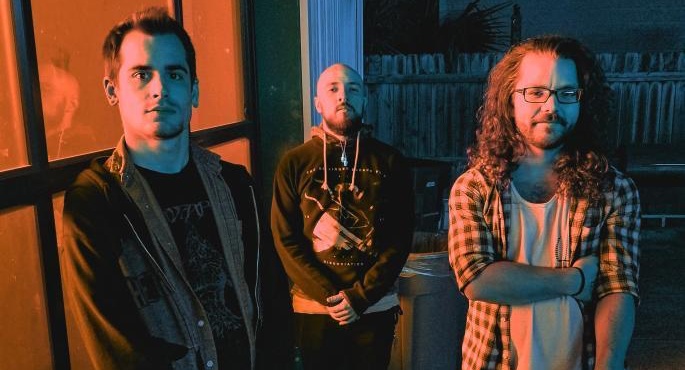 The God Awful Truth is a Texas band that combines metallic hardcore bite with off-kilter time signatures. The trio's technical prowess is always evident throughout their material, but they never fail to keep things grounded with a focus on the catchiness factor of what they write.
The aforementioned attributes are on full display on their newly released debut album. Memory Palace. No Echo chatted with guitarist Ben and vocalist Jordan about their story so far.
Give me the backstory on the formation of the band.
Ben (guitar): Dalton (drums) and I have known each other literally our entire lives. We met Jordan (vocals) in 2002. The three of us used to play in a band together in high school from 2006-2009. In 2011, we decided we wanted to continue playing together again so we formed the God Awful Truth. For our first EP, we did have another guitarist but we parted ways, in 2016, so he could pursue his career.
How would you describe the God Awful Truth sound?
Ben (guitar): Most of our music has an atonal, dissonant sound that we like to think of as a controlled chaos. Incorporating syncopated math rhythms, grooving riffs and hard hitting breakdowns.
But some of our main influces/ favorite bands are the Dillinger Escape Plan, the Chariot, Converge, Cult Leader, and Daughters.
Jordan, tell me about some of the lyrical themes you tackle through the God Awful Truth material.
Jordan (vocals): We like to write whatever we feel and not put ourself in a box. We worked hard to make each song different from the last but still stick to our same TGAT "sound." So there's some mathcore, metalcore, hardcore, punk and rock influces.
For the vocals, my inspiration for writing was to make it dynamic with the music, and lyrically make each song different and as unpersonal as possible. So, instead of pulling from my own personal life, I tried to make each song about a specific subject, that was either theatrical in meaning or relatable to listeners.
Before I let you guys go, tell me about the current bassist situation.
Ben (guitar): We are a 3 piece. Just drums, guitar and vocals. We don't have a bassist but would love one. In the meantime, I'm playing through a guitar amp and bass amp, separating the signal and dropping everything, with an OC-3, down one and two octaves.
I bring the bass signal in and out, as needed, to create dynamics. Also, I'm running a looper, with pre-recorded loops, through a third amp. So, instead of backing tracks, everything is already pre-recorded, as I sift through the loops and plays them accordingly live, on the spot.
If you're in the Denton area and are interested in playing bass in the God Awful Truth, hit the guys up!
***
Memory Palace is out now via Dark Trail Records and available on Bandcamp.
The God Awful Truth on social media: Facebook | Instagram
Tagged: the god awful truth