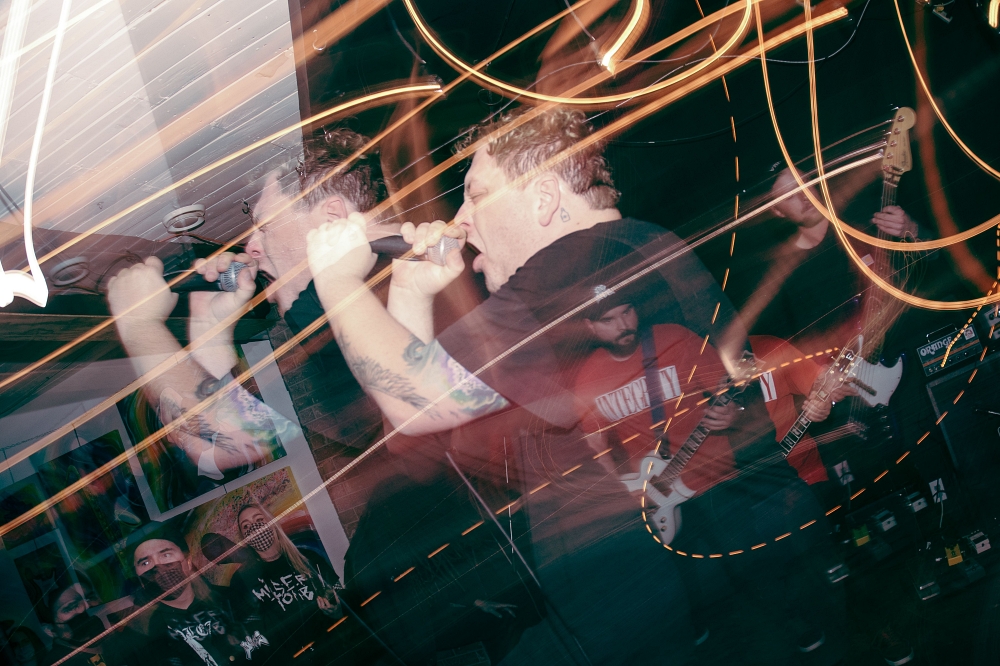 Eyes Front is a hardcore band working out of Edmonton, Alberta. You might have come across their music while listening to No Echo's 2022 Hardcore Releases playlist on Spotify, or in a previous feature here.
"Eyes Front's foundation started with two bored security guards at a music venue (The Starlite Room) in Edmonton, Alberta," guitarist Marc wrote me via email. "During our time there, Cody (drums) and I wanted to start a spoof power violence band to mock all the stupid shit and goofy attitudes they had seen from some local/traveling bands and concert goers; they then started a band called Hatchet Face (named after the John Waters character in Cry Baby) and promptly gave up the spoof angle of the band.
"Having met Chris (vocals) and Steve 'Gator' (ex-bassist) from Marla Maria during a show we played together; Cody and I asked the two of them to join Hatchet Face to fill in newly empty spots, which they thankfully did. The music began to shift towards a more hardcore style once the two new members joined, and the band ultimately decided to change the name to Eyes Front."
With a temporary addition of a second guitarist, Zion, helping to round out the lineup, Eyes Front worked on the material that would ultimately end up on their forthcoming Tied to the Tracks EP:
"Eyes Front's sound is an amalgamation of all the hardcore bands that we have loved and grown up with. It's definitely hard to pin down just a handful of bands that we would be influenced by but Comeback Kid, Backtrack, No Warning, Incendiary, Sepultura, Power Trip, Bane, Weekend Nachos, Terror, and '90s hardcore bands like All Out War, Vision of Disorder, Merauder, Hatebreed, Crowbar, and Madball; all come to mind in terms of bands we've fucked with.
"Obviously, there's a ton to choose from, including newer bands popping up that we've been listening to while we write; bands like Scowl, Mindz Eye, Dead Heat, Existence, Inclination, Die Alone, Sunami, Outta Pocket, Spy, Wild Side, Just Ice, Stepping Stone, and Pillars of Ivory, just to name a few. We fuck with it all."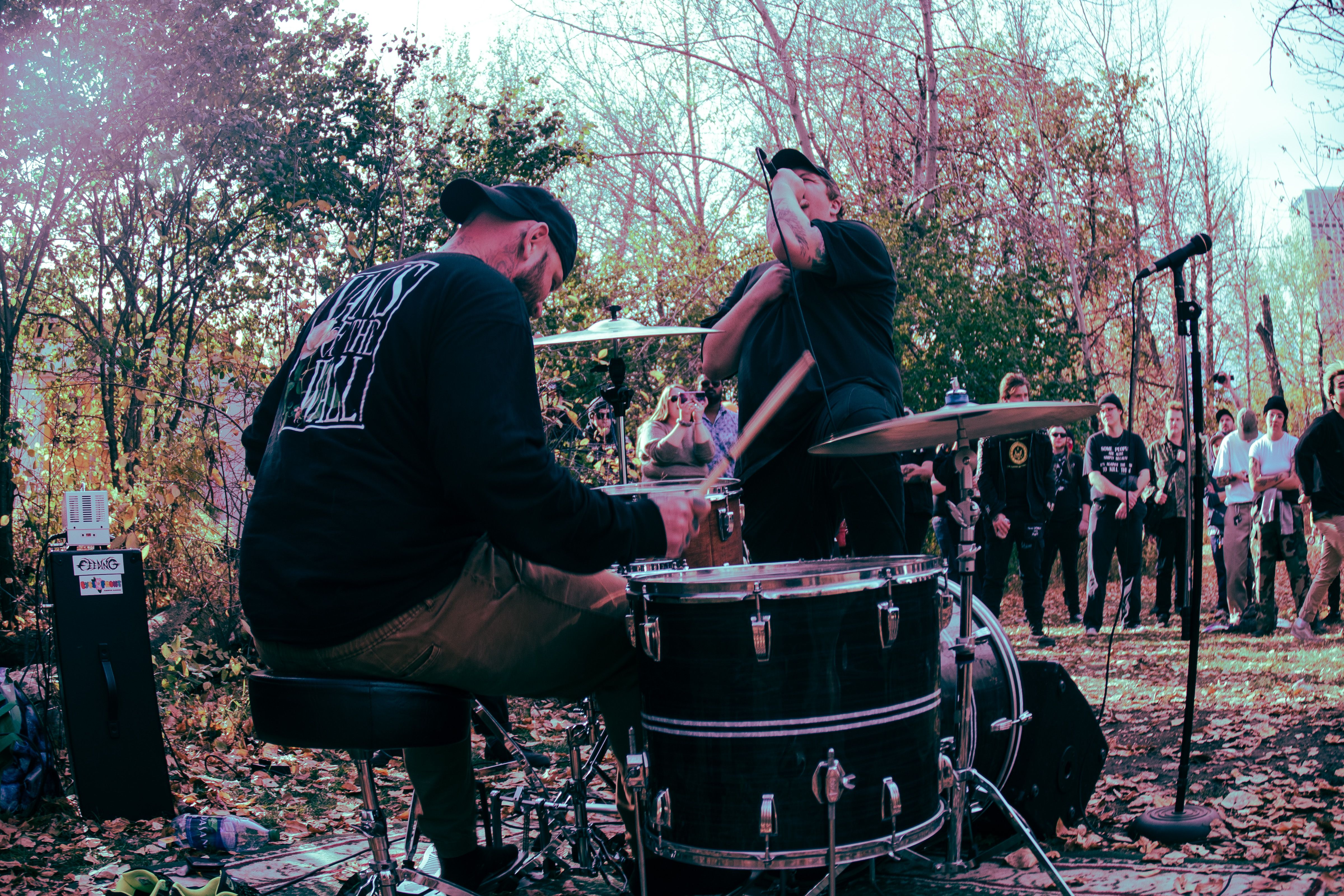 Marc explains the inspiration behind the title track to Eyes Front's upcoming EP: "'Tied to the Tracks' is about the city of Edmonton. In 2015 they stripped the city's title of 'Champion City' and changed it to 'Capital City.' We've been feeling that same retraction happening around us with people's attitude towards the city we love to hate.
"We're guilty of feeling bummed about being in Edmonton too but we decided to change our attitudes and make the best out of where we live. The community around us should revel in the fact that we're 'always losing in the Champion City,' that's a fucking bond we can't shake."
Staying on the subject of the Edmonton region, Marc breaks down his thoughts on the local hardcore scene there. "Let's start with festivals first. We've got Sled Island, which is a mixed event that happens all around the city of Calgary in different venues… We've got a ton of friends and great bands playing that one.
"Speaking of Calgary, Scoped Exposure (Western Canada's version of Hate5Six) is having their 5th year anniversary in August with massive bands coming like Strife, Sunami, Scowl, and Ingrown, to name a few. Following that we've also got Wildrose Hardcore Festival in August as well with bands like Knocked Loose, Zulu, Inclination, Trench, and Juice… plus a ton of incredible Wildrose bands I'll mention in a second. That one's happening in Edmonton and Calgary. I'm also trying to do another set of sneaky outdoor shows with some killer bands in our province; those announcements will be coming sooner than later.
Marc offers up a list of bands we should all have on our radars:
"Okay, now I can get into the long list of unbelievable music you should check out with ties or from our area: Vibes, End Game, False Body, Sealed Fate, Set Straight, Mace, Everythingyoueverloved, Power of Evil, Claymore, Mortality Rate, Serration, Meantime, World of Pleasure, Repugnant Scum, Pridelands, Umi Yokai, Pucker Up, Bench Party, Take Sides, Abrupt Decay, Snakepit, Exits, Chairman, Hedoro, Plead, Isolato, Sawlung, Wake, and Obroa-Skai.

There are probably a ton I missed, but this is just to show that Wildrose Hardcore doesn't fuck around when it comes to incredible talent."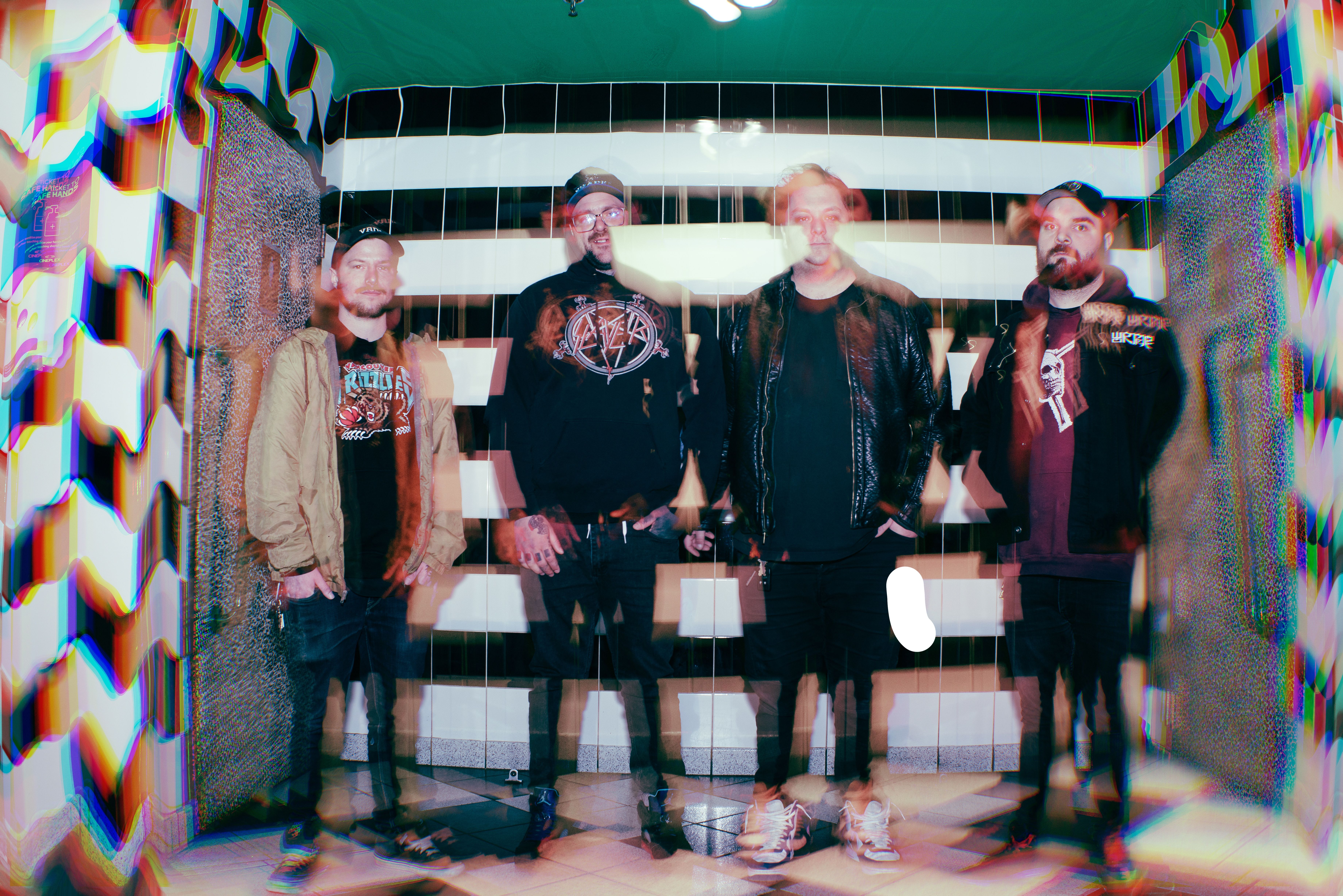 Tied to the Tracks will be out tomorrow (June 1st) across all streaming outlets. Stay tuned for a 7-inch pre-order coming soon. Eyes Front will be playing alongside Sealed Fate, Pucker Up, and Take Sides at the Buckingham in Edmonton tomorrow (June 1st) to celebrate the EP release (tickets).
Eyes Front on social media: Facebook | Instagram | Bandcamp
***
Help Support What No Echo Does via Patreon:
***
Tagged: eyes front