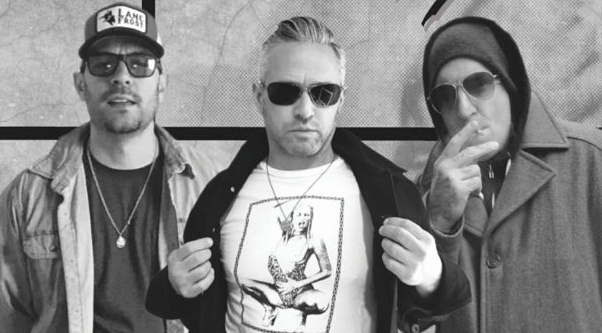 Choke City is a new musical project from veterans of the Long Island hardcore scene of the '90s. Guitarist Lou Koster (Bona Roba) got it rolling during the pandemic. "I wanted guys from the '90s LIHC scene I grew up in," Lou told me via email.
"The 52X's Liver Damage record was just released after almost 25 years. They were one of my favorite bands, so I contacted Mike Ciasullo [who also played in The Last Crime], who's playing was a big influence on me, to see if he would play bass. He was in.
"Then I contacted Matt Gordon (Helen of Troy, Kaiju Daisenso, The State Secedes) remembering we always talked about doing something together years ago while listening to bands like Black Flag and the Germs. He was in. We finished 4 songs we liked and decided to release them. It came together quicker than I expected and we were all surprised and stoked with what we came up with."
The sessions are coming out in the form of Loose Cannon, which feature Tim Wyskida (Khante) on the drums. Check out the opening title track below for a taste of Choke City's kickass take on proto-punk-influenced rock:
Matt Gordon also chimed in with the following: "My lyrics reflected my frustration with being stuck at home, not being able to tour with my other project Kaiju Daisenso, and most importantly, I work retail and still had to deal with moron customers and shitty humans during the quarantine and it furthered my hatred for the majority of the human race during this time.
"I love animals and children but most people suck and should have their face broken. I wrote lyrics for the song 'Up in Flames' with our friend [Stillsuit vocalist] Julian [Vasquez] in mind and he was happy to help. My wife provided backing vocals on three of the songs."
Mixed and Mastered by Don Fury (Judge, Quicksand), the entire Loose Cannon EP will hit Bandcamp on July 15th. But before we close this out, Matt wanted to give some love to a few bands he thinks No Echo readers should check out:
"Gospel, Peoples Temple Project, Kaiju Daisenso, Christ Head, and Hejaza are some of the ones that come to mind. These bands will be on a New York compilation coming out on Sunken Temple Records soon."
Choke City on social media: Instagram | Bandcamp
***
Help Support What No Echo Does via Patreon:
***
Tagged: 52x, choke city, kaiju daisenso, the last crime