Refreshingly absent from all social media, Huntington Park crushers Diztort won't fly under radars for long.
Born of the smalltown isolation of Central California, this is music created in the shadow of a rotten metropolis. I've been long blasting the nine minutes of fury that constitutes their 4-song 2017 demo, impatiently waiting for them to steamroll the Charm City in August with the equally mighty Unified Right. Available on Advanced Perspective Records, they do more in under 10 minutes than most do on a full-length, it literally overflows with ideas.
There are myriad touchstones, but the stomp and, at times, mid-paced groove nails NYHC with an undeniable swagger and ferocity. Like a fine wine, or perhaps a befouled one, there are hints and notes of thrash, punk, and various pillars in our hardcore monument.
The vocals are anvil heavy and rabid in their attack, a perfect attack when paired with such vicious riffs. Additionally, there's a hint of Holy Terror in the vocals, which comes across as utterly unhinged and deadly fucking serious.
The second track's opening tom hit salvo ushers in a brutal and bouncing riff before a blown out bass run slams us into a wall. While avoiding cliché and maintaining a tasteful edge, there are some serious guitar chops on display here. Solos, serpentine and barbed, are fleeting and intense while still avoiding histrionics.
The center piece here is the last track "The Fate", which clocks in at a relative epic runtime of nearly three minutes. Bookended by an instrumental, their command of even atmospherics shows a confident band with nary a limit to the possibilities. As is the case with most demos, they'd definitely benefit from a crystalline and powerful production. I look forward to the future of Diztort.
Pick up a cassette version of the Diztort demo directly from Advanced Perspective, and make sure you catch the band on tour with Unified Right. Day By Day will be on select shows on the run.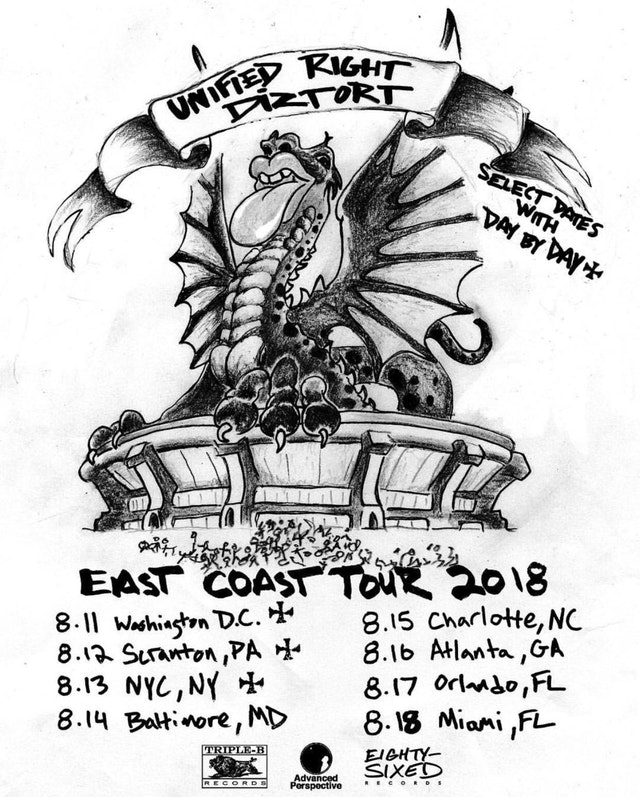 Tagged: diztort