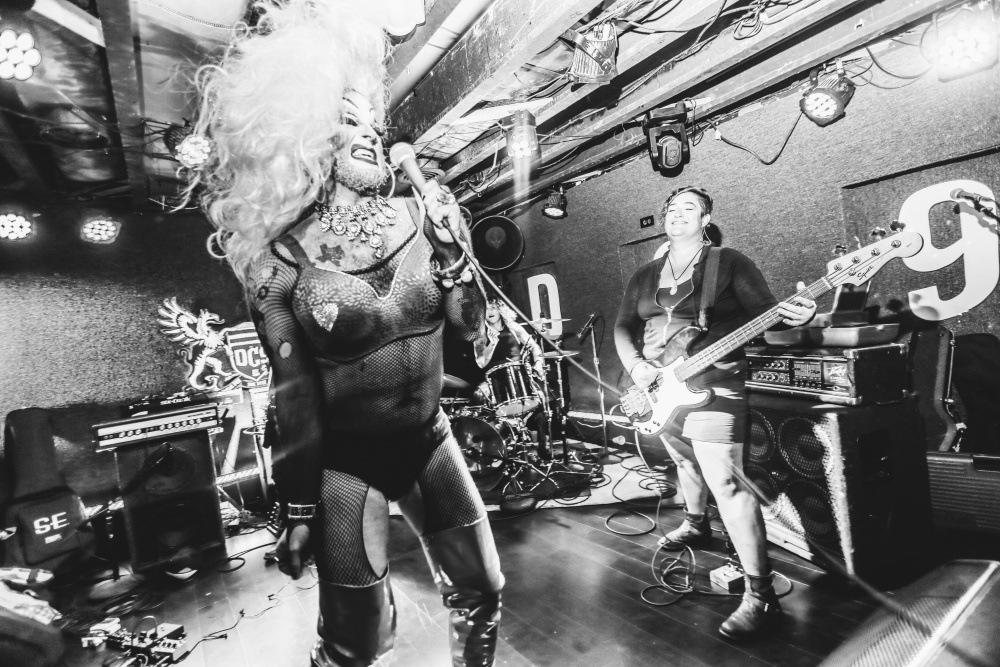 This weekend (Nov. 9, 10), U+NFest will hold its annual punk rock party at the Ottobar in Baltimore, MD. The eclectic lineup features Shannon and the Clams, Lower Dens, Soul Glo, End It, Dirty Fences, Glitterer, and many other artists that fall between punk, indie pop, hardcore, and everything between those stylistic parameters. U+NFest founder Dana Murphy tells me that the wildly diverse bill was an important factor in doing it in the first place. "There are lots of punk and hardcore fests, and they're already good," says the music industry vet who is also behind Unregistered Nurse Booking.
"Baltimore is a weird place, and I wanted to put something a little weirder out there." -U+Nfest founder Dana Murphy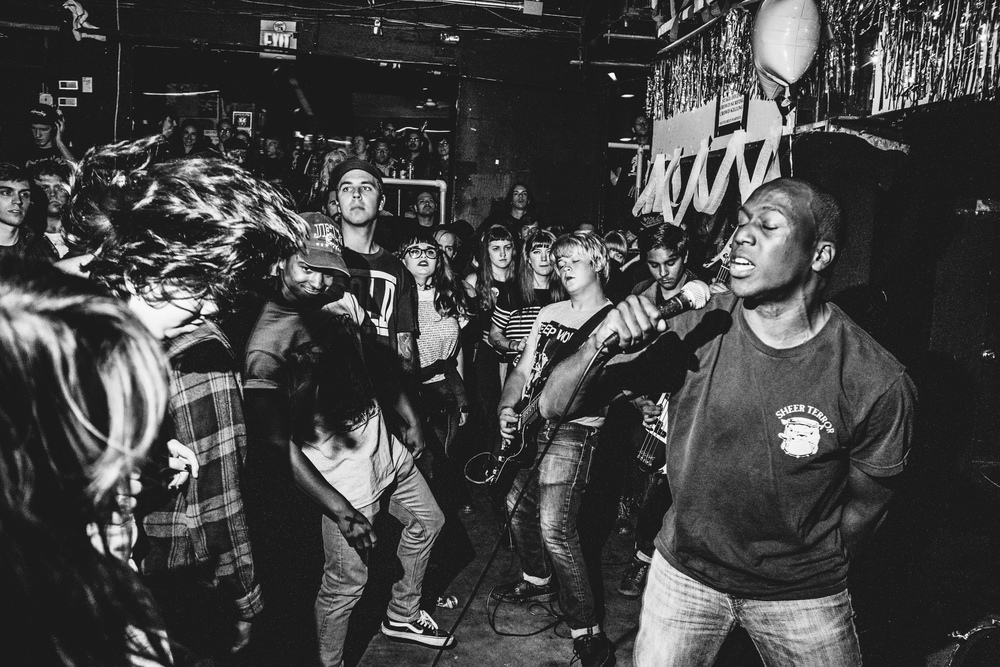 Dana gives me the inspiration point that motived her to start doing U+Nfest seven years ago. "As someone who loves independent festivals, I had been thinking about doing a fest for years, but I recognized that there were so many already, especially for punk. But in 2010, I went to ATP New York and was totally impressed by what they created: a diverse, interesting well-curated festival that was coherent but not stuffy. I wanted to create something with a similar energy but more of a punk focus."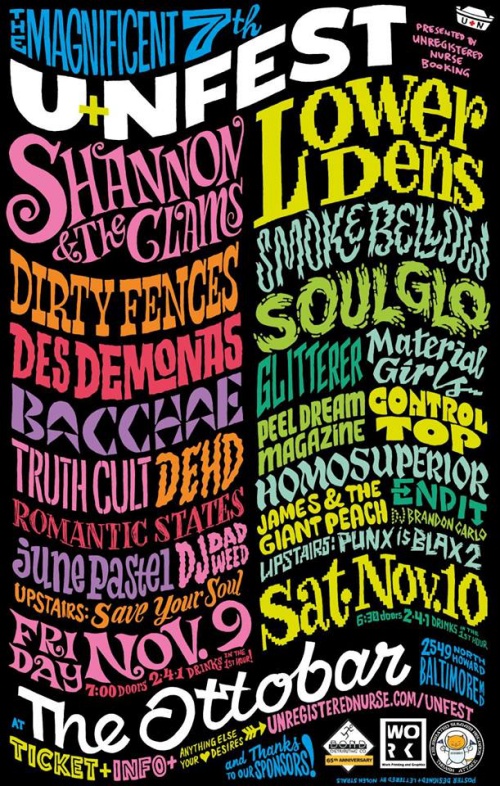 Dana breaks down more of her festival's key points of importance: "I wanted to create a well-curated fest that's as accessible as possible. I didn't want price to be a barrier for people. I wanted to make sure we use venues where people who have physical limitations are able to attend. I wanted to make an inclusive punk fest that didn't lean on politics to sell tickets, but that's conscious in selecting bands that aren't just popular white dudes. Overall I wanted something that was fun; you can have important ideas and not take yourself too seriously.
"It was 2011 when the fest started, inclusive booking wasn't as much of a focus for people and I felt like the ideas needed more attention. In many ways, I think the fest gets better and better each year. The 3rd year really cemented U+NFest into what it is now, when my collaborator Emily got involved. She brings a really positive energy into things and helped the fest gain momentum."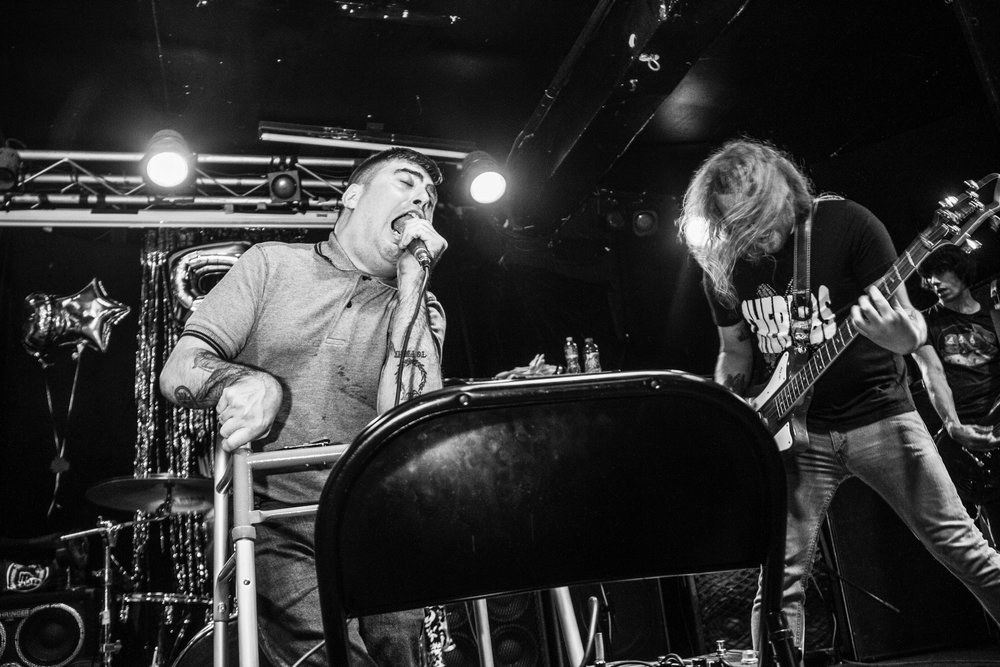 Has the festival run smoother which each year she;s done it, or does every one present a new set of problems? "It's really fun, but there's always something. In many ways, we've streamlined how we do things, which is great, but it's all learning as we go. Most of the problems are funny. We got the wrong kind of Bongo stand for ESG. Someone didn't want to use our backline drums because they were too ugly. That kind of thing. The biggest problems have been mostly external. Bad weather, bands running tremendously late.
"In 2014, an Ottobar employee was murdered right before the festival, we almost cancelled. That was the biggest. But we pulled it together, and it was a really positive moment in an otherwise bleak time."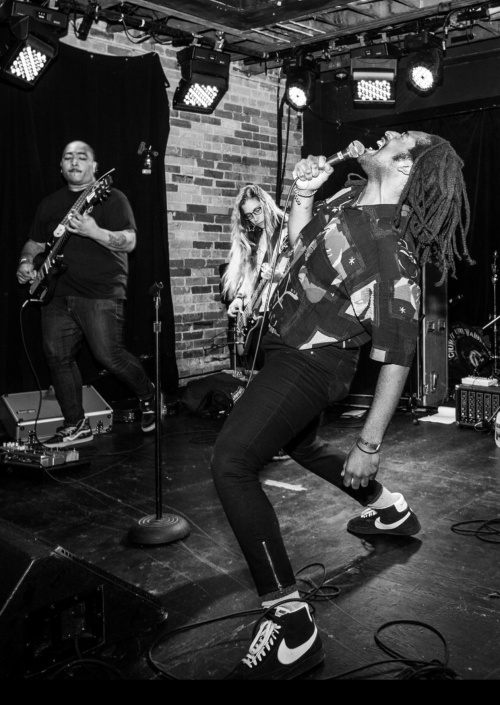 I ask Dana about working with the various booking agents that are involved with U+NFest ever year since I figure most of them would be excited to get involved with such a forward-thinking event. "It's pretty split between bands/ agents that are very excited and want to be involved, and those who aren't as enthusiastic. We don't have a big budget, which is part of refusing to be expensive. Some bigger bands find it 'too punk,' some bigger punk and hardcore bands find it not 'punk enough.' I get it, all the way around. There aren't many punk fests with ridiculous decorations and a colorful flyer.
"I had a 10-minute conversation with a guy the other day who works at a punk store that will only hang black and white flyers, dissecting how the flyer is specifically designed to make younger women feel comfortable coming, and why that's important to us. The first year I did it, one of the hardcore bands said, 'I thought this was going to be weird and terrible, but it was actually extremely cool.' Over the years, bigger bands that have played have jumped in our corner and backed us hard, telling other bands to play, which has been really fortunate. We get emails about it all year long at this point, I've already had bands and booking agents asking me about 2019."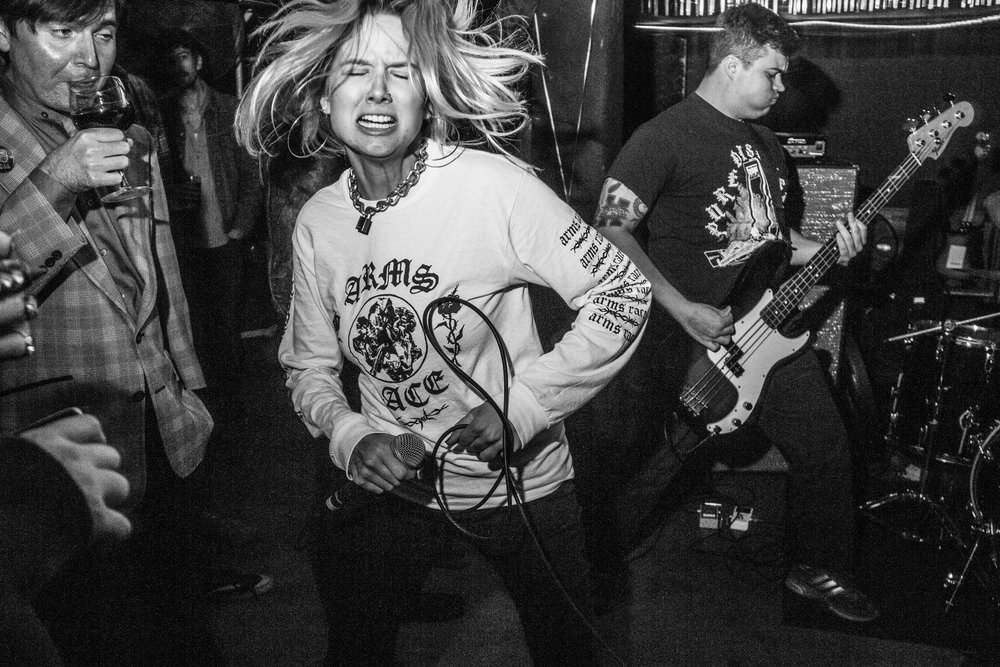 So, what about the bands playing this year's U+NFest? "Our headliners this year are Lower Dens and Shannon and the Clams. I am super excited to get Lower Dens to play, as they've been laying low for the past two years. I love getting bigger Baltimore and DC-based bands on board, I rep Baltimore and DC bands hard and we definitely try and book as much local talent as we can. Lower Dens are in the process of relocating, so it feels very special they're playing. They make beautiful music, I love the more electronic direction they've gone in the past few years. Shannon and the Clams are one of my favorite live bands I've booked. Any time they play, they tear the roof off, their energy is just perfect.
"Des Demonas are the first band to play the fest with a farfisa, that should be fun. Really hyped to see Soul Glo live, hardcore bands often play my favorite sets at the fest (Pure Disgust played one of my top few fest performances ever a few years back, Guilt Parade was another excellent one). Truth Cult is Emily's newest band, with members of GIVE. Paris, who's helping out with the fest this year and who is in a bunch of other excellent bands is singing for them: definitely not to be missed. Material Girls (ATL) are true post-punk weirdos with in drag with saxophones. Dehd from Chicago have members of Lala Lala and Ne-hi, they play droney garage rock. Control Top from Philly, Bacchae. June Pastel and End It are both going to be killer openers. Honestly, come see every band. No junk," laughs Dana.
For fun, I ask Dana to pick some of her future dream bookings for the fest. "Kim Gordon playing with any format, Lungfish, Slant 6, Black Eyes, Double Dagger, Princess Nokia, Camp Cope. Call me y'all!"
***
Get all of the info and tickets for U+NFest at this link.
Tagged: u+nfest