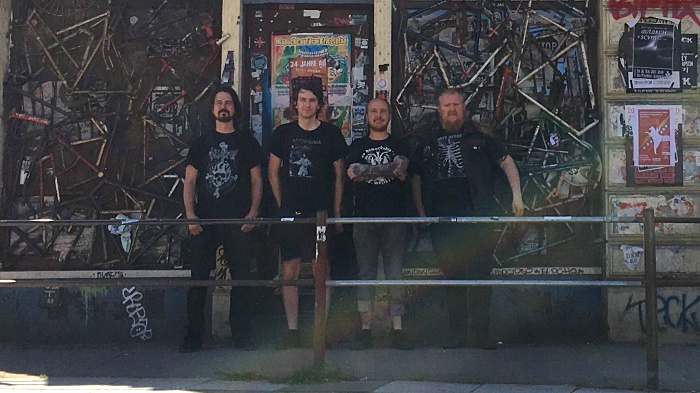 Since forming in 2010, Autarch have unleashed 2 split LPs, 1 EP, and with 2013's The Death of Actiacus, one full-length. The Asheville, NC-based quartet conjures up a storm of crust-fused hardcore with lyrics that are as intensely personal as they are though-provoking. While many of their contemporaries keep more in line with the politically-minded lyrics bands like Discharge and Dropdead have always favored, Autarch also want the same answers, but they're asking different questions.
A powerful example of this is "Saturn," an epic track from Autarch's forthcoming second album, The Light Escaping:
"It's a song about the coming of age," says of guitarist/vocalist James Pratt about "Saturn. "There's a reason that has been one of the most common themes in fiction since writing was invented. The transition to adulthood is one of the most intense and formative events in a person's life. In these days of late-capitalism, traditional notions of adolescence stretch on further and further into our 20s and 30s as we all struggle to live in the wreckage left to us by previous generations. Full grown humans working dead end service industry jobs with tens of thousands in debt paying off useless degrees no longer relevant to the economy we've been thrust into without purchase. We all crash through each others' lives like lone bulls, flailing limbs reaching out for connection but instead slapping faces and knocking over shelves of dishes in our captive china shop.
"Now we look back further, towards less earthly explanations for our own and each others' fuck ups. Saturn returns to its place of our birth. Lofty dreams of youth no longer translate to aspirations of settling and nesting. We now long for direction in a world that no longer has one, and hurt everyone around us in our desperate selfish search for meaning and truth.
"Some of us point at those below us, would-be equals we ground into the dirt on our way towards the top of the bottom, and claim they are the reason we are unhappy and unfulfilled and angry and scared. When we should be turning our ire towards the owners. The bosses, cops, so-called leaders who have brought us here and kept us here, and fed us lies about our companions to turn us on each other. 'Saturn' is about collateral damage and mending past hurts in the interest of standing together against those who would have us fight for scraps."
Since their earliest days together, Autarch have been self-releasing their records, usually with help from DIY labels they're are friends with. Well, James told me they finally decided to put a name to their label: The Plague of Man Records. In addition to their new album, the Autarch guys also plan to release records for their friends and local bands they like.
The Plague of Man Records will release The Light Escaping on vinyl this October. You can download the "Saturn" track on the Autarch's Bandcamp now, and all proceeds on the page this month will be donated to the WNC Sanctuary Movement Fund/Compañeros Inmigrantes de las Montañas en Accion (CIMA) WMA Sanctuary Movement Fund. These donations help raise funds for legal expenses that undocumented immigrants facing legal actions may require and raise funds for expenses associated with ensuring sanctuary.
Autarch will be playing a short mini tour up to Speedbump Fest in Ohio this October, as well as a short Florida tour this winter, and the group is also planning to make their second trip to Europe some time next year.
Tagged: autarch