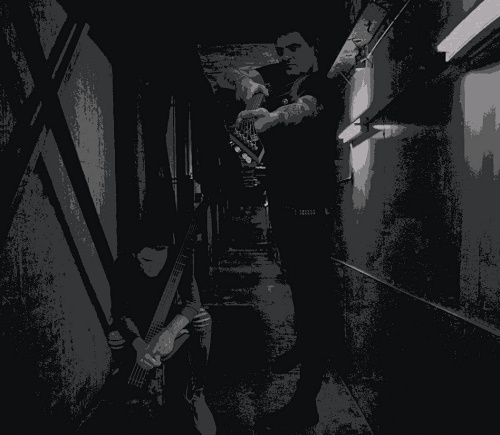 TRIAL (no, not the straight edge hardcore band from Seattle) is a new UK-based thrash outfit featuring musician Damien B (khost, carthage, Techno Animal, Deathless), who was previously featured on the site via our Record Collector series. For Trial purposes, he's using the pseudonym INTERIM_VOID.
Formed in 2020, TRIAL explores a sound rooted in first wave of thrash and speed metal that swept through Europe and America in the '80s.
Their debut EP—fittingly titled 1—can be streamed below and showcases TRIAL's penchant for velocity and lyrics that reflect these turbulent times perfectly. You can also hear a distinct industrial influence cutting through the madness:
Since he's a huge fan of the style, No Echo asked INTERIM_VOID for a list of some of the thrash bands that helped inform what TRIAL is about.
Check out his picks below!
***
Kreator, Flag of Hate (1986)
The first thrash moment that, for me saw an uncompromising thrash band venturing into unchartered territory, harsh and ice-cold metal, not just fast, a different dimension… but still somehow pure thrash.
There's the three song run — "Flag of Hate," "Take Their Lives," and "Awakening of the Gods" — and I don't know if there's any precedent for the tone, the delivery, the vibe that connects this run... the guitars are just a trip alone, and Ventor in my mind seems to just casts this faceless, machine-like entity presence behind the kit. The crazy thing is: there he is in the photo on the reverse, face in partial darkness. The only other time I heard a run of songs that worked as a unit like this was the b-side of My War by Black Flag.
I also loved the unsettling outro of the title track, the hailstorm of dissonant lead guitars... the latter was a thing that definitely found its way to Trial's EP. "Awakening of the Gods" is mesmerizing, turbulent and, for me, timeless. Again: those drums: there's nothing like them in thrash metal and the job they do here.
Flag of Hate just hangs there like a big work of art from the middle ages, like 20 metres wide.Goes without saying that Kreator are much loved over the decades and that includes the amazing, detailed, frantic, unhinged recent albums.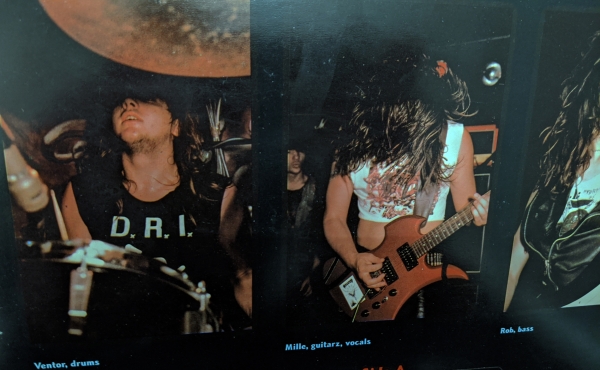 Prong, Force Fed (1989)
We are both big Prong fans, of this album, Primitive Origins, Beg to Differ, and Rude Awakening, and for me when the initial prospect of this trio from NYC — one with background of Swans — were to do metal like this... does life get any better than such a prospect? Thrash metal, street metal, leftfield rock whatever but delivered from the underground, the world of CBGBs — and there was a connection I believe as one worked there. NYC in general: the necessary offspring being bands like this, Agnostic Front, Carnivore, hell yeah. You wouldn't mess with them.
Force Fed kills on so many levels and there's definitely a direct influence on the way we approach the riffs, songs like "Forgery" and "Decay" in particular. I imagine the band in a small room all facing each other and making this tight, economic sound. Sort of like how I imagined Hüsker Dü in the studio too. There's also the badass groove of "It's Been Decided" and that strange autonomic/off-kilter title.
"Look Up at the Sun": it's like you are in a heatwave on some hellish gritty midsummer's day surrounded by ugly skyscrapers and noise/stink of garbage trucks and fumes... an end-to-end killer track.
That back cover too, and the simple but not-simple title Force Fed: there's no many bands that put it out there in defence of the species on this planet, preferring to work instead in realms of mystery and fantasy but bands like Prong and Voivod at the time would touch on real issues, and make you think.
Prong look at the day to day through a different lens. Prong love Chrome. For both: why we love Prong.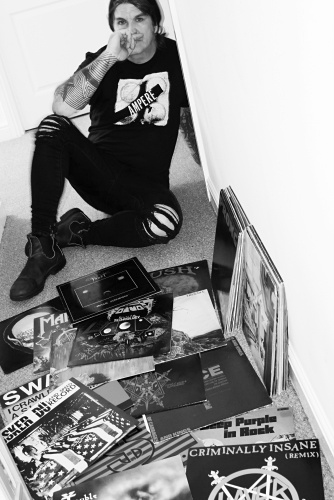 Sodom, Persecution Mania (1987)
It's crazy to think that one of the first times I heard about this phenomenal album was it being methodically slagged off in the metal press. From memory the reviewer didn't like the production values. The production values were one of the best parts of the album.
Leading off with a track called "Nuclear Winter," you know what you are fucking in for. Tom Angelripper's barrelling, armageddon bass sound, like the blast of some dead-eyed angel of dread on judgement day.
That cover too: where is it? A landscape of dead, empty, tombstone skyscrapers with lights out, counterpoint against a beautiful sunset. Why the cross? I don't know, I don't want to know. A symbol like that however resonates in this strange 'fallen' way all things considered… and with a track title like "Christ Passion" taken into account... it just means: more apocalypse.
Tracks like "Enchanted Land" and "Conjuration" are just a massacre and there is the blinding cover of 'Iron Fist': the best Motorhead cover, it's got to be. I always feel shit when this album ends. So I put on Agent Orange.
Voivod, Rrröööaaarrr (1986)
A glance at the back of the album: a melting pot of visual styles: they looked like they listened to Slayer and also JJ Burnel/post-punk. We saw the amazing custom guitar shapes, we saw that Piggy's guitar just had just one control... volume? Considering how the band would move onward from this and of course War and Pain in the next few years, it was great to watch, like some huge metallic machine self-assembling, without us knowing if it was for harmony or annhiliation.
The sound can't be touched, and I have this addiction to Piggy's leads and tremelo divebombs which criss cross the ruined landscape of the album, while Blacky's mega bass sound bass rips up huge tracts of earth all over the place... probably why a track like "Slaughter in a Grave" makes so much, earthmoving, soil-displacing sense.
"Ripping Headaches" in so many ways is one of the best Voivod tracks ever: the dissonance, the shades of Motörhead and AC/DC thrown into the grinder.
Rrröööaaarrr also has the essential Voivod mantra: "To the Death"... is it to be taken to mean 'dedicated to the cause' or simply 'Go this way to a certain death'?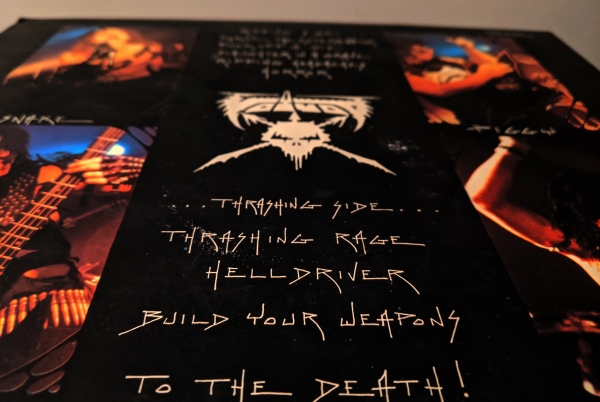 Zoetrope, A Life of Crime (1987)
Was desperate to somehow include the early Trouble releases for this list, but Trouble is a whole different story. Trouble are a big favourite of James Hetfield and Jason Newsted and fuse in with the DNA of thrash somehow, as so tortured and piledriving. On reflection of all this, it's impossible to overlook A Life of Crime by fellow Chicago band Zoetrope who featured the mighty Barry Stern… who later joined Trouble.
A Life of Crime has to be one of the most hands-down toughest, bare knuckle metal albums, with more than a glint of hardcore.
Zoetrope had a similar approach as Anthrax, Nuclear Assault sure in parts but the comparisons mean little when you're talking about a band that sounds like encountering a very pissed off Lee Ving (from FEAR) fronting a metal band. Or John Belushi. The band spit out venomous lyrics, hammer through riff after riff and shift up through different tempos when it suits them as well (check "Promiscuity") which is something you don't hear much… Frost did it on "Jewel Throne." Plus, it has the killer "Company Man" which, like most on this won't leave your head in a hurry.
Play loud to fuck off your neighbors exactly like 30 plus years ago. Killer!
[PS: We couldn't fit in: stuff by Calhoun Conquer, Power Trip, Young Gods, and Coroner]
***
TRIAL's 1 EP is available now on Bandcamp.
***
Donate a few bucks to help with No Echo's operating costs:
***
Tagged: khost