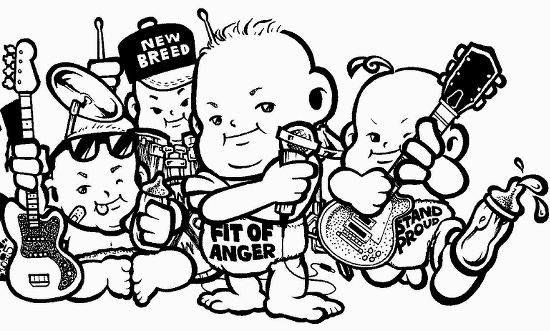 The New Breed cassette compilation came out in 1989. The musicians that appeared on it have, understandably enough, moved on with their lives since then as far as their careers and families go.
A surprising number of them kept on making music throughout the years and have continued to release vital material in the process. Whether that falls into the rock, doom, punk, death metal, folk, dance music, and/or straightforward hardcore category, the essence remains intact, same as it was 25+ years ago.
Here's a sampling of "New Breeders" still carrying the musical torch in 2015. My apologies to anyone I might have overlooked.
For a complete overview of the never-ending New Breed-related multiverse, follow the page on Facebook and keep an eye out for a documentary on the compilation, due out sometime this year.
Sergio Vega (Collapse)
Collapse bassist Sergio Vega went on play in Irate, Absolution, Fully, Moondog, and Quicksand. Vega joined the Deftones in 2009, recording two studio albums with the moody rockers to date. More recently, Quicksand reunited for some touring and festival appearances. Vega also handled bass duties for Beyond at the reunited Long Island hardcore outfit's appearance at the Black N' Blue Bowl in 2014.
Carl Porcaro (Raw Deal, a.k.a. Killing Time)
In 2010, Raw Deal guitarist Carl Porcaro joined forces with Uppercut vocalist Steve Murphy and drummer Rob Sefcik to form the doom metal ensemble Kings Destroy. They've done two full-lengths so far, and recently toured with underground metal legends, Pentagram. Look for new material from Kings Destroy hitting stores sometime in 2015.
SEE ALSO: 2015 interview with Mike Clark (Waking the Dead, ex-No Mercy, ex-Suicidal Tendencies).
Kevin Egan (Beyond)
Beyond singer Kevin Egan went on to front 1.6 Band, The Last Crime, The F Curse, Rules of the Fort, $24,000, and has recently been recording solo acoustic tracks under the moniker Kevin Egan is a Jerk. The solo album will be out in 2015.
Djinji Brown (Absolution)
Absolution vocalist Djinji Brown moved on to engineer classic NYC rap records in the '90s. He subsequently started DJing tribal house music dance sets and releasing groove-oriented material under the guise of the "Afro-Bionic," as well as his own name. His latest release from 2013, called Djinji's Corner, is a funky excursion into jazz, house, and hip-hop.
Jason O'Toole (Life's Blood)
Life's Blood singer Jason O'Toole and Our Gang bassist Lewis Dimmick recorded a studio-only project under the name Fuck the Heartless in 2013. They also collaborated, along with Our Gang guitarist Hobi Klapuri, on My Rifle's self-titled four-song 7" EP from 2011. Let's hope for new recordings soon!
Michael Scondotto (Direct Approach)
Bassist Michael Scondotto was only 15 when he recorded with Direct Approach, a studio-only project. Since then he's played in Close Call, Confusion, Inhuman, and in 2010 started up the straightforward hardcore band The Last Stand. They've done several 7"s and one album in 2013. Mike's a true Brooklyn hardcore lifer!
SEE ALSO: Best Post-Desperate Measures Leeway Songs
Daryl Kahan (True Colors)
True Colors singer Daryl Kahan went on to Citizens Arrest, Colossus, Taste of Fear, Forced Expression, Assück, Abazagorath, Funebrarum, and in 2007 joined death metallers Disma. He's played guitar with them ever since, as well as singing for Funebrarum and the reformed Citizens Arrest, who put out a 7" in 2010. The monstrous track we've embedded above comes from Disma's 2013 split EP with Convulse.
Mauricio Vega (Under Pressure)
Under Pressure singer Mauricio Vega went on to Accidental Tribe, a band that eventually transitioned into Explosion Theory, combining rock, metal, and punk influences into a 2013 digital release. Last time I saw them, they played a rousing rendition of Under Pressure's "Supremist" song off the New Breed comp.
Domenic Baiocco (Beyond)
Beyond drummer Domenic Baiocco played in Difference and Substratus, who morphed into his current outfit: Poor Lily. Their manic punk sound has yielded an EP plus two full-lengths, with another on the way in 2015. Look for a cameo by Beyond singer Kevin Egan in this video off their 2014 LP.
Mike Dijan (Show of Force)
Show of Force guitarist Mike Dijan went on to Breakdown, Crown of Thornz, and Lavalette. He's also gone on to produce local bands like Skarhead, Cold Front, and Olde York. In 2011, Dijan started up Sai Nam with other NYHC veterans. Their debut album, Crush, came out in 2012. Expect new material from Sai Nam coming out soon.
SEE ALSO: 2014 interview with Michael Gibbons (Leeway).
Adam Nathanson (Life's Blood)
Life's Blood guitarist Adam Nathanson went on to Born Against, Young Pioneers, and in 1999 formed Teargas Rock, recording a seven-song LP that never saw the light of day. The band reunited in 2014 to coincide with the delayed release of the aforementioned album. A show in Brooklyn last year featured Teargas Rock covering a couple of Born Against classics as well as some original material.
Honorary Non-Music-Related Entry:
Marcos Siega (Bad Trip)
Bad Trip guitarist Marcos Siega went on to the music video and TV/film industry after the band broke up in 1995. He's done videos by Blink-182, System of a Down, Weezer, and Papa Roach—as well as directing episodes of TV shows like Dexter, True Blood, and Cold Case. Since 2013, he's produced and directed Fox TV's The Following, which stars Kevin Bacon. Not bad for a hardcore kid from Woodside, Queens!
Tagged: outburst