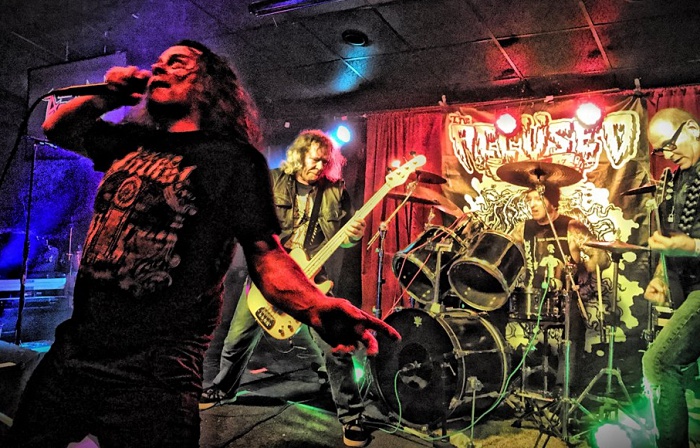 Though they are sometimes erroneously overlooked by ill-schooled "music journalists," The Accüsed was one of the most influential hardcore/thrash crossover bands to come out of the '80s underground music scene. Formed towards the beginning of that decade, the Washington state combo perfected a putrid hybrid of fast punk, speed metal, thrash, and everything else within those wheelhouses.
The Accüsed albums like The Return of... Martha Splatterhead (1986), More Fun Than An Open Casket Funeral (1987), and Martha Splatterhead's Maddest Stories Ever Told (1988) helped inform not only the aforementioned crossover sound of that era, but also countless would-be musicians who were still too young to start their own bands. If you don't believe me, just ask the dudes from such modern-day groups as Lamb of God, Municipal Waste, and Foreseen how much they love those records.
Now, after the band's demise in the early '00s, and then coming back at Toe Tag a few years later, the lineup of Blaine Cook, Alex Sibbald, Steve Nelson, and Steve McVay have joined forces as The Accüsed A.D. The rejuvenated group have also just dropped a music video for "Juego Terminado," a song from their forthcoming album.
Speaking of the album, it will be produced by Jack Endino (Nirvana, Toxic Holocaust) and mastered by Pig Destroyer's Scott Hull, so there should be little question on how sick it will all sound. The album is slated for a 2019 release via Blackhouse Records, so stay tuned to both The Accüsed A.D. and their label's Facebook pages for more updates.
The Accüsed A.D. tour dates:
Feb. 2 - Seattle, WA @ El Corazon w/ Himsa, Witchburn, Heiress + more
Feb. 16 - Las Vegas, NV @ Backstage Bar & Billiards w/ Papsmear, Life's Torment
March 15 - Seattle, WA @ Black Lodge w/ Heiress, Acid Teeth + more
March 26 - Maryland, MD @ Maryland Deathfest w/ Immolation, Pestilence, Cro-Mags + more
March 30 - Oakland, CA @ Golden Bull w/ TBA
May 23 - Brooklyn, NY @ Saint Vitus w/ The End AD, Darkside NYC
Tagged: the accused a.d.