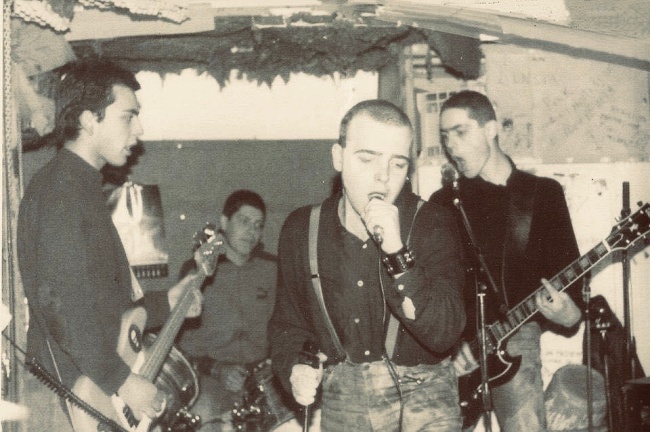 There's something about Latin languages that lends itself incredibly well when paired with hard, aggressive music and Italian is no exception.
It's the higher register vocals and agonizing screeches that put Italy's hardcore scene on the map, and the same goes for the lower baritone rumble used on that classic Oi! sound as exemplified by the bands on the list I've curated below.
I just picked my favorites, no disrespect to anyone left out as this is a purely subjective endeavor, connoisseurs will likely be more than familiar with my picks, this is meant to be an introductory overview.
For more detailed articles on the Italian Skinhead scene visit the wonderful Creases Like Knives webzine and someone please translate the Italia Skins book by Flavio Frezza into English.
Oi! Costruito in Italia per sempre!
(This playlist appears in Oi! The Black Book fanzine)
Nabat
These guys kick started the Italian Oi! scene, besides the band, they also ran the C.A.S. Record label, putting out some vital releases so they deserve to be first on any list discussing this movement.
Starting in 1979 as a punk band from Bologna, their 1982 EP, Scenderemo Nelle Strade (We'll Go Out Into the Streets), set the template for Oi! Italian style, but it's the 1983 EP, Laida Bologna (Ugly Bologna), that immediately grabbed me with it's gloriously ultra gruff vocals by Steno, sometimes reminiscent of bands like Iron Cross/Negative Approach and what really pushed it to the top are the choruses.
The backup vocals are like an angelic army of skinheads singing in unison these incredibly catchy melodies that you can't help but sing along, regardless of knowing what the hell you're saying. Their 1985 LP, Un Altro Giorno Di Gloria (Another Glorious Day), has all the elements that made their two EPs so exciting but is marred by production levels more suited to a commercial Rock band, worthwhile album nevertheless.
Steno 'til this day keeps the Nabat flag flying, here's to a diehard and bravo for writing "Lunga Vita Ai Ribelli Oi! (Long Live the Oi! Rebels)."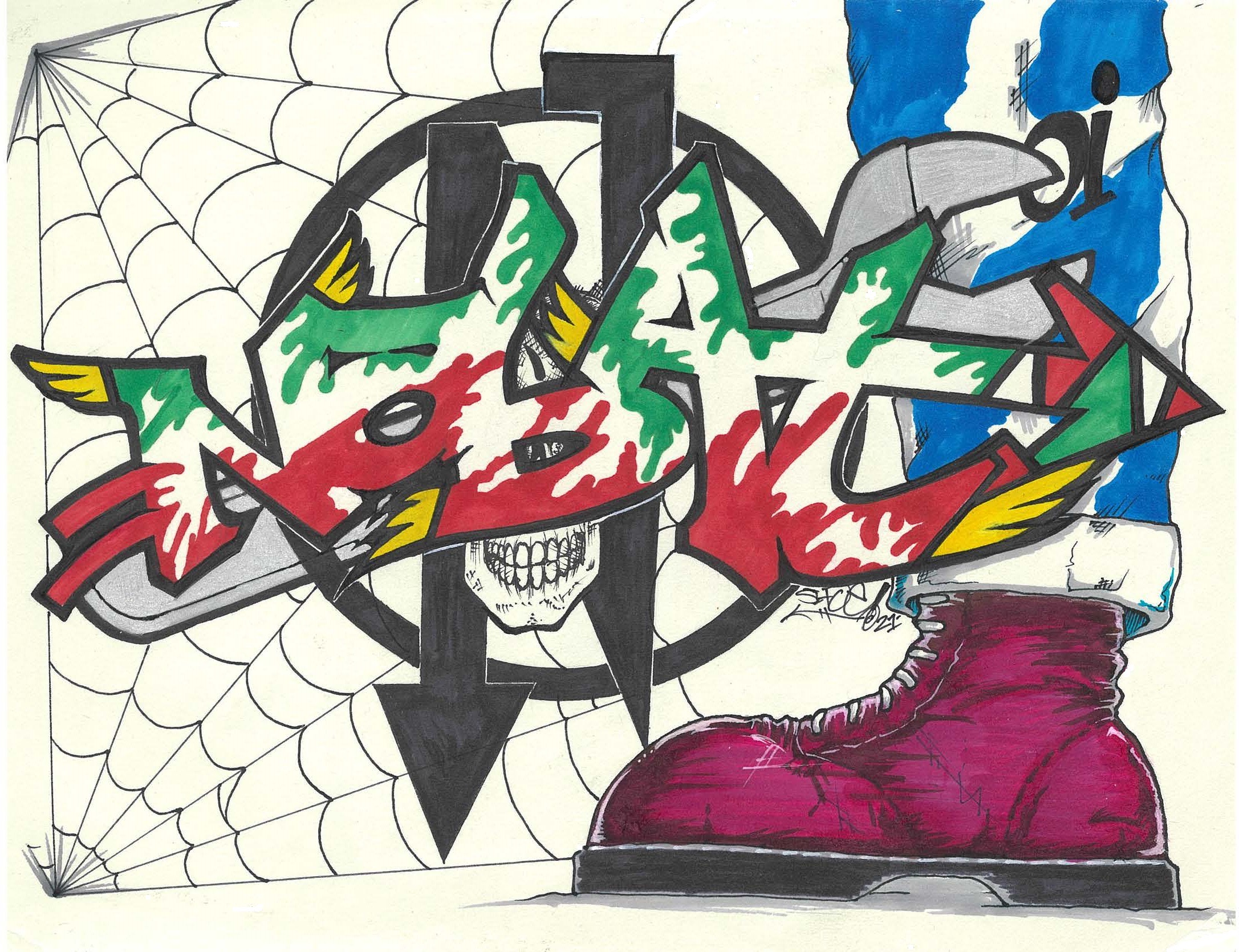 Rough
This band immortalized their Northern Italian hometown in the 1982 EP titled Torino E La Mia Citta (Turin Is My City) out on the legendary Meccano Records, who put out classic Italian hardcore and punk releases, with two songs sung in Italian and two in English.
One of the hallmarks of early Oi! Italiano is the low-budget production values and Rough is no exception but the extremely catchy songs shine through, with endearing singalongs that can't help but put a smile to your face, rejoicing in "La Dolce Vita" of it all.
Rough went on to do reggae/dub stylings in the mid-'80s, there's a cool LP/CD called Indelebile that compiles this EP plus compilation cuts, assorted early tracks and a rough (pun intended) but enjoyable live set from 1983.
Basta
Straight out of Certaldo, a town in Tuscany, Basta ("enough" in English) put out this incredibly raw 7 inch in 1983.
Taking cues from the more primal, knuckle dragging, straight-forward sounds of bands like the 4-Skins and Combat 84 and mixing it with native brutality, a powerfully angry singer on top of mid-temp stompers, with one song ("Caos") approaching hardcore-like speed levels.
Produced by their record label, C.A.S., which Steno from Nabat started, Basta broke up shortly after the record's release due to members joining the military. A CD came out in 2011 comprised of this EP, live tracks, and re-recorded older songs.
Skins E Punks = T.N.T.
The first Italian Oi!/punk compilation, done by C.A.S. Records in 1983, meant to showcase the unity between punks and skins with Nabat (Bologna) and Dioxina (Rimini) doing powerful Oi! stompers, Arrm (Como) with one fast tune and a Regage-tinged one plus Rapprresaglia (Milano) playing unhinged hardcore like Negazione and Raw Power.
From Nabat's webpage: "These compilations were a part of a project intended to give the Punk Skin movement a new image different from the one that was spreading in England and in many parts of Europe."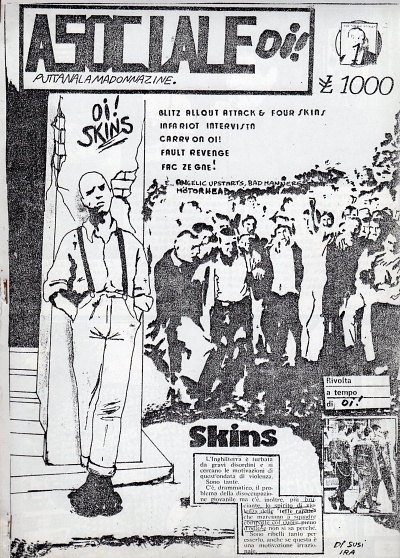 Hope & Glory
Oi! outfit from Treviso, a city in the northeastern part of the country, famously thought to be the birthplace of Tiramisu. True to their hometown's addictive delicacy; Hope & Glory churn out three ultra catchy stompers and one 2 Tone-ish ska instrumental on this EP from 1985, with "Skinhead" being particularly notable, terrace hand claps and all.
They also contributed a banging track to the classic Queli Che Urlano Ancora compilation from 1985. Prior to Hope & Glory, the members played in Guerriglia Urbana, an early Oi! band, an LP/CD of their 1982 Skinhead demo was reissued. I believe there's also a live album of Hope & Glory material out there.
Queli Che Urlano Ancora
This compilation, translated to English as Those Who Still Scream, is the Oi! the Album or Chaos En France of Italian Oi!
Released on C.A.S. in 1985 and featuring some of the leading lights like Nabat, Rough, Basta, Hope & Glory, Klaxon, the great all-women Hydra, early bands that never properly released material like Fun, Youth, and groups that went on a faster hardcore direction later on like Cani and Dioxina.
This album has been reissued several times and it's a most for any connoisseur of OI! Italian style.
Ghetto 84
Another great band from the city of Bologna, they started out appropriately enough in 1984, recorded demos for years and finally managed to release an album in 1995 entitled A Denti Stretti (Clenched Teeth).
It was definitely worth the wait as this one of the best Italian Oi! albums ever with catchy powerful tunes and a quality recording that captures their sound without being over produced. Ghetto 84 have continued putting out albums, latest one in 2019, here's to their drummer Tato who recently passed away. RIP
Gangland
An under-recorded band from Genoa, a port city famously known as the birthplace of Christopher Columbus. Starting out in 1982, Gangland were supposed to have a track on the legendary Italian Oi! compilation, Queli Che Urlano Ancora, but it was ultimately was scrapped due to bad recording quality.
It wasn't until 1996 that this 7 inch, Lost & Found, was released and it includes a remastered version of said track alongside another song that came out on the first tape compilation of Italian Oi!, O Con Noi O Contro Di Noi, from 1985. RIP singer Gufi and Tonino, their drummer.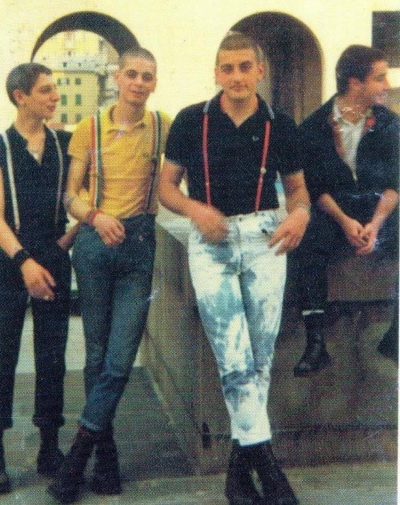 Asociale
Coming from Como, a city near the Italian alps, Asociale named themselves after a Nabat song and carried that tradition of Oi! into the early '90s. Their EP from 1992 is a throwback to the golden era, only two songs but anthems like "No Politics, Only Oi!' and "Tom Hoxton For President," a homage to the 4-Skins trend setting bassist, really hit the spot.
Asociale's singer, Ivano, went on to do a project with The Templars from NYC where they recorded a cover of Nabat's "Lavoro." A CD/LP came out in 2010 compiling this EP plus compilation cuts, live tracks, and newer stuff.
Iena
This is a fantastic current band from Florence, in the Tuscany region, having put out two blazing EPs: Condanna A Morte (2018) and La Morte Chiama (2019). They nail down the Italian '82 Oi! sound to a T, straight forward, not overly produced with a classic vibe, proving this music is still a viable outlet decades after the initial spark.
There's been a wave of bands worldwide playing a back-to-basics Oi! sound like Rixe (France), Fuerza Bruta (US), The Chisel (UK), and Iena fit right in, doing their forebears in Nabat and other like-minded pioneers justice, bravo and va bene all around!
***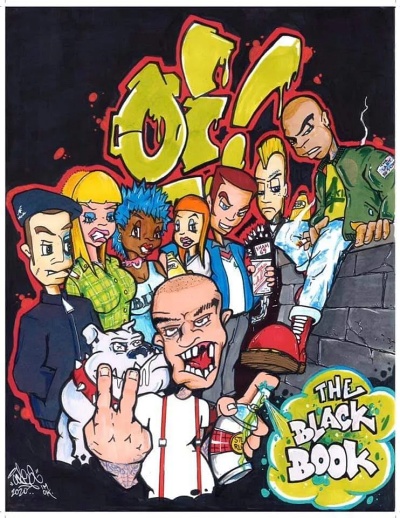 Oi! The Black Book is currently sold out, but stay tuned to the Urban Styles Instagram page for updates.
***
No Echo has launched a Patreon with 3 tiers offering all kinds of hardcore-related goodies to help support the site:
***