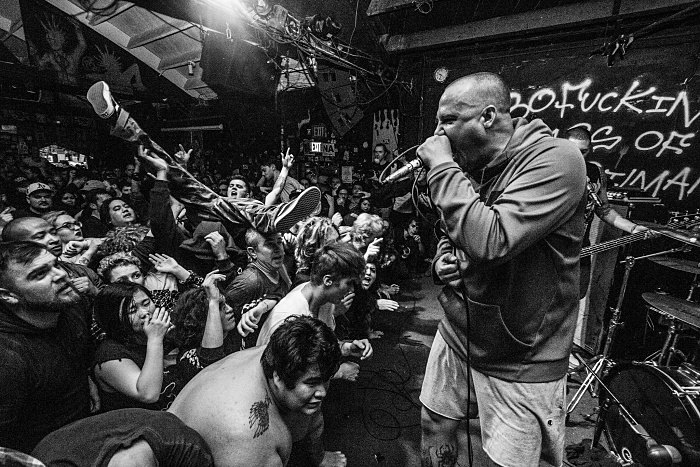 Started back in the early '90s, the Syracuse Hardcore New Year's Day Matinee has hosted the city host some of the best bands from our community, both local and otherwise (read about its history here). Though it's taken a few years off throughout that time, the event is going strong today and will happen again in a few weeks at The Vineyard in Westcott with a stacked lineup featuring such bands Terror, Death Threat, One Step Closer, Spy, and Restraining Order, among other killer outfits.
No Echo chatted with Syracuse-based promoter Lukas Reed about the upcoming matinee, the work that goes behind it, and the state of his local hardcore scene.
How far in advance did you start working on the bill this time out? Is it a big headache, or does it usually go smoother than one would expect?
It's almost a cliché to say at this point, and I imagine it was a similar case for every other person that book shows, but up until this spring it felt damn near hopeless to try and plan anything out. I got about halfway through putting together a lineup for New Year's Day 2021 before accepting the fact that it wasn't gonna happen.
For my own sanity, booking a hardcore show was the furthest thing from my mind after all of that. But after seeing more and more people get vaccinated and seeing Madball at Tompkins go down without incident, that's when the gears started turning. Then that Undeath gig at the DIY park went down—that's when it was all systems go for New Year's.
What are the toughest aspects of putting everything together?
Booking a big show like this always comes with it's own set of challenges, but I feel like the ones that NYD 2022 faced are different than those of 2020. It was easier getting bands on board, but locking down a venue was a struggle because of COVID. We fit on a few more bands because it's on a Saturday, but because it's on a weekend everyone and their mother is doing a New Year's Eve/Day show.
There's a lot that goes into planning NYD, and even more factors at play now with a global pandemic. But seeing so many people genuinely excited for something going on in Syracuse makes it all worth it to me.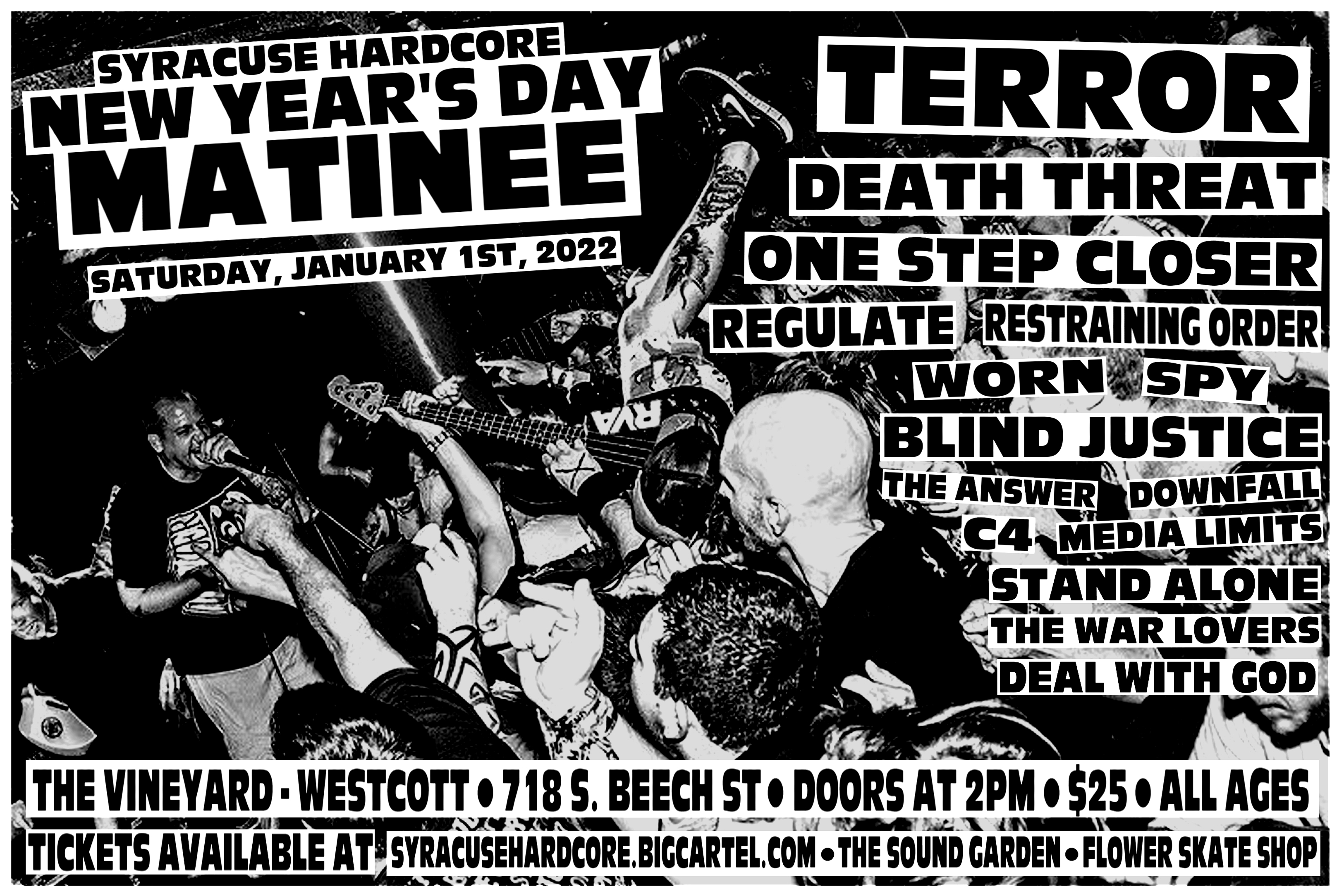 Tell me about the significance of having Terror headline this year in relation to their history with Syracuse.
Having Terror on this show is important for three reasons:
Terror hasn't played Syracuse since the infamous Stick to Your Guns gig at the Lost Horizon in 2014. Long story short—security at the Lost roughed up a kid trying to dive, a huge fight breaks out, gig gets moved to this tiny venue called Badlands, Terror gets shutdown by the cops two songs in.

Vogel is like family when it comes to Syracuse. Ever since the '90s, he's been tight with people like DJ, Karl, Kitzel, and so many others that helped set the stage for everything we're doing now in Syracuse. So many of my friends got to see the world because Terror took them out on tour. Arguably a label like Reaper Records wouldn't have become such a powerhouse if it wasn't for records like Keepers of the Faith. All things considered, I feel it's important to keep that bond as time goes by.

Nearly half of the current Syracuse scene is made up of kids that started coming out to shows this year. Obviously everyone's taste in music is different, but the energy that Terror brings out of people is undeniable. And as someone who's had their whole perspective on hardcore change after seeing that band live, I feel it's important for the next generation to experience that.
Give me some thoughts on Death Threat also being on the bill.
Aaron hit me up after NYD 2020 expressing interest in wanting to come through with Death Threat. Obviously those plans fell through because of COVID, but when they were on board for the New Year's show, I was ecstatic! They haven't played Syracuse in over 10 years, that's going to be a stand out set for sure.
It's great seeing some newer bands on the show as well. What can you tell us about Deal With God and The War Lovers?
Deal With God is the meanest band to come out of Syracuse in a hot minute. It's made up of members of Stand Alone, The Thrill, and Misgiver. Their reaction at every show so far has been insane, and I'm stoked to have them kicking off the gig with a bang. Any fan of Integrity, Kickback, and Forfeit should make sure they pull up early.
The complete opposite of everything I just said, The War Lovers are easily one of the most fun bands coming out of Syracuse right now. Fast street punk with shout-a-long choruses. They may not be a capital h hardcore band, but Jamie and Thao have been putting on for Syracuse for years—I'm stoked that they're playing!
Can we expect another New Year's Day Matinee in 2023? Do you have a wishlist of bands if so?
As long as there's a hardcore scene in Syracuse, there should be a New Year's show. Things come and things go, but I think the New Year's gig is an important tradition for Syracuse that I hope is continued long after my time.
There's a million different bands I would love to see play NYD, but the bands at the top of my list are those yet to be started. There's so many new kids in the Syracuse scene now, and I can't wait for those kids to start up hardcore bands of their own!
Syracuse is in the most positive spot it's been in years, and with a gig as stacked as New Year's Day to help ring in 2022, there's no telling where the scene will be this time next year!
***
Syracuse Hardcore New Years Day Matinee 2022 lineup and ticket info:
Terror
Death Threat
One Step Closer
Regulate
Restraining Order
Worn
Spy
Blind Justice
The Answer
Downfall
C4
Media Limits
Stand Alone
The War Lovers
Deal With God
@ The Vineyard - Wetscott
718 S. Beech St
Syracuse, NY
Doors @ 2pm
All Ages
No Drugs or Alcohol
Get tickets at this link.
***
Help Support What No Echo Does via Patreon:
***
Tagged: one step closer, regulate, restraining order, terror