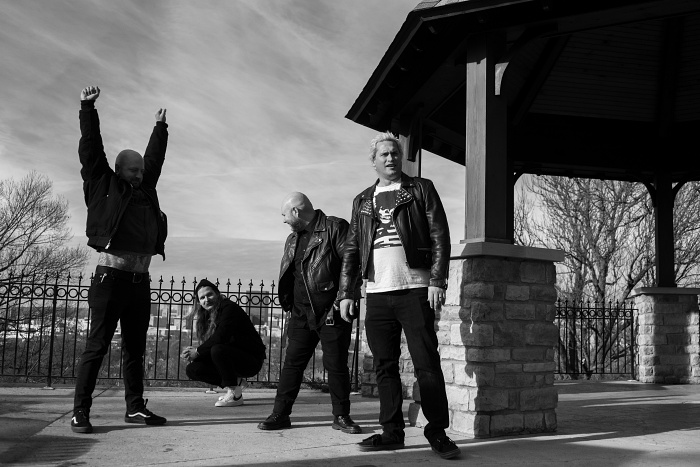 Calling Dayton, OH home, aka the city that gave us Robert Pollard/Guided by Voices, The Raging Nathans is a punk rock combo making its debut on No Echo today.
In terms of their style, the band has a catchy-as-fuck sound that brings to mind everything from The Queers to Dear Landlord to '90s-era Fat Wreck Chords. Basically, The Raging Nathans love upping their tempos, but they also inject tons of melody into their approach.
The group recently released Waste My Heart, their 4th studio album. Recorded by Luke McNeil (The Copyrights, Hospital Job) and mastered by Stephen Egerton (ALL, Descendents), the record was issued by The Raging Nathans guitarist/vocalist Josh Goldman, via his Rad Girlfriend Records label.
Today, the band is back with a new track called "No Goodbye" that will be appearing on The Raging Nathan's forthcoming 7 inch, Bring Me the Head of Betsy Devos. So, in addition to being a kickass song, it's gonna be on a record with a sweet title:
"The music for 'No Goodbye' was written by our bass player, Christian, and I wrote the lyrics," Josh told No Echo through email. "It's got such a killer riff in the beginning and it really sticks in my head. It is actually a song that was left off of our Waste My Heart LP.
"The lyrics are pretty scathing, it's all about people getting what they deserve in the end. Life sucks and it's unfair but ultimately I think people get out of the world what they put into it. While watching these scumbag billionaires and politicians run the country and lie to your face on TV all the time can be disheartening, I like to believe that they get what they deserve in the end. Probably not but it helps me get through the day."
The Bring Me the Head of Betsy Devos 7 inch will be out digitally and physically on September 3rd. Hit Rad Girlfriend Records for the pre-order action.
The Raging Nathans on social media: Facebook | Twitter | Instagram
***
Help Support What No Echo Does via Patreon:
***
Tagged: raging nathans