John Lewis is a record collector and tattoo artist based out of Redondo Beach, California. He spent his formative years on Long Island, screaming in bands, going to shows, and building up his vinyl collection. A product of the Wreck Age Records-era LIHC scene, and the infamous PWAC, John witnessed the inception and rise of bands like Indecision, Vision of Disorder, Glassjaw, and Mind Over Matter.
John and I went to the same high school, but became friends through shows, records, and trying to make it in our own band. John has a pension for playing 45s at half speed, and is on a quest to find the one song that would make the ultimate sludge cover. Paul Simon's "Kodachrome" currently sits at the top of his list.
These days, John plays bass for Fight Night, and in his off time recruits underground bands for his online label, Zeenit Music, which he also co-founded. You can find him at Pacific Sangha Tattoo, where we sat down to have this conversation.
How did you get into collecting records?
I worked at a video store in 10th grade where they made everyone help out at their annual yard sale. A crackhead named Harry who lived in the back room of the store was trying to sell a few metal records among all the other bullshit he had. In return for hauling all the stuff out to the parking lot, I was informed that I could take whatever I wanted.
I ended up with Harry's super-clean copy of Slayer's 'Reign in Blood,' Destruction's 'Release From Agony,' and Devastation's 'Violent Termination.' A pretty good score all around. My buddy Marc took Grim Reaper's 'See You in Hell,' which in my mind probably has the sickest cover art; I wanted it, and that pissed me off.
I credit that experience as the beginning of a life-long struggle to make sure I got to the record before someone else did.
What was the first record you bought with your own money?
Iron Maiden's Run to the Hills 12-inch single, which I got at this store called Mr. Cheapo's the week after said yard sale. The store was up the block from the video store on Jericho Turnpike in Commack, New York, where all my friends would trade in their used CDs for basically nothing. It's still there, and I still go.
We all have one record that we sold that we completely regret, so what is yours?
This may or may not surprise you, but a true fact of life is that I have never sold one of my records. I have, unfortunately, had some gems stolen from me: Ween's The Mollusk, their Gabrielle 7-inch, and my first pressing of Nine Inch Nail's The Downward Spiral, which I got the day it came out. I've narrowed it down to two possible suspects, but I never had any proof, someone got lucky. If they're reading this, I know it was you, give me my records back.
What's the most you ever shelled out for a record?
The Devin Townsend box set I got last year was around $200, but I view that as several albums, plus a big old book and everything else it came with. It's pretty sick, and the price I think is justified. I did pay $100 for the Krull soundtrack a few years ago, that's probably the most I've spent on a single record.
I was looking for it forever, and my kids and I love both the music and the movie, so I finally just pulled the trigger. I almost dropped $400 on the Lovage album a few months ago, but someone else snatched it up. Still not getting to those records first, I'll keep trying.
Is there a record or band that you always buy when you see it?
Pretty much any pre-1990 Iron Maiden. They were a big part of my youth, and my life, just like everyone else who's into metal. They were coincidently the last band I saw before the shutdown, so it's nice to have some live albums from them.
I'm missing a couple of their albums on vinyl, but I was lucky to pick up one of the '80-'88 box sets when it came out.
What's a record you wish would get repressed or remastered? Or are you not into that?
No, I'm all for reissues, especially for albums that are going for ridiculous prices. These days, I'd rather grab a bunch of records I want than buy one album for nostalgic reasons, although those albums have their place too.
The Krull soundtrack is a perfect example. It's my humble opinion that everyone should own a copy, but there's only so many out there, for sale or otherwise. It's a classical masterpiece and for some reason the only James Horner soundtrack that isn't readily available. They'll probably end up reissuing it as a $100 box set.
What's the last record you bought?
A 1970 copy of The Beatles Hey Jude/With the Beatles, from Mr. Cheapo's. It was my first time back to New York in a while and it was the holiday's so I grabbed a bunch of random stuff: Led Zeppelin III, Tim Curry Fearless, The Kinks Low Budget, Maters of Reality Sunrise on the Sufferbus, Beastie Boys Root Down, and this cool Leon Russel and Friends Session. Actually, I think I gave that to you. I've been into tapes lately, and they have a pretty good section.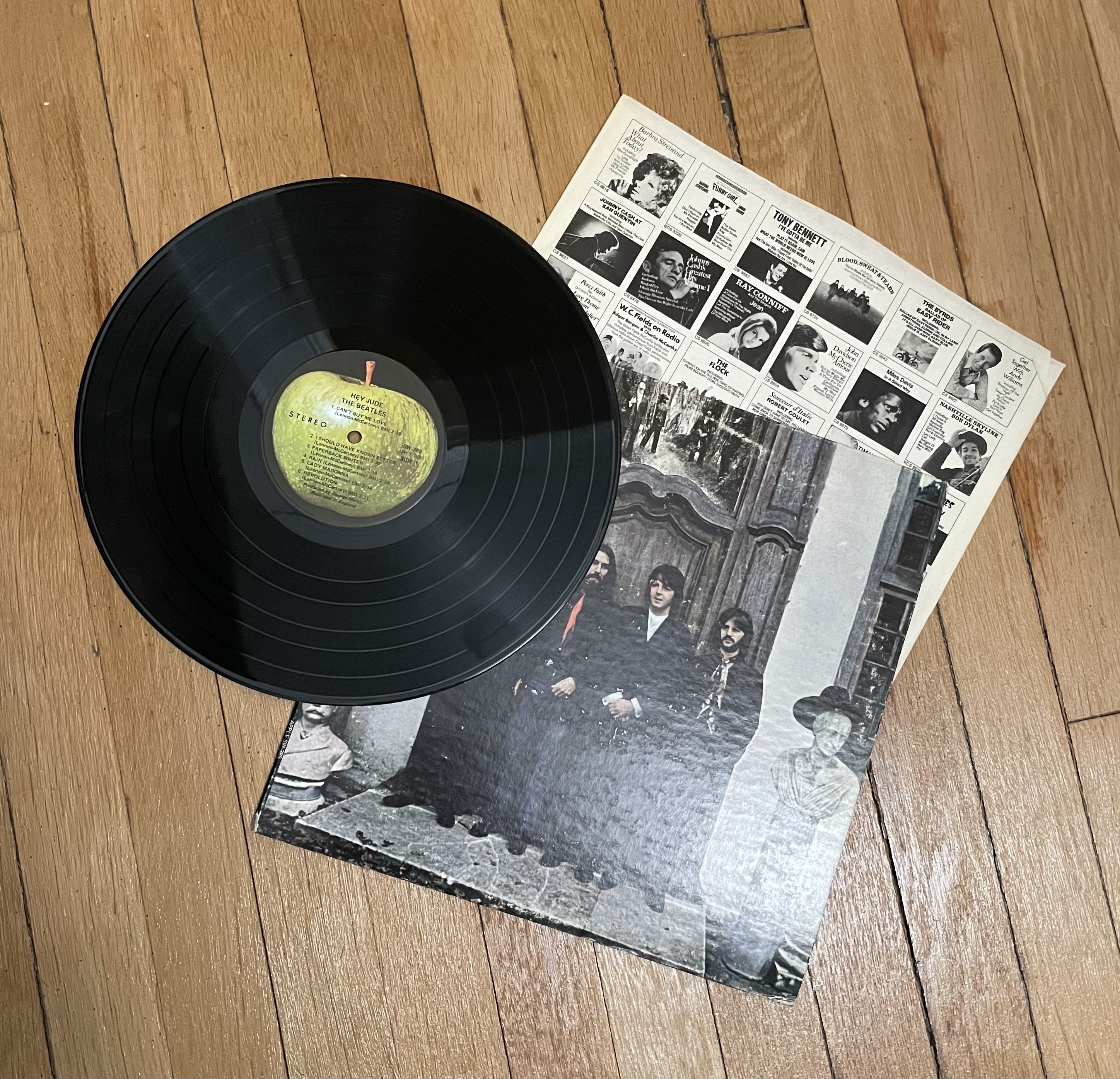 What are your Top 5 record stores we can help support?
I have two kids and spend the majority of my time in either California shops, or in New York when visiting the parents. I try to support the stores around me, especially in the last couple of years:
None of the Above Records (Centereach, New York): R.I.P. but this was a staple for buying punk and hardcore back in the day.
What are some bands you think everyone should be listening to, on vinyl or otherwise?
I don't know how groundbreaking this is, but if you don't know, now you know: Blackwater Holylight is a Portland-based psych rock band, they just put out a new album, Silence/Motion, which is great; Fartbarf is a California electro band everyone should listen to; Gunship, from the UK, I'm not sure they're still active, but all their stuff is up on Bandcamp; I'd add that anything Thin Lizzy has released you should have in your collection, same goes for Faith No More and Elliot Smith

And of course Krull. Go listen to Krull.
***
Follow John on Instagram.
***
Help Support What No Echo Does via Patreon:
***
Tagged: record collector