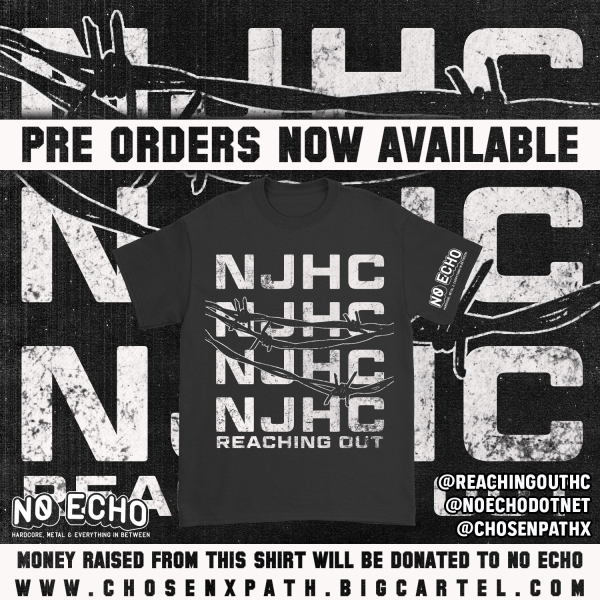 Previously featured back in October 2020 on No Echo, Reaching Out is a newer New Jersey-based hardcore band I'm excited about.
With a no-nonsense approach to their songwriting, the quintet reminds me of the great NYHC groups that were around when I first got into this style of music as a teen in the late '80s.
Not surprisingly, Safe Inside Records (FAIM, Time and Pressure, Rejection Pact) has forged a union with the young Jersey outfit.
Today, Reaching Out has dropped a new t-shirt design featuring the No Echo logo which they'll be donating sales proceeds to go towards helping No Echo with its operating costs and upcoming redesign. The barbed wired design reminds me of the classic ECW logo from the '90s.
The shiet was designed by Martin Miramontes of the band Pointbreak, and is available for pre-sale at Chosen Path for the low price of $8 (XXX Large and XXXX Large are $10).
Needless to say, I want to send a big THANK YOU to Reaching Out and Martin for putting this together for No Echo. I'm humbled by the gesture.
Here is the direct link to the Reaching Out x No Echo t-shirt.
Tagged: no echo patreon, reaching out