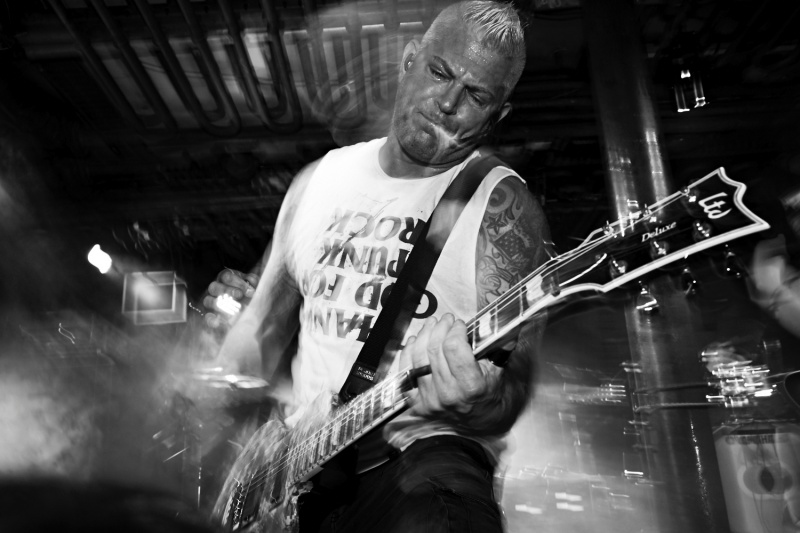 Best known for his guitar and vocal work as a member of Biohazard going back to 1987, Billy Graziadei has been busier than ever as of late. In the past couple of years, Powerflo—a band Billy plays in alongside Sen Dog (Cypress Hill), Christian Olde Wolbers (Fear Factory, Beowülf), and Roy Lozano (.downset)—released its self-titled debut LP and a follow-up EP, Bring That Shit Back, and he's also an avid student of the martial art of Brazilian Jiu-Jitsu.
In November, the Brooklyn, NY native released Feed the Fire, his debut solo album, and while he was out in Germany for some live dates, photographer Tessa Wiegerinck met up with Billy and his band. In the following piece, she chats with the veteran musician about his latest record and shares some shots she took during Billy's visit.
How excited are you now that Feed the Fire has finally been released?
I'm super excited for this album. I've always looked at my music as having three stages. There's the album you have in your head, the sound, the vibe, the energy…the picture is all there and just needs to be captured on canvas. Then there's the actual record you create and in the end, there's the album that you wished you would had created. For me, this is the first time in my career I hit all three on the head. Feed the Fire for me is a win!
How far back did you start thinking about doing a solo project?
I think in a way I've always been a solo artist who writes with my friends in whatever band I'm with at the time. With all due respect to Biohazard and Powerflo, I love being a part of something big that's made of the sum of it's parts. I dig that and will always love being part of a group. Biohazard and Powerflo are alive and well. On the other side of the coin, I've always brought in complete songs to the bands and shared them as my songs.
With Biohazard we always put the songs through a "grinder" and everyone breaths their life into the song making it a Biohazard song. I look at it like a painter who creates his painting that he held in his head. When it's done, it hangs on the wall with pride. For me I like seeing my full idea hanging on the wall, so to speak. I don't invite my friends over the house to take a paintbrush and change the colors around.
How would you describe BillyBio?
I have always been just me, trying to share what I have inside. After cooking or fermenting for a while they boil to the top and come out. Sometimes those ideas come out while I'm with Biohazard, sometimes they come out while I'm with Powerflo, but they always come out and I can't stop it. I don't take it as anything special or different, it's just what I found as my calling in life. I wouldn't change it for the world!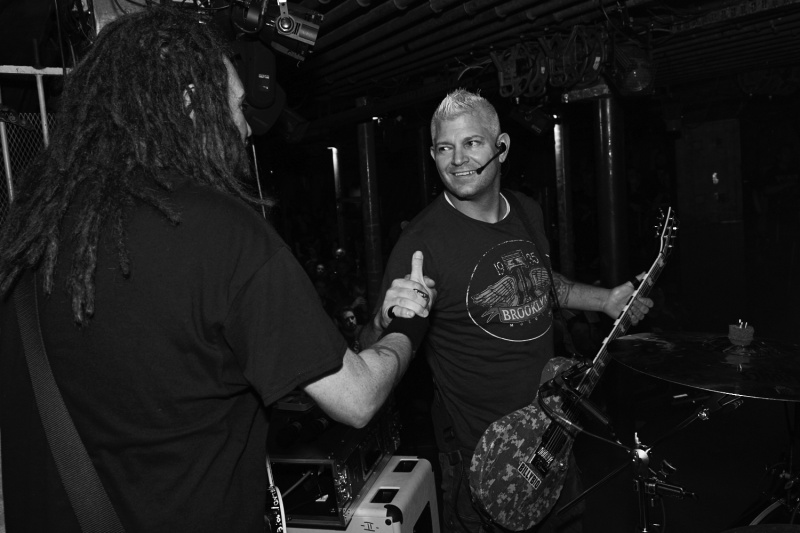 So, what does this solo project tell us about you?
Everything. I'm a product of everyone I've met, everyplace I've been, every experience I've had, good or bad. It all reflects in my art. 100% honest and true, it's me through and through!
I used to be a kid from Brooklyn named Billy Graziadei. I became Billy Biohazard for so many years that I think I forgot who I was. I began to sight see more, pay attention more, stopped partying so much and eventually quit everything that was keeping me on a dark path. I changed my ways before my ways changed me and then I re-found myself. Now I go by BillyBio with the pride of a Lion!
How did you choose the musicians you worked with for the album and solo tour?
I always work the same, the inspiration, players, vibe is different but my workflow is the same. I start with my song and teach it to who ever I'm working with, we jam it out then record. With different projects sometimes things get moved around a bit but that's the basic idea of how I work. As a producer, I find it very easy to communicate my ideas and bring out the best in musicians that I work with.
You did a European tour with Life of Agony and All Hail the Yeti. Before that you had three days of rehearsels in Hamburg. How did that all came together?
A friend of mine reminded me that an old friend had a studio in Hamburg, he recorded the Biohazard live album No Holds Barred back in the late '90s. I reached out and he gave us his room and we spent about 12 hours a day for 3 or 4 days, it felt like a week. None of us had played together before, although we knew each other, so it was a hectic "getting to know you" kind of vibe. In the end, it rocked and we had a hard working good time!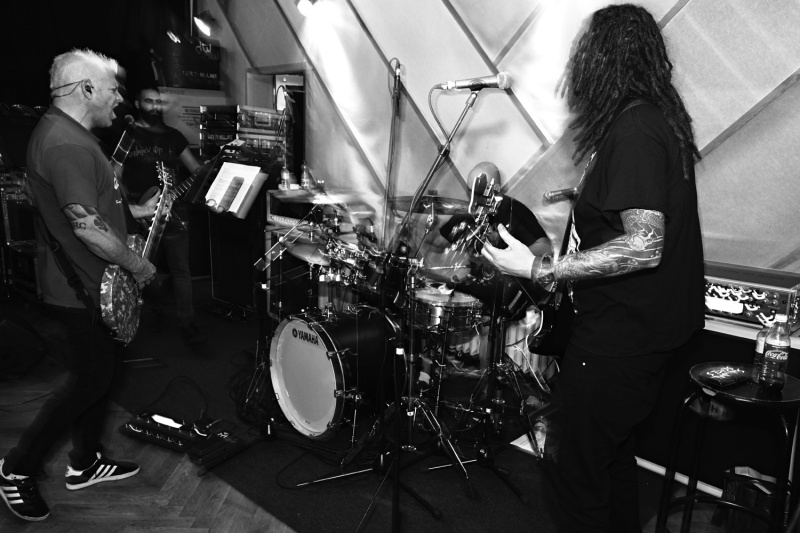 Is there anything else you would like to share?
I'm enjoying the journey I've been on, I live each day for each day and try to take each moment in as it happens. Life for me isn't filled with darkness and gloom, those with power and money (through the media) want us to believe that so we keep fighting amongst ourselves. I share my experiences good and bad but there is always a positive spin on what I'm talking about. I look at life as a series of challenges, with each win I become stronger and able to face a more difficult situation and rise above it with ease!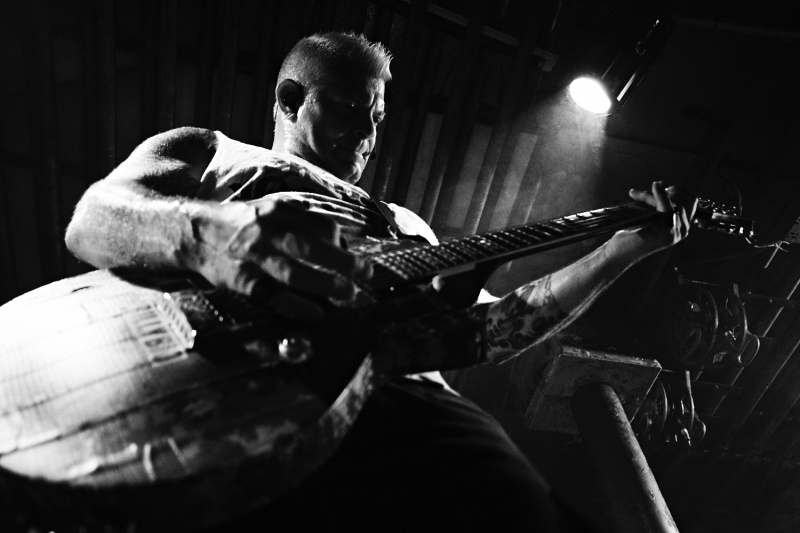 ***
Feed the Fire is available now via AFM Records.
BillyBio tour dates w/ Thy Will Be Done:
12/07 Mansfield, OH – Belcher's House Of Rock
12/08 Toronto, ON – Hard Luck Bar
12/09 Ottawa, ON – Maverick's
12/10 Montreal, QC – Piranha Bar
12/11 Quebec, QC – L'Anti Bar
12/12 Providence, RI – Fete Music Lounge
12/13 Poughkeepsie, NY – The Loft
w/ Life of Agony and Sick Of It All:
12/14 Huntington, NY – The Paramount
12/15 Asbury Park, NJ – The Stone Pony