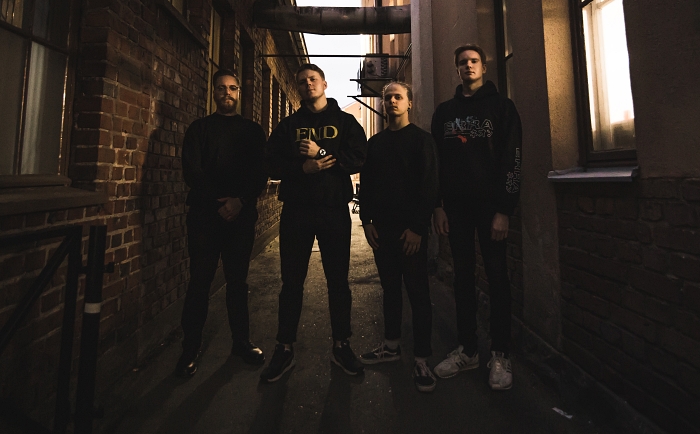 It's been two years since the metalcore world heard from Portraits. Back then, the Finnish group dropped their debut offering, a nine-track affair called At My Darkest, and then went into hibernation mode.
But before we get to their current whereabouts, let's go back to the beginning. "Portraits started out as a group of friends gathering to play Killswitch Engage covers in a local youth center," vocalist Tommi Astala tells No Echo.
"After many years of composing songs and playing shows, the band felt like a need for a change. As a result, the band reshaped itself under the name Portraits leading up to the debut album, At My Darkest, in the fall of 2020."
Back in action, Portraits just issued a two-song release comprised of "Fractures In a Crimson Sheet" and a cover of "Fixation on the Darkness," the 2002 breakout single by the aforementioned Killswitch Engage:
With the KSE cover, it's no surprise to hear Tommi's explanation of his band's prime influences. "Portraits gather aspects from a wide spectrum of different styles of metalcore. The major influential bands for Portraits come from the golden eras from early 2000s to 2010s. Merging sounds from viperish riffs and voluminous melodies, the band aims to create the perfect balance between sorrow and tranquility."
Tommi also gave some insight on the heavy music scene in Portraits' region. "There are many growing bands in the Finnish scene yet to be broken through to a mainstream level. To mention a few, our favorites include Kneel Before the Death, Atlas (FIN), and Assemble the Chariots.
"In addition, active booking agents are refreshing the scene. As an example, Aki Juvonen (formerly known from his work in Loose Mind Productions) has just joined forces with NEM Agency with his roster. We'd like to give a special shoutout to our friends in Realm of Torment."
***
Fractures In a Crimson Sheet is available now on Bandcamp.
Portaits on social media: Facebook | Instagram
Tagged: portraits