There's long been an intersection between hardcore and great art. New Jersey-based Videographer Kurt Fowles, owner of Sirius Cinema, has turned what began as a lifelong hobby into a fully-fledged career. Having toured relentlessly with both CDC and Years Spent Cold, the videos are ultimately a product of countless hours honing his talent. Clearly informed by a stridently DIY ethos, there's a documentarian's touch and craft to his work in music video. Having done work with/for a variety of bands in hardcore and the adjacent subgenres of street punk and pop-punk, Fowles is clearly an asset for bands looking to add a visual component to their presentation.
Additionally, Fowles has his hand in a number of other video subsets: drone, travel, fitness, and wedding work. Recently interviewed by our friends at the Ill Street News Podcast, Fowles is a product of the hardcore scene's seemingly endless wellspring of relentlessly talented and hard working artists expanding the reach and impact of the scene itself.
He was kind enough to go back and forth with No Echo. For a more exhaustive look at the man behind the lens, give a listen.
Tell us a bit about your involvement in hardcore.
Firstly, I just want to say thank you for having me and I was really looking forward to this interview. I guess my involvement in hardcore has been through some of the bands that I have played for, both growing up and up until today. As a young adult, I was just jamming with friends until getting linked up with an already established band from NJ called Repercussion, on Spook City Records at the time from Philadelphia. From then on, I've played in multiple bands; Death Do Us Part, CDC, and Years Spent Cold. Years Spent Cold is the most recent and is still going. Another aspect I have is working in hardcore lately doing some video work with my business Sirius Cinema. I've done music videos and promotional videos for album releases and upcoming announcements. It's definitely a must needed thing these days trying to keep up the content for social media.
Were you always interested in videography, and how did you find it co-existing with the music scene? Also, what was your earliest amateur work like?
Since as long as I can remember, I have always been interested in the "media" world, whether it was videos or photos/photo altering in Photoshop. I did a lot of that in my free time growing up between tours. It currently co-exists and has been a big influence on my creativity being in the music scene and working with so many different genres of music. Not just straight hardcore and metal. I have been working with lots of pop-punk bands, as well, that have been coming out of the Lumberyard Studios where Nik from Man Overboard and Ace Enders from The Early November have their own studio. It's really refreshing to jump from genre to genre and it keeps me on my toes creatively.
As far as my earlier amateur work, it was probably terrible [laughs]. I feel like it was probably and old flip phone or some kind of camera that I had and just threw things together. My friend Jasmine from Las Vegas actually was one of the first people I started hanging with that was constantly taking photos and videos of her everyday life with her friends making just highlight videos of their weekend together. It was such a cool thing to look back on and have more to remember than just a photo. It really sparked in me at that point to buy my first very own camera: a Canon XT Rebel.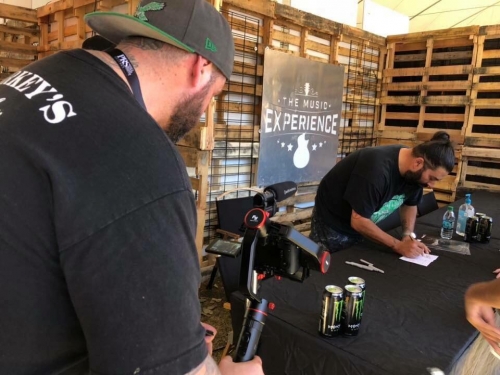 Aside from filming some stunning and high definition music videos, your company seems to shoot things both adjacent to hardcore (tattoo culture) and not at all. In just a year, your client base has grown to include a litany of fitness videos for weightlifting, yoga, and martial arts, not to mention drone and even wedding videography. Where does that intersectionality come from? What was the initial goal of Sirius Cinema?
To be honest, I feel as a business especially doing video work, you can't just narrow yourself down to one thing. I feel with some things you may be able to do that and be successful. I can name a bunch that are. But that's not me and I just wanted to have other ways to expand my mind and being more creative. The initial goal was to work for myself and devise a plan of action to not only help my business but also help my friends businesses in the process. When I first started doing this as a "business," I did everything for free. I found like 10 friends who had their own up and coming businesses. I said to them that what I would do is make them a commercial-like video that'd promote them and myself in the process. Doing this made what I do explode because it was word of mouth and "friends of friends of friends" all wanted something similar to what they saw. I firmly believe is doing some things pro bono. It will really help you in the end.
Hardcore has long produced artists that have segued into other worlds as artists. How has your involvement in the music scene helped build your professional career? Are there connections you've made through years of touring that have paid dividends in the videography world?
It definitely has helped me keep in touch with old friends and helps me also still travel to the locations I have been in my days of touring in a band. It's just crazy to look back and see all the places I have toured musically and now I'm doing the exact same thing with my own business.
Do you view your video work as part of the same continuum as your music? Despite the clear and stellar quality of your work, there's a fiercely DIY ethos that shines through your work. Where's that come from?
I treat music the same way I treat the video work that I do. It leaves my "studio" with my stamp of approval. I wouldn't want to put out something I wasn't happy with and I ultimately know the client/fan of my bands wouldn't be happy with either. So, I strive to do the best I can. Of course, I'm always going to be my own worst critic but I make sure I put my heart into it every time.
You've worked with some killer music videos and promotional videos for hardcore bands our readers will be familiar with (Departed, Sanction, Vein, Harm's Way, Hollow Visions, Gloves Off) but also some rad pop-punk and street punk acts. I'd imagine it's easier for bands in the scene to inherently trust one of "our own." Tell us a bit about some of your favorite projects and give some advice to bands looking for video work done. Tell us a bit about other genres, etc.
So, some of my favorite projects have been the music videos with creative story lines but nothing too "Hollywood." I'm not at that skill level yet although I am working towards it. Each genre of video I have worked with whether its a fitness video, music video, restaurant commercial or just a basic promo really lets me have a more open mind to try new things out.
Watching some of the fitness videos on the site has me feeling even more out of shape, as if that were possible. Have you always been attached to that world?
For a period of time I was heavily into that world, doing Cross-Fit myself and losing close to 100lbs. As of lately, I have really been slacking and its a shame cause I film people working out and getting in shape and during that all I can think of in my head is "Damn! When I'm done this I'm going to get some Wawa." [Laughs]
Who're some of your biggest inspirations, artistically speaking?
Musically? Deftones. Hands down. Artistically and musically!
2018 finds music videos in an odd place. They've returned to a certain extent but the format offers way more freedom than it once did. Tell us why bands should look to you for promos, full-length videos, etc. How should they begin that process?
Content, content, content! Every band needs this! Just posting yourself at practice or sharing your upcoming shows flyer is great and all, but people really want something different. All of the bands I have worked with and have done video for have really seen a spike in their engagement with their fans, whether it's just a promotional piece or a music video. It all leads to more comments, more likes, more shares, and an overall great response!
Obviously, we're a hardcore site. I can't let you get off without asking for your Top 5 HxC records of all time. Also, what your Top 5 non-hardcore records of all time?
Damn, this is gonna be kinda tough, to be honest.
HxC:
The Hope Conspiracy, Cold Blue
Poison the Well, The Opposite of December
E.Town Concrete, Time2shine
Vision of Disorder, Vision of Disorder
This Day Forward, Transient Effects of Light on Water
Non-hardcore:
Deftones, White Pony
The Story So Far, Under Soil and Dirt
Movements, Feel Something
Slipknot, Slipknot
City and Color, Every album [laughs]
How should people check out your work and get in touch to set something up?
So, hopefully they already follow me! If they don't, they can see my stuff on www.siriuscinema.com or on my Facebook page or my Instagram. As far as contacting me, definitely don't hesitate to send me a DM to some question on pricing or run some ideas by me. I am always open to just talk music and photo/video stuff. Camera suggestions, gear, programs, and all of that I can help with as well.
*Kurt is also about to launch Sirius Coffee Co