In March of 2019, I had the privilege of seeing the 1865 perform in Los Angeles. In the 15 years I've shot shows, I've met many people but not necessarily always made lasting connections or friendships. I'm grateful to say, while the entire band was incredibly friendly and welcoming, that I immediately connected with their bassist/vocalist Flora Lucini.
Because We Are is the name of the debut album by her hardcore band, MAAFA. I sent her a few questions about the record recently and this is what she shared as well as info about the creation of the record and MAAFA as a band.
For context before getting into the interview, I want include a section of MAAFA's press bio out of respect and importance to the meaning behind the name MAAFA. The word 'Maafa,' Swahili for "disaster" or "catastrophe," has been used by scholars and activists for decades to refer to the transatlantic slave trade and its resulting impact on the African diaspora.
Hardcore punk outfit MAAFA adopted the moniker to both acknowledge that era's impact and reshape it, to make it a signpost for the subversive message and sonic onslaught for which the band has become known.
For starters, while there is no doubt Maafa has been putting in time on the live front; what is some background about Maafa as a band for the overall No Echo readers?
I have been a professional gigging and session musician for most of my life mainly in the jazz/Latin music space, as both my parents and most of my family members are
professional jazz musicians themselves but I also have had a steady career primarily as a bassist, songwriter and occasional bass/vox combo in the hardcore/punk scene for over 20 years.
Around 17 years old, when I was still a little skinhead girl in DC, I started my first, all Black, harcore band and took to the mic to make my debut fully as just a vocalist. That band was called Curbside Revenge, which was the predecessor to MAAFA; Towards the end of our time as a band, I had my close friend, Mentor at the time and former professor of West African Drum and Dance, Amadou Kouyaté, join us on Djembe as a "test run" of what that would sound like, after having been the bassist of his band for a few years. He is the first, official Djembefola of hardcore and eventually went on to become an original member of MAAFA, who is on this album.
Even though everyone in Curbside was tried and true punks/hardcore kids/skins we were primarily based in DC proper and had a lot of influence in our music from all of our other gigs in Go-Go (D.C.'s Native Genre of music), jazz/Latin jazz, ska, classical, and metal. So the essence of fusing different genres has always been in my blood and at the core of what would become MAAFA.
We broke up when I moved to Boston to study at Berklee College of Music and it was there where my chops as a bassist and composer as well as my politics grew exponentially and where I got the desire to start writing for my own band.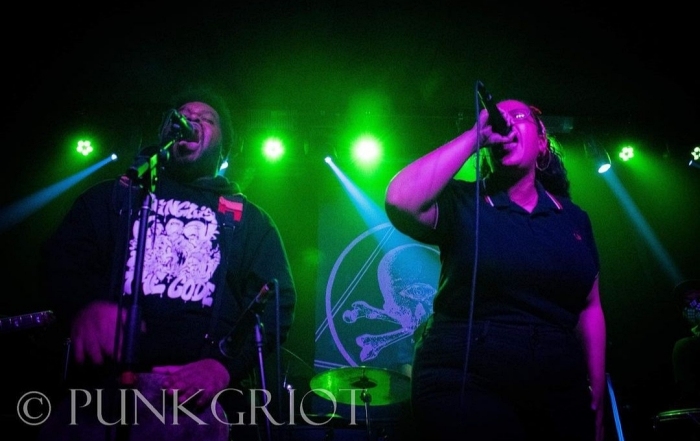 I was born into the music industry and came to the U.S. in 1991 from Brazil and ever since I was a little girl in the scene I have always heard our music differently because of the type of music I grew up around. I can hear the influences of Black musical traditions in a lot of punk but especially hardcore, whose roots, I can trace back to their origin on the African continent or to somewhere in her diaspora.
When listening to a lot of the bands that have influenced my songwriting like Snapcase, Bane, Dag Nasty, Leeway, Everbody Gets Hurt, Undertow, Billy Club, District 9, etc. I can literally hear the influences from the diaspora in a lot of their rhythmic phrasing, particularly in their choices for drumming/the accents and breaks they choose, that percussion could highlight even further.
For instance, I could be listening to anything on Lookinglasself by Snapcase and recognize where all the rhythm changes and breaks came from in the diaspora.
That is how I've always heard music. I can hear what they're trying to do and be like "Oh, that comes from Mali or from Cuba" or how the entire backbeat pattern that we associate with Punk or its variation in the hardcore "two-step," for example I recognize that comes from the Southern Black American gospel praise break and
influence in rock 'n' roll.
So eventually when something in my spirit said "start your own band for real," I sought to create a kind of hardcore that blended all my influences and cultures but with the intention to highlight its relationship to Black-African & indigenous musical traditions. Not only in the music but in the representation, the content, and the instrumentation of the band itself; to create the hardcore I wish existed so to speak.
Rather than relying on a term like fusion, I feel like MAAFA's sound fully realizes how limitless the potential creativity in hardcore music can be. Are there some unexpected or uncommon musical influences you'd like to mention that played a part in the writing process?
There are so many lol definitely too many "uncommon" influences to mention in one sitting, but some of the main ones you will hear highlighted on the album are Afro-Brazilian Afoxé, Samba-Reggae and Axé,Tambor De Crioula, Cuban Batá and Tumbao, West African Sabar, American Jazz, Latin jazz, and D.C. Go-Go.
My main influence as a songwriter is my parents, who are my very best friends. They're both multi-instrumentalists, but primarily My dad is a bassist and my mother plays Tenor- Saxophone. They both love mixing different musical styles, odd meters, and influences into their original music. So I get all that from them.
While, yes, I was influenced obviously by a lot of hardcore for this album I was also listening to a lot of Djavan, Susana Baca, Elis Regina, John Pattituci, and My dad's bands "Nó em pingo d'agua" and his band with my uncle, who is a drummer, called "Origém" after which the first track on the album is named after.
There are a lot of influences on this record that probably only mellow nerdy musicians will pick up on but I am influenced musically and lyrically by many uncommon things and even though I absolutely am in love with hardcore and have dedicated a huge chunk of my life to this community I don't listen to that much hardcore during the week. I listen to whatever my emotions and my spirits tell me they need to hear, so it changes up a lot.
I wrote every song on this album using an acoustic guitar, for example, because everything about MAAFA is unconventional.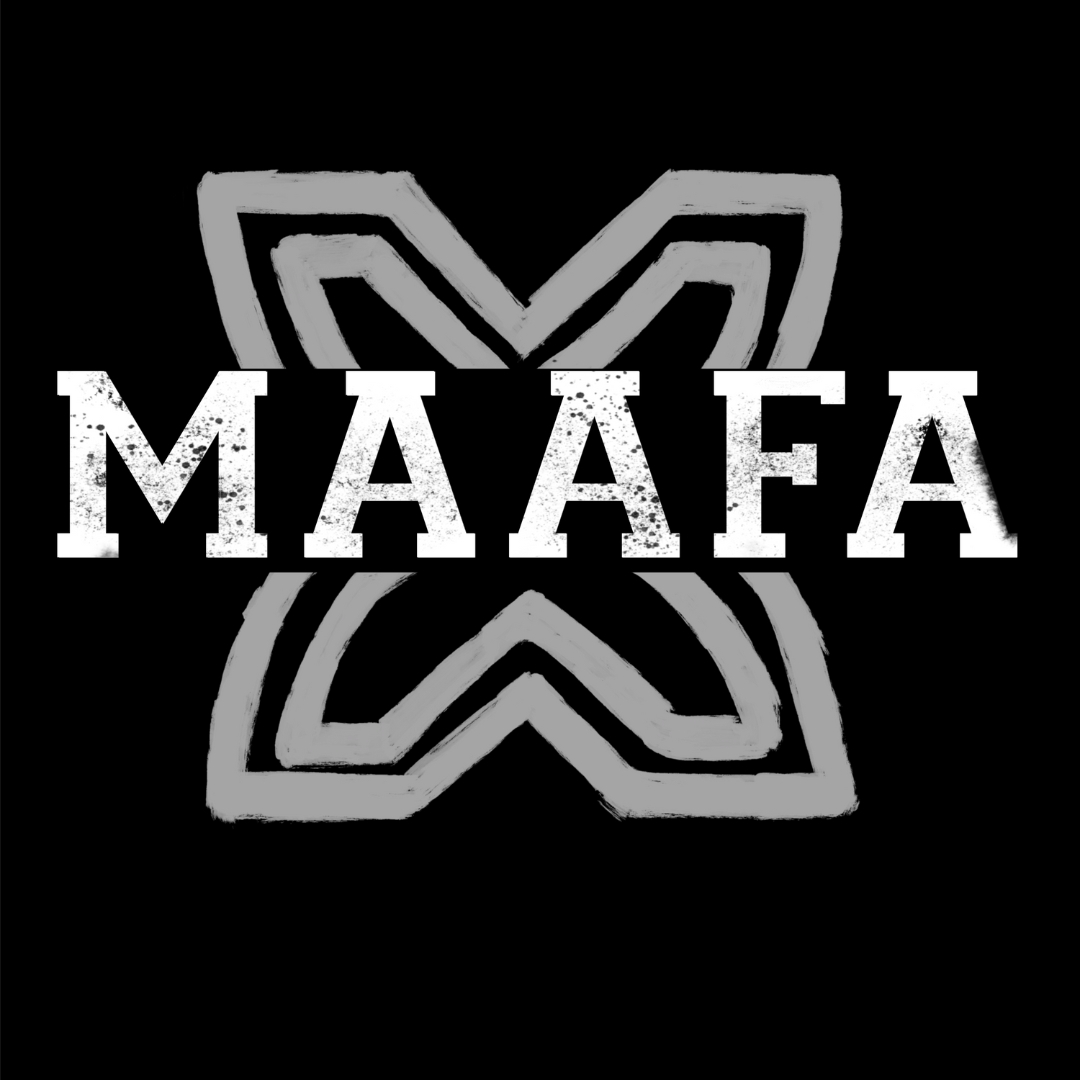 I know djembe is part of the overall percussion along with the drum set in MAAFA; what other percussive elements are included in the band?
There are many! Some of them are the Atabaque, Agogo, Pandeiro, Berimbau etc from Brazil.From Cuba, we have the Batá drums, and conga. From West Africa aside from Djembe/sege sege, we have the Kora, Shekere, Dundunba, Sangban, Kenkeni, and more.
As you can tell from the info above, the roots of MAAFA are deep. If anyone is stuck believing there is a formula for what defines music as hardcore or not, MAAFA is ready to destroy that in the best way possible. It would be easy to say MAAFA is the future of hardcore, but more importantly, I see MAAFA as a representation of hardcore in the present.
When music takes on layers of modern society in a blunt and unapologetic fashion, this isn't forecasting what is coming. It is past time to move beyond formulaic rules and predictable clichés. To borrow from historian Howard Zinn, "You can't be neutral on a moving train."
There will be personal favorites among the 10 songs on Because We Are, but a current favorite of mine is "For the Culture" featuring Christylez Bacon. I could easily picture this song live with Christylez grabbing a mic and Flora being right there with them in a fashion that would be as at home in a hardcore show as it would for a rap battle. This may be the debut album of MAAFA, but that doesn't mean they are a band still in search of identity. If anything this is a declarative statement by a group of individuals claiming their space in time.
One of my favorite things about all music, but particularly some of my favorite heavy music, is that has shifted my perspective and caused me to open my eyes to sometimes things I've never paid attention to or things I've yet to learn about. MAAFA presents everyone with a new lesson for the most pit as well as for your mind and heart.
***
Released through Fuzz Therapy Records, Because We Are is available digitally and on CD with an accompanying zine instead of a traditional booklet by Raeghan Buchannan (find her on Instagram @Peppermint_Raygun) also included in the booklet is an image of a painting by Flora's great-grandmother.
Flora and all of the members of MAAFA want to express their gratitude to everyone with this record including Lance Marwood and Christopher Gonda at V13 promotions, recording engineers Chris Bittner and Mike Birnbaum, everyone at Applehead Recording Studio in Woodstock, NY, Chris Athens, Raeghan Buchannan, Frank Lawson, Jeanette D. Moses, Hilary Neloms/Fuzz Therapy Records, Christylez Bacon, Jabari Exum, Baba Segun, Matt "Swamp" Guinee, Mambembé Everton Isidoro, and Amadou Kouyaté- Lead Djembefola and original MAAFA band member. First Djembefola of Hardcore. He is a Griot and a 150th-generation descendant of the Mali Empire, Ethnomusicologist/Professor of African drum and dance, history, music, and culture.
Tagged: maafa