One listen to Oh the Humanity! and there's zero doubt they're a melodic punk band. But as you dig in further, it's not hard to hear elements of classic heavy metal (in the guitars department) and hardcore in what the Massachusetts quintet is doing.
"Our bass player Andy, our guitar play Jim, and myself had been playing in bands together for years that were mostly either hardcore or metal," Oh the Humanity! guitarist Chris DiIeso tells No Echo, which helps explain their stylistic approach.
"We all grew up listening to different bands within the metal, punk, and hardcore worlds and we've made it a point to let all of these separate influences work their way into our songs. We like to write catchy stuff, shreddy stuff, aggressive stuff, and melodic stuff.
"We pull ideas from everywhere but the bands that I would name as direct influences are ones that also seem to follow this philosophy. Bands like A Wilhelm Scream, With Honor, Strung Out, Strike Anywhere, and Propagandhi, to name a few."
The track above will appear on Oh the Humanity!'s forthcoming eponymous full-length LP. "Over the two years that we wrote this album, life changed a lot for me," says vocalist Kevin Athas, "and that made the writing of this album especially challenging and interesting for me.
"A lot of my lyrics come from an introspective and self analytical place, and when I dug into that hole writing this album I realized I wasn't the person who wrote some of those earlier songs. I had changed, and I think the content of a lot of these songs reflects that for me."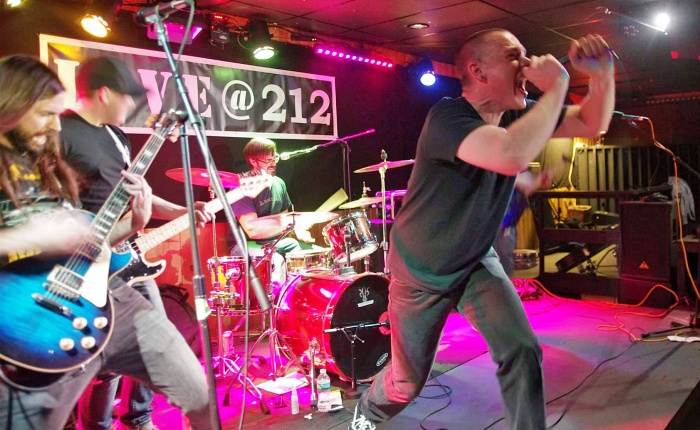 Though this is the first time they've appeared on No Echo, Oh the Humanity! have been doing their thing for a minute. "Over the 9 years Oh the Humanity! has been a band we have created a web of people and bands that we care very deeply about, and without them we wouldn't be OTH," Kevin tells No Echo.
"Some of them have been with us for the long haul, some we picked up more recently, but they're all our friends and family. There would be a lot of people to list if we tried and we don't want to leave anyone out, so we'll just cop out and say—you know who you are and we miss you terribly."
The Oh the Humanity! album will be out April 16th via Hellminded Records and ready for pre-order at this link.
Oh the Humanity! on social media: Facebook | Instagram | Bandcamp
***
No Echo has launched a Patreon with 3 tiers offering all kinds of hardcore-related goodies to help support the site:
***
Tagged: oh the humanity