While browsing through Instagram recently, I came across the page of Gleason Woodworks and quickly fell in love with what I saw.
The creation of woodworker Matthew Gleason, the page showcases his gorgeous and highly detailed pieces, often reflecting his passion for hardcore punk music.
Some of the pieces he's created inspired by hardcore bands include Sick of It All, Merauder, and Killing Time (my personal favorite so far).
Intrigued, I reached out to Matthew to pick his brain about his work, and he was nice enough to answer my questions via email.
When and how did you discover woodworking? Also, who taught you the skill to actually do it?
About 15 years ago, I needed some framing done for a bunch of posters. After I got them back and saw the price, I lost my mind. So, I figured out how to make frames and cut the glass. Everything else just kinda snowballed from there.
I started making boxes and carving them. No one really taught me the craft. I have done HVAC for years and was comfortable using all the tools. So I could figure out how things are put together. I'll just work through the problem till it's solved. Lots of wood has ended up in the burn barrel.
Walk me through a typical project in terms of materials, tools, and labor time that goes into it.
Everything starts as standard pine lumber from any hardware store. I use a variety of tools to build the boxes: table saw, router, miter saw, nail guns, sanders, etc.
I make everything from scratch, no prebuilt anything.
After the box/frame is built, then I'll design it. Once a primary design is figured out I'll draw the image directly on the box or use a stencil. I carve with a Dremel tool which is a handheld router tool. The final step is staining and sealing the project.
Typically projects are about a 2 1/2 - 4 hours process, start to finish. But, that being said I finished a piece this summer that over 30 hours of carving into it.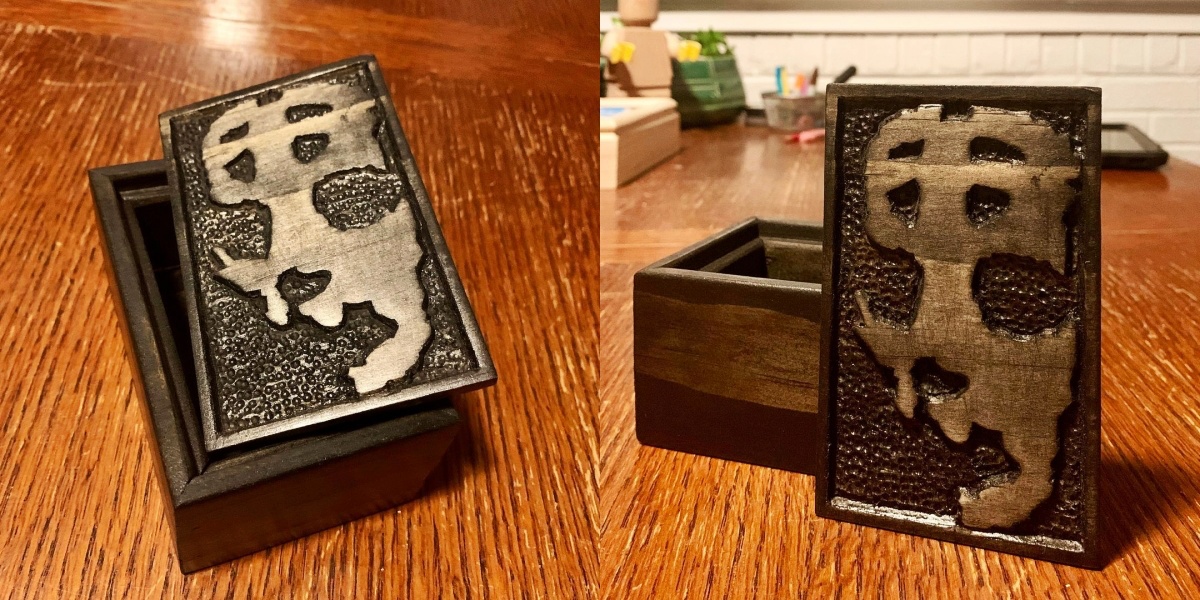 Tell me about your connection to hardcore, and some of the work you've done related to that.
My connection to the hardcore scene goes back about 30 years. I grew up right outside of DC in a place called Bowie, Maryland. I booked shows in Bowie and Crofton for a couple of years.
Along with the shows, I ran a record label and did a couple of zines: Overdose Records/fanzine and Project E fanzine.
As for the woodworking-hardcore connection, I grew up looking at band logos and thinking about how I could look at an image and know who the band was without seeing the name. I thought it was super powerful.
One day, I decided that I wanted to try and carve a couple of band logos. I started with a Turning Point, Integrity, Sick of It All, and Judge boxes. This lead me to doing commissions from AVAIL to Corrosion of Conformity to Motörhead.
For anyone reading this who is interested in commissioning an original piece from you, what would be the best way to get their concept through to you? In other words, outside of a photograph, or some kind of illustration, are there other ways/mediums you can work off of to create a piece?
Getting a commissioned from me is super easy. Just email me or DM me on Instagram. I'll work with the client to design a project that meets all the needs and wants. Everything is pretty customizable from shape, size, color, etc.
I'll carve your design (within reason) or mine. I've done commissions from a sauna bucket to ring bearer boxes for weddings to stash boxes with dividers and trays. Most of the time I can have a piece finished within two months.
What would be your dream project, whether that's music-related or not.
I would love to start doing larger furniture size pieces. Small tables, cabinets, book selves and fully carve them. If I can think it up and I'm excited about doing the project. I'll figure out how to do it. If there is a will there is a way.
But, doing a big Murphy's Law stash box with dividers and a tray. That would be pretty tight. Hit me up if you want to make my dream come true [laughs].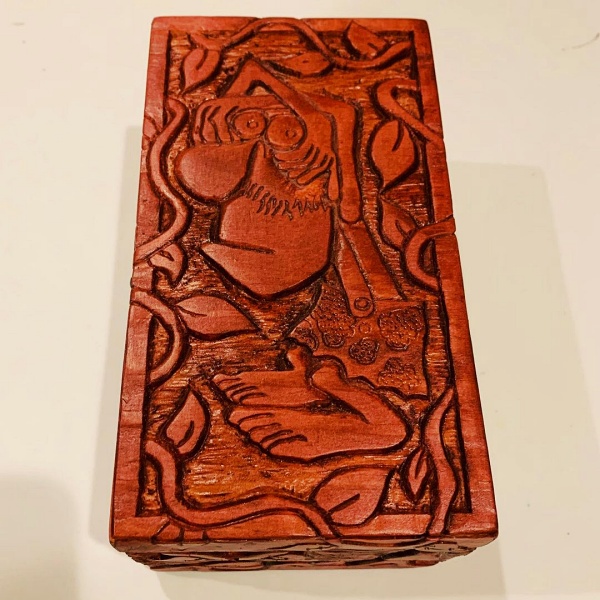 All of the pieces I do are one of a kind; I don't use a computer controlled carving machine. Everything is all done by hand.
Also, the pieces are all signed and numbered. Hopefully with the new year I'll be back to traveling to a town near you.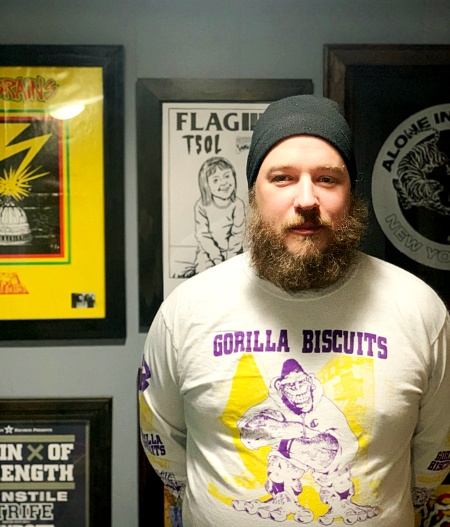 Follow Gleason Woodworks on Instagram, and head to his Big Cartel store to see what Matthew has for sale.
***
No Echo has launched a Patreon with 3 tiers offering all kinds of hardcore-related goodies to help support the site:
***