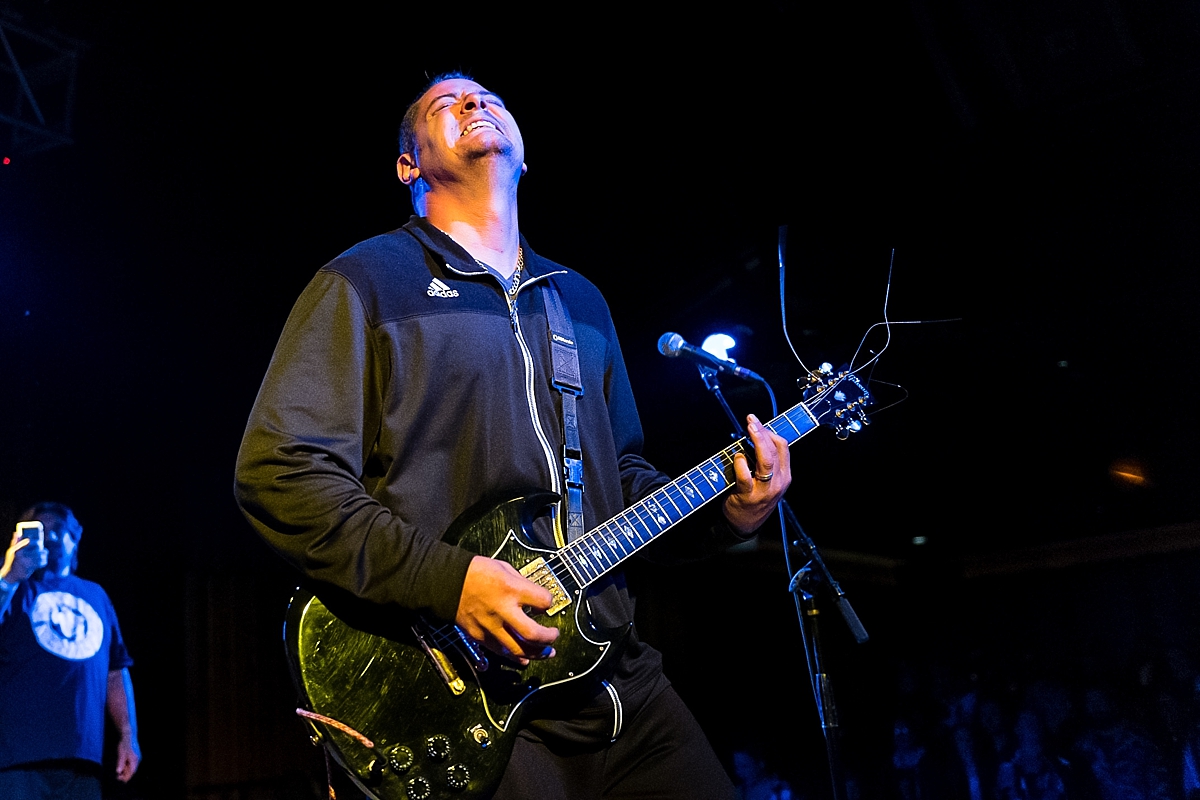 I've been a fan of Dan Nastasi's guitar work and songwriting going back to the late '80s when I first discovered Mucky Pup. Since then, the guitarist has built a deep discography via stints in Dog Eat Dog, All Boro Kings, Nastasee, and touring as a member of Murphy's Law. These days, he's helping Eddie Sutton with the new Leeway NYC material (writing, recording, and performing on select live dates) and his latest band, Kings Never Die.
With Dog Eat Dog gearing up for a special 25th Anniversary hometown gig in New Jersey in honor of their All Boro Kings album, I chatted with Dan about his career and upcoming musical plans.
Tell me a bit about your entry into the music scene as a teen in New Jersey. Who were some of the local bands that you remember going out to see?
I have to be honest, I really didn't see many bands until after I picked up a guitar. I started pretty young, I guess, 1984-1985 (13-14 years old). My neighbor, Ed Fuhrman, was playing some guitar before me and was really interested in being a solo guitarist. I got the cheapest piece of crap guitar I could find and said, "I'll play the rhythm, you play the leads." I never really had an interest in learning or studying music. I just wanted to play what I thought sounded cool to me at the time. After a while I became a big believer that If I understood music or how to read it, I would never be able to write and play what I thought sounded cool.
I saw a couple local cover bands in NJ/NY play and within a couple months I met the Milnes brothers. and we started jamming covers, which immediately led into playing our own music. Our friend, Dan Lorenzo (Hades), really helped us get going and ultimately hooked us up with the Torrid Records guys. 1986/1987 we would go see shows everywhere. From CB's to L'Amour. [Laughs] The first time I completely got my face re-arranged was at the old L'Amour at an Anthrax gig in 1986. I remember it was right before Christmas.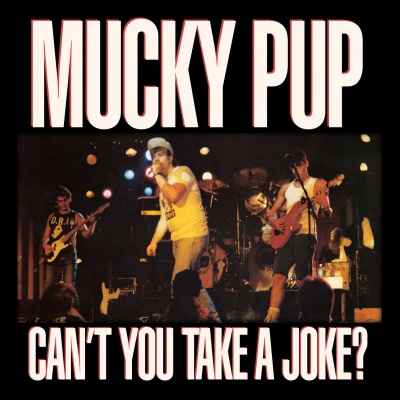 What's the origin story of Mucky Pup? I grew up in NYC and through WSOU radio, I became a big fan of the band early on.
I was introduced to Chris and John Milnes by my friend Scott Dottino (truly the original bass player in Mucky Pup). I was maybe a sophomore in high school... 1985 maybe. They had their own garage-built studio in Bergenfield, NJ. We went and jammed a couple cover songs, etc. I would say we probably immediately started playing our own stuff. We were into so many different kinds of music between all of us. Chris loved everything from old metal (Sabbath/Maiden) to blues. My first albums—like everyone else—were The Doors, KISS, Van Halen. Actually, I loved Too Fast for Love-era Mötley Crüe. Metallica/Anthrax was just entering. I was a huge Dead Kennedys fan, etc. It really was the greatest era of music, I feel. 1982-1990. So many great hardcore bands. We loved Cro-Mags and Agnostic Front when we first heard it. That Murphy's Law album dropped, etc.
So many diverse influences all coming together, I guess. I view [the Mucky Pup album] Can't You Take a Joke as a crossover hardcore/thrash metal and comedy album fueled by cocaine in young bodies and minds [laughs]. The cocaine ended for all of us, fast. Thank God. But the combination of us together was really special for the time. Chris is beyond talented and entertaining; John was and still is a great drummer and I was writing about shit that I truly had no business writing about. Just poking fun at everything, trying to make songs out of anything a 15-16-year-old thinks is funny at the time.
Chris really kept us all together. He was older, way smarter than we were. He worked his ass off on making Mucky Pup into a "real band." Without him, none of it would have happened.
Mucky Pup signed with Torrid Records; a label that was co-owned by a guy named Todd Gordon.
At the time it was awesome. Torrid had Hades and Exodus and took a chance on us. Roadrunner had the album in Europe, I believe. Can't You Take a Joke was released in 1987, so obviously shit was moving pretty fast. Like every band at that time. I knew we were selling albums because people were coming to shows everywhere, we played, but I never saw a dime of royalty or publishing money. "Working for da' man," I guess.
I remember feeling like Mucky Pup was going on to get bigger after A Boy in a Man's World, but then the next thing I knew, you were out of the band. What happened?
True, after we recorded A Boy, I did leave (shame, it was the best Mucky Pup album, in my opinion, and some of my favorite songs I ever wrote are on it). Truthfully, after we finished recording the album, I was honestly a mess, trying to get my life together. Young/dumb and didn't know how to handle the whole thing. I was 18-years-old when we just packed up and left to tour Europe in 1988 after Joke. I had no idea what was about to happen. I also was butting heads with Chris when I should have been thanking him. I wanted to try new things musically, etc. All of it!
After a while I was given an opportunity to audition for Murphy's Law, which was just an unreal opportunity. Those guys were pros, man. Dougie Beans and Chuck (RIP) were incredible musicians and people. Jimmy is just the best to ever do it! Those guys took me in, treated me like family and I am forever grateful for those 18 months of my life. I just learned so much, not only about music, performing and touring, but about life. Ultimately, Murphy's Law was not "mine" (if you know what I mean), I certainly was no Todd Youth (RIP), he's another one on the "greatest to ever do it" list. May have been a huge mistake on my part, but I really felt I was Dan from Mucky Pup at that time and I decided it was maybe best for everyone to get back with Chris and John and make the Now album that we released in 1990.
I love Now so much and still listen to it from time to time. How do you feel about that one today?
For the time period, I think it was unique and again, very diverse. It's funny, my least favorite Mucky Pup song is "Hippies Hate Water" (it makes me cringe). That album was all over the place musically but certainly is original.... I remember, we got together as soon as I got back from Euro tour with Murphy's. We were definitely experimenting with a lot of stuff that influenced us. Chris had some songs written for it "Baby" ideas: "Walking with the Devil," "Face" (which I love), "A Headbanger's Balls and 120 Minutes," "Three Dead Gophers." I had ideas for: "Hippies Hate Water," "Hotel Penitentiary," "I Know Nobody," "Mucky Pumpin' Beat," etc. We locked ourselves in the Bergenfield garage for a couple weeks, all worked together to finish all of our ideas collectively and within weeks went into the studio to start recording. Now is what came out of it [laughs].
The last Mucky Pup album you played on was 1992's Act of Faith. Why was that the last one for you?
We had already started Dog Eat Dog at that time. If you remember, Dave (Neabore) was bass player on Mucky Pup's Can't You Take a Joke tours and A Boy in a Man's World album, etc.
Sean Kilkenny played guitar on tour for A Boy while I was in Murphy's. John Connor was out on the road with band as well, helping out on tour and jumping in singing backups, etc.
As far as Act of Faith, I basically just wrote a few songs for the album, If I remember correctly, I wasn't really in the band at that point. I played guitar on the tracks I helped write or wherever Chris asked me to or needed it, etc. Chris wrote two of my favorite Mucky Pup songs ("The Skinheads Broke My Walkman" and "Please Don't Burn the Johnson") on that album.
Dog Eat Dog brought you your biggest commercial success, especially in Europe. What was that experience like and did your life change in a big way?
I viewed Dog Eat Dog as a new start, personally. We were all the best of friends honestly, John and Sean grew up together, I had played with Dave in Mucky Pup previously, etc. John and I used to run around and do bad things [laughs]. Again, Dog Eat Dog was a product of the times a bit, and a product of four guys who really loved each other. I remember going over there after I got back from all the Now album tours, etc. Sean asked me to come listen to some songs they were working on (they went by F-Troop at the time). It was 1991, I believe. They played "Funnel King" about 3x faster than the All Boro Kings album version. I immediately probably said, "You should play that a little slower," but regardless.... I loved it and it came at a perfect time as well.
I truly wanted a change for the right reasons at that point. I wanted to write differently, a new style, hardcore/metal-style riffs with big chorus vocals. That song they played really got me into a new writing groove. We started working and sweating our asses off in Dave's basement in NJ. We worked great together, writing, arranging, it was just something special. There is no way "Who's the King" or "If These Are Good Times," etc. would be the songs they were without the four of us in the lab. "Dog Eat Dog," "It's Like That," etc. I love those songs and that era. I say it all the time....It's always "About the People" if you want to create something special.
Still is true, although I'm not In Dog Eat Dog and I have not written with them since the All Boro Kings album, but I love playing with those guys. I've been playing the US Dog Eat Dog shows this past year and I've enjoyed it for sure. Speaking of which: Come see Dog Eat Dog on Friday, April 5 at the Debonair Music Hall in Teaneck, NJ!
How did the Nastasee come about and did you get to do any touring with that project?
That was a mistake honestly....
I got married after All Boro Kings came out, my wife was pregnant almost immediately, etc. I definitely wanted to continue to write with Dog Eat Dog after the All Boro Kings album, and we did take a stab at it, but things had just changed too much, I guess, since I didn't tour with band. They had a new drummer and guitar player, etc. Things just changed and I can't blame them for staying true to the guys that were out on the road. Kind of a shame honestly, but those are the breaks [laughs].
As far as the albums I did after... eh...
I was offered a contract by SPV and honestly, it was the first time in my life I actually made a few dollars. Regardless, I rushed it completely at first. I should have insisted on putting a new band together, instead, I went in the studio and wrote and recorded the entire Trim the Fat album in three weeks. Some of the songs could have been way better, some were garbage, but ultimately, I look back and it was a mistake. I did tour that album for quite a while all over Europe, clubs/festivals, etc. and did have some really good runs and some not so good runs.
After the first album, I took a full year to write and record the second on, Ule Tide, which I was pretty happy with. I went back to Europe to open for Shelter in 1998 for that album when SPV showed up to one of the first gigs and informed me they signed Motörhead and were dropping me and not formally releasing the album. Here I was in middle of Germany on Day 2 of a 20-date tour with no album on shelves that I just worked my ass off on. Looking back, maybe I deserved what I got. Life lesson... Again.
What's the story behind All Boro Kings, the band? The Just for the Fun of It album was released by Century Media Records, but I had a hard time finding it when it came out.
Bottom line... It's a great album and we had a blast doing it. "12 Pack," "Independent," "Broke Drunk," "Just for Fun of It." Dave, Sean, John Milnes on drums, and me... Killer! As far as the job Century Media did or how come people couldn't get it, I have no idea. But I literally get people every week or so hitting me up on social media about that album specifically... so, I believe it must have been bad timing or someone did a bad job. Regardless, it was fun to do, and I love those guys so it's all good in my book. I have copies of it, and if you'd like, I'll send you or anyone else a copy. Anyone else can also buy a copy at the Dog Eat Dog gig at Debonair on April 5th [laughs].
How did your relationship with Eddie Sutton of Leeway develop? I know you were involved in the writing and recording of "I'm Not Your Pusher."
Yeah man, It's all good! I went to see Leeway play about a year or so ago. I hadn't seen Eddie in a long time, it was good to see him, we were chatting, and we got on the subject of new music. I said, "I have a shit load of new songs if you ever want to do something." He said "Hell Yeah!" and that was that. You have to understand, I am a huge Leeway fan. Born to Expire influenced so many people musically, obviously myself included. A.J. and Michael Gibbons are probably the best guitar duo I've ever seen or heard.
Those Born to Expire songs are the soundtrack to a lot of our lives. I jumped at the chance to write a couple songs with Eddie and I hope that "I'm Your Pusher" does Leeway a little bit of justice and that people enjoy it.
Will you be part of the Leeway NYC touring lineup? The last time I saw Eddie out here in LA, he had the guys from Rhythm of Fear backing him up.
I've also been playing gigs with Eddie for past year as well. Actually, I'm doing the Iron Regan tour this May 8-18th, leading up to the Black N' Blue Bowl in Brooklyn on May 19th. Also, we shot the video for "I'm Your Pusher" and that drops next week or so, I believe. I just saw the final cut, and the "B-side" is another tune called "Message to a Man Child" that comes out in a couple weeks as well.
What can we expect from the upcoming Dog Eat Dog anniversary show?
It's always a good time! The show is more of a gathering [laughs]. Expect old shit to be played, since that's all I really know how to play ([laughs]. Again, Carlos, it's just fun to get together with these guys and play the old stuff. I believe the show is almost sold out, so I assume people want to hear those tunes still. People come with their kids, new friends, old friends. It's just a good time.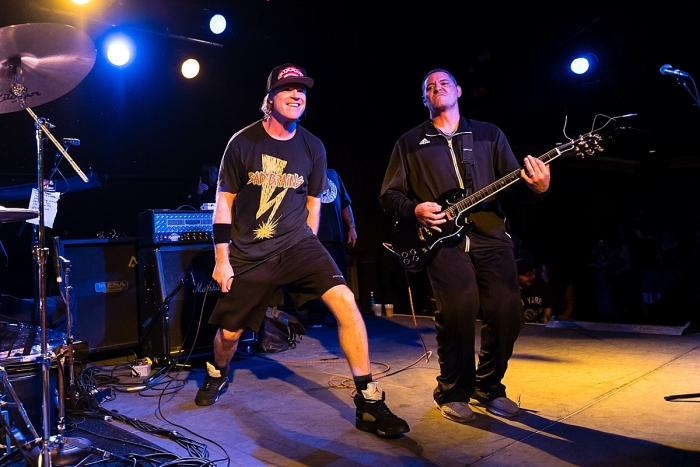 We've finally reached the point of the interview where we can talk about Kings Never Die, a new band you've started with some familiar faces.
Well, I'm really excited about it. A few things, Larry "The Hunter" Nieroda and I have been talking for about a year about this band. If you know Larry, you know he is a great guitar player and an even better person, which means everything. He played with Jimmy in Murphy's for years, Subzero, and also plays with Vinny and Gallo in Stigma. I'd say Larry and I started getting together about 5-6 months ago, working through songs, etc. and I'll be honest, I really feel like this is exactly what I've been waiting for. It just clicked. Larry sees things so clearly. He says, "that sucks" or "yeah man, I dig it." Larry also has some great songs we've been working with, and I love what he adds to the material I have. We gotta be on the same page when it comes to writing, gotta want to sweat it out in the basement (if you know what I mean).
As far as the rest of the band and the music, it's way stronger and harder than what I think people may be expecting, the songs are to the point. Label it or not, it's just a straight-forward hardcore punk rock band. Jay Kalfin is as solid as they come on bass. Jay played with Larry in SubZero as well, also Son of Skam, John Milnes is on drums (Mucky Pup and All Boro Kings). This is a great challenge and change for John since the drumming style of Kings Never Die is so different from anything I think he has done in the past.
What is it like working with the new band?
John and Jay got right into that pocket as soon as they stepped in room together, which is what it's all about. I'm on the rhythm guitar and between myself and the guys, we are working really hard on the big back-up sing/scream-along style vocals the material offers. Larry simply kills it on lead guitar, and just has a way of really making the material complete and a finished product. The songs are a bit all over the place. Some songs are over before they started type songs. I hope people feel they are memorable all around. To put a stamp on it: We really love what we're doing and hope other people feel the same.
A few songs to look out for are: "Before My Time," "Old Times," "We Got Tonight to Fight," "Stand For it All," and "Never Know What You Might Find." We're gonna record over 20 songs.
It's a bit of an odd but great situation right now as far as starting to record the first album and EP. We are going to record two releases at the same time and decide which one we want to release first after they're complete. Also, we're starting the recording process without an actual vocalist/frontman, at the moment. The songs are written, arranged, chorus vocals, etc. We're starting drum and bass. We're tracking on April 5-6-7-8, and honestly, until we get the right person and everything falls into place proper, were just continuing the process of recording and even will start playing live when opportunity presents itself.
So, Kings Never Die is still searching for a singer?
Yes! Carlos, or anyone for that matter, by all means If you think you know the right guy for the gig, let me know! We are on Instagram at @dannastasi_sr or @larry_the_hunter.
[Laughs] Until then, we're moving forward. If you remember, this is how so many bands came together. Do you want to be surrounded by guys that want to work and move forward or sit around and wait?
As far as the actual studio and recording, a real good and old friend of ours, Dave Riser (Rock Hard Studio in East Stroudsburg, PA), is going to co-produce and record with and for us. Also, I know the hardcore and music scene in general is killing it in PA, so any young or serious PA bands, you should definitely reach out to Dave to record. You won't be disappointed. Great studio and a great man.
In closing, of all the stuff you've played on and recorded through the years, what would be your favorite song and why?
"Who's the King" for sure. So many people thought I was crazy when I said I had a great idea for a song. It was "Who DA King" originally [laughs]. I would walk around and say, "Who Da King Who Da King Who Da King... Who?" I was like.... I'm telling you, it could be really good.... and, once Dave, John, Sean and I got together to finish writing it, it was one of those moments I was talking about earlier. It's a product of the right people, working and writing together to make something ours and something that represented what we were as a unit.
Also, "P.T.L." I just dig it and it's the Mucky Pup tune I'm most proud of, I guess. Chris killed it putting together the intro to it.
***
The 25th All Boro Kings Anniversary Dog Eat Dog show will go down on Friday, April 5 at the Debonair Music Hall in Teaneck, NJ. Get your tickets here.
Tagged: dog eat dog, kings never die, leeway nyc, mucky pup