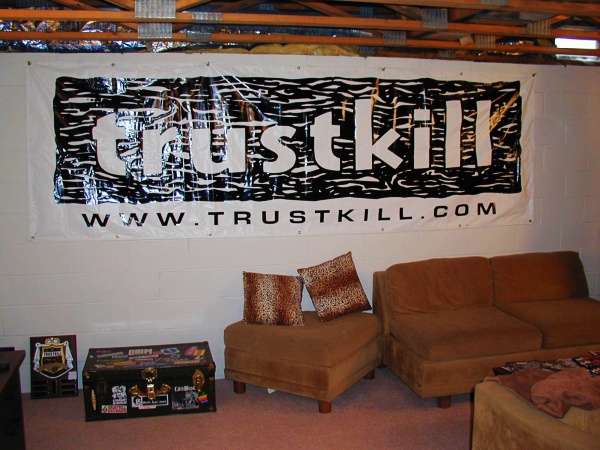 About 5 years go, I interviewed my friend Josh Grabelle about his career in music. Growing up in the New Jersey hardcore scene, Josh started Trustkill Records in the '90s, played in a band called Campfire, and also hosted DIY shows in his parent's basement, hosting Lifetime, Split Lip, and Chokehold, and countless other hardcore bands along the way.
These days, Josh owns and operates Bullet Tooth, a label that has released titles by such bands as Earth Crisis and First Blood.
It's '90s Hardcore Week, so I chatted with Josh again, but this time we zeroed in on the Trustkill Records releases of that era. Enjoy the geek out!
Land of Greed... World of Need was your first release in 1994. How much of a pain in the ass was it getting all of the material collected? Especially since it was all cover versions of Embrace songs!
It's crazy to me to think back on the early '90s and what we were able to accomplish without the internet [laughs]. So, yeah, it was Jason Jordan's idea (Watermark Records) to have bands cover the Embrace album and have it be a benefit for the homeless. I got involved and picked the 14 bands. I was a sophomore in college at Syracuse University and Jason's twin brother Joel was my roommate.
We had a phone in our room but long distance calls were expensive so I would walk out into the hall of the dorm and call bands on the payphone using my dialer (with the 6.5536 mhz crystal microprocessor I bought at Radio Shack).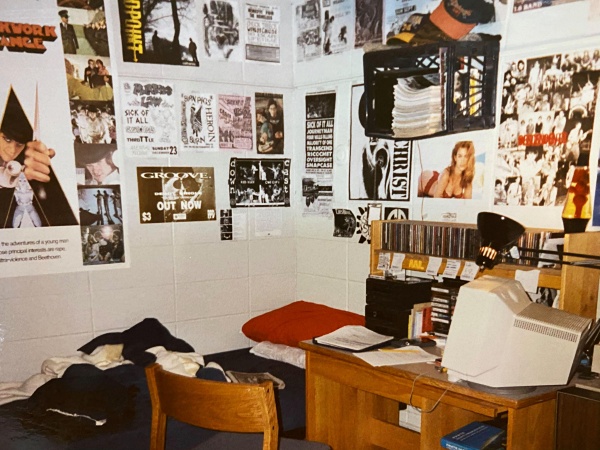 One day, I walked around the floor of our dorm and heard some Buffalo hardcore coming out of someone's room (probably Zero Tolerance or Slugfest or something) and introduced myself … months later I would need a logo to start a record label and release this comp and asked him (Geoff Creary) to draw me something, so he made the Trustkill logo.

I had a bunch of contacts from doing my zine and calling bands for interviews, and from the summer before when I had started doing shows in my basement. I was 19 and naive so of course I thought, "yeah, cool bands will go and record songs and I'll have em in a few weeks and this record will be out real soon," but of course, it took months and months to get all the DATs in (yes, DATs).
Some bands were really quick to mail me their DATs like Rancid who told me they would record the song the day they got home from tour and they totally did like 2 weeks later and mailed me the tape. Other bands took longer but eventually it came out in the summer of 1994.
Over the summer, I went to Cherry Hill where Joel and Jason grew up, and Joel and I layed out the packaging for the album in an afternoon using paper, scissors, gluesticks, and TypeStyler 2.0.
Almost every band I asked to be on the comp enthusiastically said yes and recorded a song and sent it to me.
Two bands I remember turning it down were Iconoclast and Policy of Three. I was friends with both bands and was surprised they would say no but the overall vibe I got is that what I was working on wasn't "punk enough" for them (I recall the words "barcodes" and "distributors" being thrown around).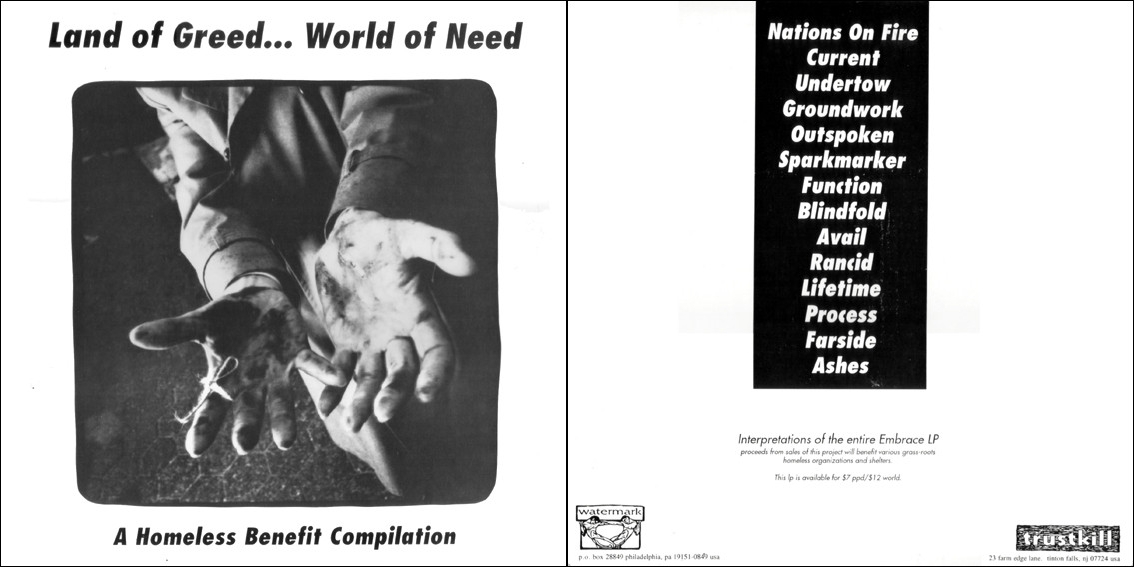 OK, I want to take this opportunity today to also highlight some of the more obscure Trustkill releases from the '90s. Let's start with One Nature's Perfect Birthdefect 7 inch.
Great band! I loved pop-punk and post-hardcore and I thought these guys had a really cool sound for the time. Plus, I have a soft spot for NJ bands. Just this past weekend I was going through a giant box of mail from the the '90s and found a letter from Jim Testa (Jersey Beat) thanking me for sending him a zine, and asking for some Lifetime and Deadguy photos.
He also invited me to see a show at 67 Handy St in New Brunswick (Chris Ross' house) on June 4, 1994 with Weston, Shades Apart, Seething Grey, and One Nature. So this is probably where I first saw One Nature and met the guys!
Fast forward a few (a lot) of years and my friend Benny Horowitz (The Gaslight Anthem) would tell me that One Nature was one of his favorite bands and a reason he started playing music. A few years later, I gave him the original metal plate stampers for the Trustkill 7" as a wedding gift. So, hit up Benny if you want a repress!
What's the story with the Shenoem Scrapbook 7 inch? I don't remember them, but I do see that a couple of members played with some higher profile hardcore bands.
Like I mentioned earlier, went to Syracuse University in the '90s and lived in a giant old decrepit house with 12 of my friends for 2 years. It was wild times. We had 1 phone and every room leaked. We had bands stay over and had shows in the living room over the summers. Shenoem was like the "house band" because they would practice in the walk up attic in the house.
It was 1995 and Sunny Day Real Estate's Diary had recently come out and everyone just wanted to basically be them. The band was my friend Vince Holleran on vocals, Pat Lavin on bass (he would go on to play in Rain Still Falls with Joel Jordan), Frank Vicario on guitar (he would then join Snapcase) and Ben Read on guitar (of Earth Crisis fame).
They played a few shows and recorded 4 songs with Ken Olden (Worlds Collide, Better Than a Thousand, Battery). 3 songs were on the Trustkill 7" and 1 song was on the Stones to Mark a Fire comp with Earth Crisis, Abnegation, One Nature, and more.
Just the other day, you showed me a letter Scott Vogel sent you back in the day. Tell me about working with Despair on the Pattern Life and One Thousand Cries records.
On February 9, 1995, Scott Vogel wrote me a letter after reading an issue of Trustkill fanzine. He told me about his favorite movies (Goodfellas, The Princess Bride, Menace II Society, Stand by Me), how he enjoyed my review of the Slugfest 7", some Buffalo hardcore drama involving Shelter, and how he had a new band called Despair that were recording a 7" soon. He asked about ad rates in Trustkill fanzine for the label releasing the Despair 7" and also wanted to play my basement because he heard good things from the Snapcase, Conviction, and Chokehold guys.
At the end of the letter he said, "Maybe I'll see you at the Campfire show on February 24 in Buffalo" (with Snapcase, Chokehold, and Brother's Keeper) and I'm pretty sure that is where we first started talking consistently. In the next year I would see Despair play probably 5000 times including my basement in NJ with Hatebreed, Ignite, and Endeavor.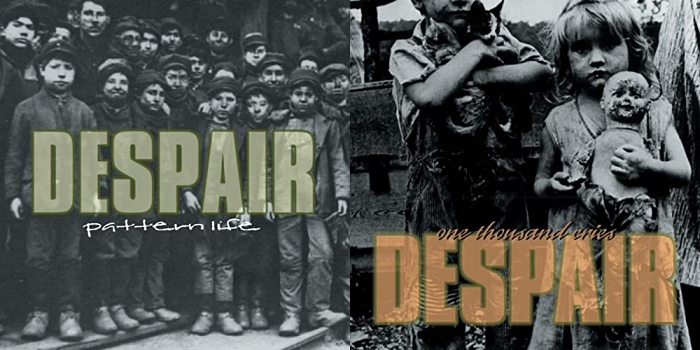 Pattern Life would come out in early 1996 on Trustkill and I always felt like this was when Trustkill the label really started. It was the first time I remember people seeking out the record and asking me for it, as opposed to me begging distributors to take a release, or stores to stock a record, or zines to write about it, etc. I also had to actually make a second pressing of CDs. It was exciting!
Summer of 1996 I would hop in the Despair van for the Trustkill Takeover Tour with Harvest and Brother's Keeper kicking off July 4 in Indianapolis. We had such a blast on this tour and made lifelong friends. I started my first journal on this tour that lasted 2 whole days.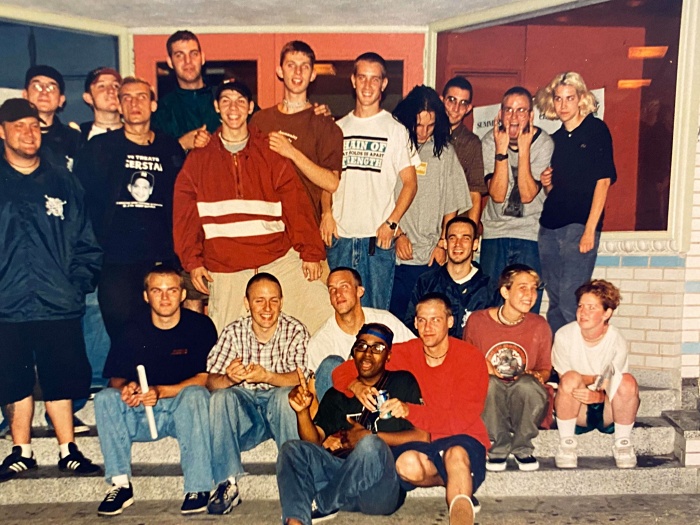 Summer 1997 I went on tour in Europe with Despair for their first time overseas (with fill-in guitarist Jim Winters from Conviction). We had a great tour and slept on lots of floors and stages and played a bunch of shows with Liar and Congress.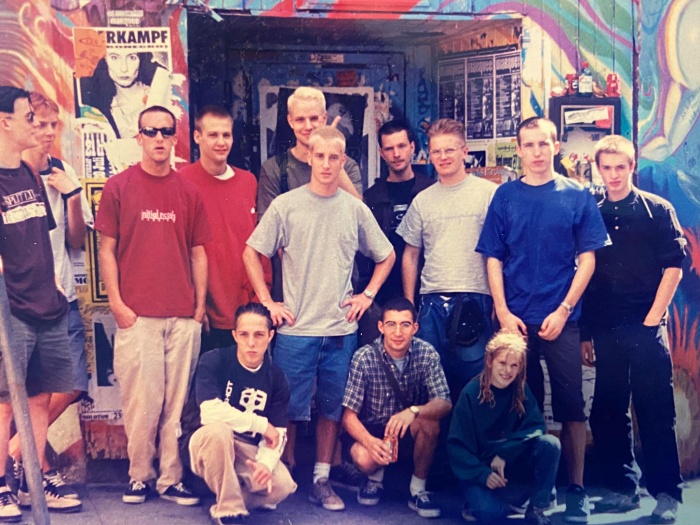 By the time Trustkill released Harvest's Living with a God Complex album in 1997, you had already released a couple of studio albums. Do you remember how much you budgeted that album for? Did the project go smoothly? Also, tell me about the Willem De Kooning connection on the cover of the album.
I spent $1200 on Despair's Pattern Life album and I recall Living with a God Complex was around the same … so maybe it was like $100 a song for a decent studio at the time. It wasn't until 1999 when I would spend a whopping $2000 on Poison the Well's The Opposite Of December. Now that was big time money [laughs].
Yeah, everything about the Living with a God Complex album went smoothly. I remember hearing it for the first time and being blown away! Eric (guitar) sent me the artwork for the cover and I thought it was cool and different and I enjoyed designing the album packaging based on it. I had just started learning Adobe Illustrator and remember spending like 10 hours creating just the album title.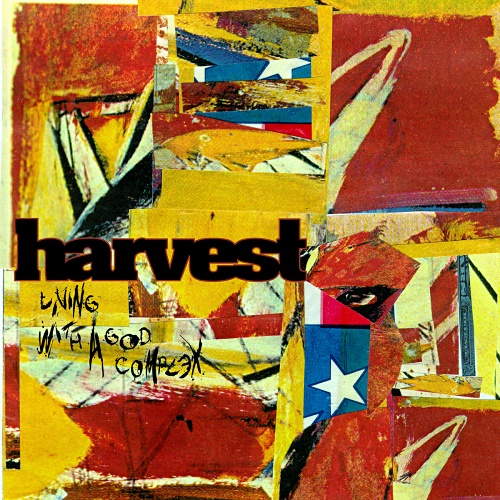 I had to outdo myself after the fold out Incision 7" I released for them in 1996. I also loved the double sided 18x24 poster we made for the album that also was used as the insert for the 12".
Summer of 1997 I hopped in the Harvest van for a full US tour with Endeavor and we had a blast. Lots of memories and stories on this one but one that sticks out is, of course, when the Harvest van (actually an ambulance) caught on fire on the way to Seattle and we all had to jump out and the bins of merch were on fire. When we got to Seattle and played all the kids were wondering why the merch stunk so bad like smoke.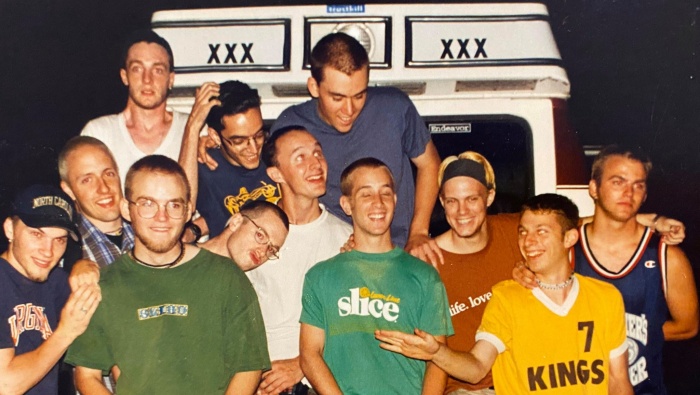 How did your relationship with Brother's Keeper start out? You went on to release a few records with them, so I'm assuming they sold well?
It may have been that Campfire/Snapcase/Brother's Keeper/Chokehold show in Buffalo where I met Mike Ski and the rest of the Brother's Keeper guys. From there, we kept in touch and he would travel to Syracuse from Erie often to hang out. The Brother's Keeper Ladder EP had come out in 1995 on We Bite Records out of Germany and they had finished recording The Continuum and were supposed to release it on We Bite and then I intervened somehow and ended up releasing it on Trustkill.
Brother's Keeper were a force in hardcore at the time… you either loved them or hated them but you knew who they were and you knew they were important. I would go on to release 4 more records from BK before they broke up in 2003 and Mike Ski would start The AKAs.
Mike Ski was a groomsman in my wedding in 2001 and we've remained close ever since. Also reconnected with EMS (Bass) recently and just sent him a stack of The Continuum on 12" vinyl, so hit him up if you want one!
Did they sell well? No, they didn't, but, I loved the band and the message and the dudes and backed them hard. In the '90s I had no intention of making hardcore or my label a career, so turning a profit wasn't my goal.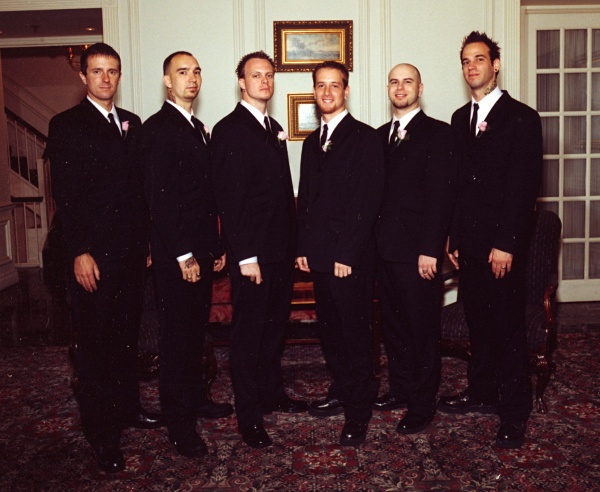 Thinking back to the '90s, did any of the bands you approached about working with turn you down? On the flip side to that, were there any bands you said no to that you regretted later on?
The band that I really wanted to sign or just release anything at all from in the '90s was Earth Crisis. We all know that '90s ExC were unfuckwithable. I remember in 1996 when they decided to do Path of Resistance in their down time after their van accident, I was like, "fuck yeah, let's make a record," but Victory Records gave them $6000 to make a record for a project band that had never played a show (or even had any songs).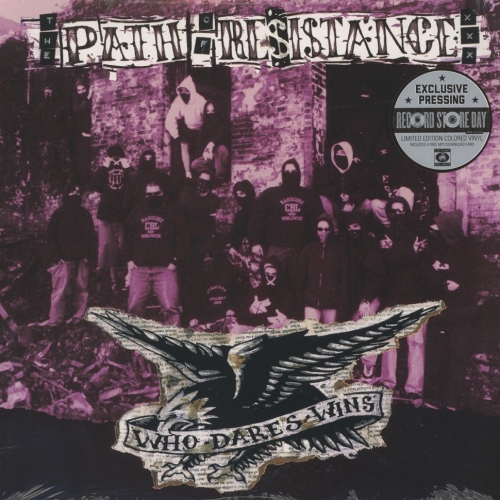 At the time, that was more money than I could even imagine, so instead I skipped college for a week and went with them to Rhode Island (Normandy Sound) to record the album. We acted like complete idiots and fucked around the whole time in the studio and lit off fireworks inside and got in trouble like the children that we were.
In 2015, I would finally get to release a new Earth Crisis 7" on Bullet Tooth! I was so stoked. Still am. Best band ever. Finally got to do some proper "camouflage vinyl" that I always wanted to make.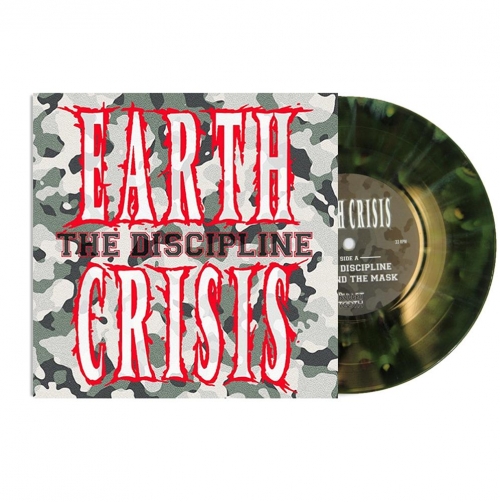 I put out a Racetraitor record in 1998 and they broke up shortly afterwards. Pete Wentz went on to start Fall Out Boy and never sent me a demo because he said he "didn't think I liked pop-punk bands."
Around the same time, I put a record out for Shai Hulud and they had finished tracking music for 3 songs for Trustkill when Chad Gilbert quit the band and went home before they could finish. We would end up finding a new singer (Geert who was fantastic) and released the album. Chad would quickly start New Found Glory and never sent me a demo because he thought I was mad at him for quitting Shai Hulud [laughs].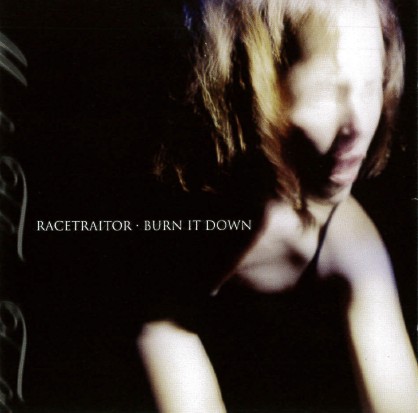 Poison the Well is one of the bands from the metalcore/metallic hardcore scene of the '90s that would go on to sign on with a major label and influence a ton of bands along the way. What was it about the band/those records that you think resonated so deeply with the public?
Remember the scene from Back to the Future where Marvin calls his cousin Chuck Berry and says, "This is the sound you've been looking for!" Well, that's basically what Matt Fox from Shai Hulud did.
Matt called me from the studio in Florida where Poison the Well were finishing up The Opposite of December and was like, "Dude, you gotta hear this." I would end up signing the band and releasing the album and 6 months later they are playing Hellfest 2000 to the most insane response I had ever seen.
Do you think there was something the label did differently with Poison the Well that also helped their rise?
The hardcore scene was changing and kids were looking for something a bit different. Bands like Vision of Disorder were adding singing to the screaming and making that OK for other bands. The record sounded great and the lyrics were personal and emotional and the songs were just awesome. No denying it. The singalongs were epic.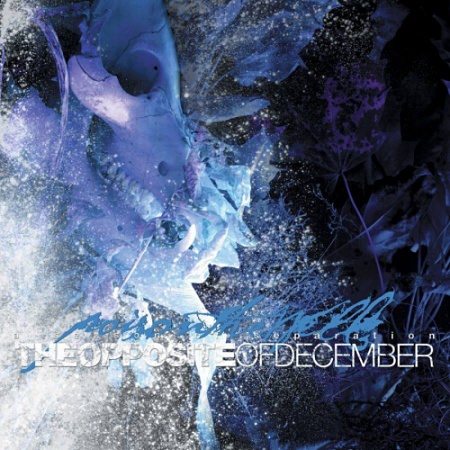 When we spoke for the site last time, you said the following about running Trustkill: "The problem was that I would keep dumping money into bands that had either peaked or just were never going to catch on." Can you give an example of that happening where the band not catching on in a bigger way broke your heart/bank account?
I don't wanna call out any bands here by name, but yeah, if you wanna sell lots of records and have a music career sometimes you need to be more than just 5 dudes on stage. Some bands get that and a lot of them do not. I loved all my bands and wanted them all to be successful, but the reality is you can throw money at a band all you want, sometimes they just are not going to connect with fans.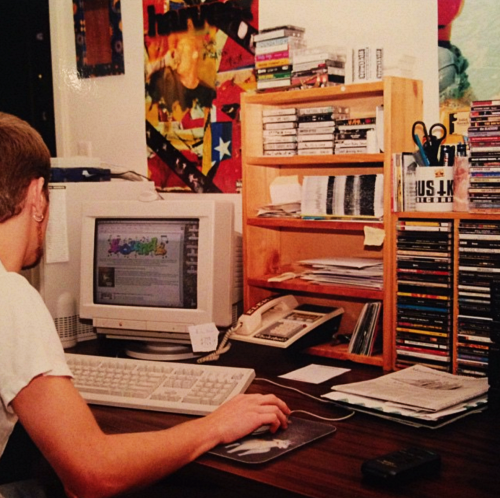 Who were some the key people who helped you and the label along the way?
I love this question!
Mom & Dad: Gotta start out with M&D! They were always supportive of my decisions and helped me through college and let me put on hardcore shows in the basement. Mom also let me make copies of Trustkill fanzine #1 at her office.
Lauren Grabelle: One of my older sisters who gave me my first hardcore record when I was in 7th Grade (Bad Brains' I Against I). She used to hang out with Russ and Dean from Underdog and the Alva skate team guys (Jeff Hartsell, Jim Murphy, etc.) so all that rubbed off on me. Went to my first show summer after 8th Grade (Underdog) and then my life changed from there.
Jason Jordan: Might not have ever considered starting a record label if it weren't for Jason asking me to get involved with the Land of Greed compilation. He was running Watermark at the time and had only released a few records but I just thought that was the coolest thing ever. "Wait, you're my age and you released a record?!"
Joel Jordan: I met Joel the first week of college at Syracuse. We instantly became friends and then roommates and bandmates. Joel was integral to my early discovery of design and graphics and I loved watching him design all the Watermark releases. Joel would eventually become Art Director at Trustkill years later after a gig at Roadrunner Records.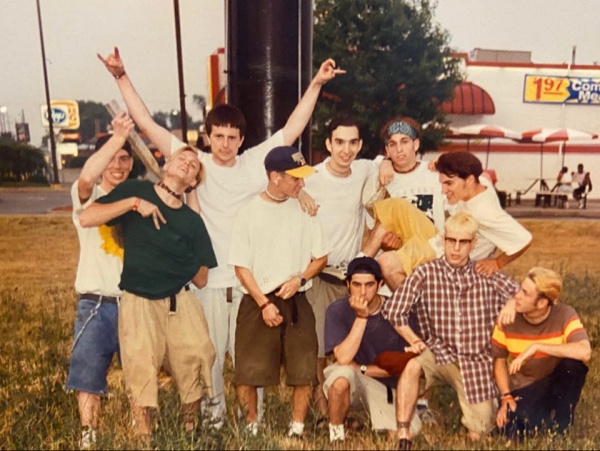 Dave Comeau: I met Dave at Syracuse and we were skateboarding in parking garages until 2 AM most nights that I was supposed to be studying or sleeping. He helped me register Trustkill.com in 1996 and develop the original website, and then was 100% responsible for coding the infamous "Trustkill Bored" (still active in 2020), our legendary webstore, "Trustkill Shows," "TK Journals," "Mobile Threat," and basically any idea I ever had Dave would bring to life. He was in Campfire with me and Joel and would be "Chief Information Officer" at Trustkill for a decade.
Charles Maggio: I met Charles (singer for Rorschach) at a show at John Hiltz's (Born Against, Greyhouse) house and he was just the nicest dude ever. He had recently started Gern Blandsten Records and he went out of his way to help me out with pressing plants and production. I used his contacts and accounts at a few places to manufacture the first few Trustkill releases.
Eric Astor: Eric was running Art Monk Construction in the '90s which was another label I loved and looked up to, musically and aesthetically (Darkest Hour, Lincoln, Junction, etc.). Eric had this idea to join forces with other labels and start a new distribution for punk and hardcore and created Lumberjack Distribution (started with only 8 labels I think; Gern Blandsten, Art Monk, Doghouse, etc.). This was my first distributor!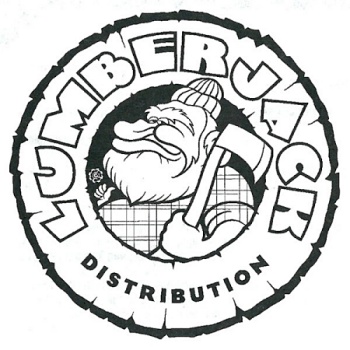 Marc Lohausen: Marc wrote me a letter from Germany in 1995 because he saw my ad in Heartattack and wanted to distribute Trustkill in Europe. We wrote back and forth and eventually I called him (with my dialer) and we met on the Despair European tour in 1996. He would become my first exclusive distributor for Europe and was responsible for a lot of my eventual contacts over there.
Frank Vicario: I met Frank through the scene and mutual friends and he would visit Syracuse often. When I first started learning design I had to use the "computer cluster" at school. Frank learned early on how to pirate software and he would bring me everything I needed on dozens of floppy discs and install everything for me. This was huge. He would eventually play guitar in Campfire and Shenoem and then join Snapcase.
Doug Spangenberg: I met Doug when he toured with Brother's Keeper and they stayed at my house. He was the first dude I remember filming bands at shows and he would get great footage of Harvest and Endeavor and everyone else. We put live videos up on the Trustkill site using QuickTime and nobody else was doing this at the time. We would eventually do the Hellfest DVDs together, the New England Metal & Hardcore Fest DVD, and some real music videos.
From all of the records Trustkill released in the '90s, which one would be your favorite and why?
Gonna have to say Harvest's Living with a God Complex was my definitive '90s release. It was my 10th release and I felt like I had finally done everything "right," whatever that meant at the time. The music and the lyrics and the artwork and the dudes in the band just meant so much to me.
***
Donate a few bucks to help with No Echo's operating costs:
***
Tagged: 90s hardcore week, brothers keeper, despair, harvest, poison the well, trustkill records, turmoil