As we collectively shake off the all-encompassing misery that was 2020, bands are showing sudden movement. For South Florida metal outfit, No Coffin, things are no different. "We weren't ready for whatever 2020 was" vocalist Chip tells me. "2021 is banging so far, though."
Banging indeed, with concert calendars filling quickly.
No Coffin is Joshua "Chip" Shomburg (bass/vocals) Steffen Banas (drums/vocals), and William Guevara (guitar). Hailing from Miami, the band is fairly new having just formed in late 2019.
Of their first gig, Chip explains, "Our entire history is tied to the Churchills Parking lot." Churchill's, a much-loved Miami dive that often hosts metal, punk and avant garde acts. "Miami local legend, Fang, converted an RV into a stage, and during late-era quarantine starting throwing outdoor parking lot gigs, we were getting super bummed in October, because our tape had dropped, but we couldn't do a album release show, so it was rather serendipitous that Fang started StageCoachMiami."
Stylistically, No Coffin considers themselves a hybrid of thrash, doom, hardcore, and metal which they "slam, cut, and force" together.
Whatever it is, it's hella heavy with the crew's introductory album Ugly, Broke, Decayed... featuring 10 and a half minutes of punishing riffs and vicious vocals. Sometimes syrupy, like in the song "Money Brings Tragedy," I think of classic and sludge metal. The music feels like an atmosphere of violence, crushing from all angles, leaving no escape.
Much of the same ultraviolence can be expected from the bands upcoming release, All Life Must End, to be available both on cassette and as a digital download.
Not even the band's nod to trip-hop royalty, Portishead, offers a moment of relent. An impressive feat considering the haunting fragility and striking beauty of the original.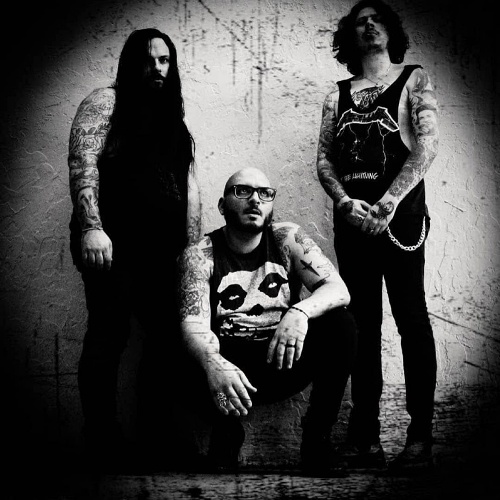 In addition to being talented musically, No Coffin members have an eye for design. Their videos, cover art and merch are all worthy of awards for their well-selected color schemes and attractive fonts.
When not busy absolutely crushing the game as No Coffin, members stay busy with both Chip and Stephen also playing in stoner rock band, Cowards and Thieves. In addition, Chip performs as visual/noise project, DEVTHMVTCH.
For regular updates including their upcoming release, No Coffin suggests following their Instagram. There you can also find info on any upcoming shows which are now a regular South Florida occurrence.
***
Help Support What No Echo Does via Patreon:
***
Tagged: no coffin