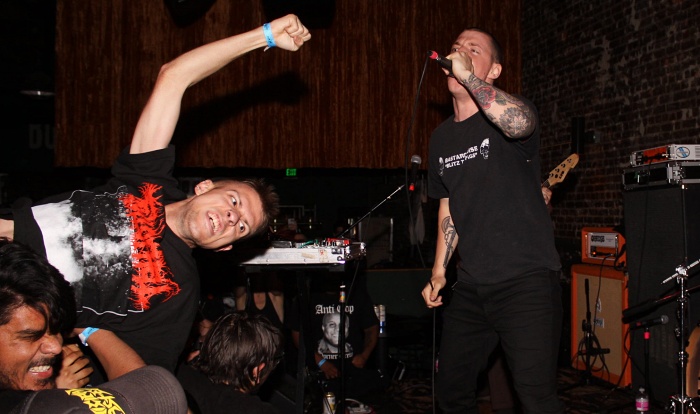 Arkansas will be the place to be this June 7, 8, and 9 when the Mutants of the Monster music festival hits Little Rock. With a lineup that will feature Full of Hell, Crowhurst, Racetraitor, -16-, Genocide Pact, and many other bands spanning everything from death metal to hardcore to sludge. Putting on a single show isn't easy, but a fest like this is a whole other level of headache. "I'm always working on plans and ways to improve, or make the event more interesting, and fun," Mutants of the Monster organizer Chris "CT" Terry tells me.
A veteran musician who is best known for his work in Rwake, CT offers up some of the planning that went into the summer event. "Planning technically starts about 13-14 months before the show. So with this year, I was working on it as far back as last May right before last year's event. The first thing I do is secure the headliners I want (in most cases these are old friends of mine, and the same with their agents). The rest usually falls into to place after that. Sometimes it happens naturally, sometimes I'm pulling my hair out, and out of nowhere the perfect band presents itself. Lots of notebooks filled with notes. Then I set up a series of meetings with my stage crew.
"My buddy Drew is the stage manager and runs everything going on in those areas for each different stage. two other buddys, Jordan and Korey, are Drew's stage hands, and that frees up the sound person to concentrate on sound and way too many bands. This year we've had sponsors involved and that helps not just for funds but I look out to each of them for opinions on what could happen with this event. Also, the decision on the venues. Little Rock isn't as hard as it once was to work in, at least for me, so the 3 options in town are usually open. My final push is art and the posters. Once that hits the notification likes, loves, and wows usually start blowing up. Time wise, it's an easy 14 months of work though. I've been working on next years show for about 2 months already."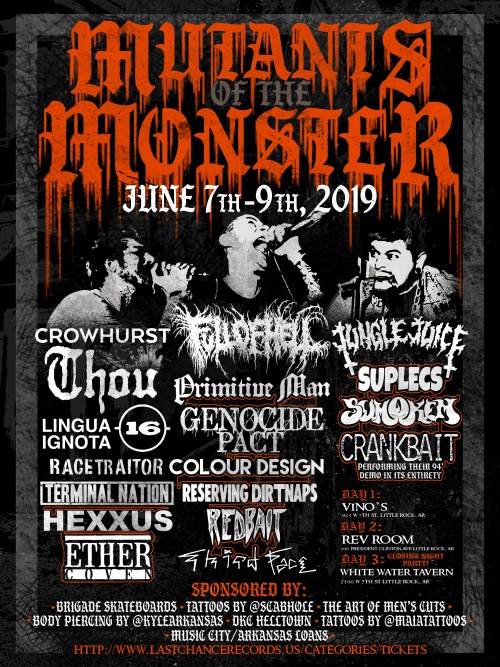 CT brings up an interesting point. Since he's been a musician for many years and has done a lot of touring, is that how he's mainly built his contact base? "Yeah, always for any time period throughout history, the elders of the crew will probably say, 'back in my time it was so much harder to _ _ _ - (while shaking a cane).' When we mostly toured, it was a weird time. All the good agents now were cutting their teeth back then, as were we [Rwake]. I think we all have a mutual respect for one another. Like, whoa, that was a weird time. We made it and we're alive together [laughs]. 90% of everything I do through friends. Even if their agents, their buddies. It all starts from a text. Scrolling through the phone comes later when I'm still in search and saying something like, 'I know I'm not thinking of someone, who could it be?'"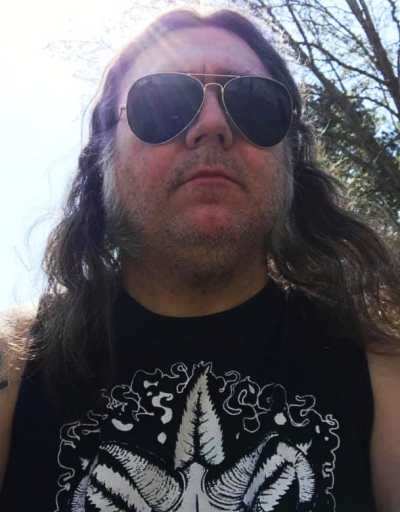 So, who were some of the bands that CT had a hard time confirming for the fest? Were there some bands that wanted to do it but couldn't because of scheduling/budget? "Everyone that is booked kinda feel into place. There were 3 or 4 bands that almost got booked and then last minute could not. But the bands you see in the poster were very natural. Racetraitor was just figuring out the right night, but extremely easy to work with. Most bands were also willing to switch stuff around if they needed. Way early on the date was originally the weekend before but Full of Hell needed us to change it to the next weekend. It was so early in the game I just needed to confirm with Thou. It all worked out great, but I was going nuts for 2 days in between [laughs]. The hardest you see on the list was probably Jungle Juice."
Ah, yes, Jungle Juice. The Little Rock hardcore outfit will be reuniting for Mutants of the Monster this year. "Yeah, they were one of the first bands I wanted, but they're very particular about playing anything. As in they don't want to lead anyone on that they're a band or even consider playing shows. I think at this point they're just old friends that enjoy keeping it lit every once in a while just to keep the folks guessing. They were back and forth for half the year and then finally said no. About 2 months after that, they started back at it [laughs]. They eventually said 'why not?' I'm extremely grateful for this. It's gonna close the night out perfect. Fists in the air, tears of joy, circle pits with laughter, all good things."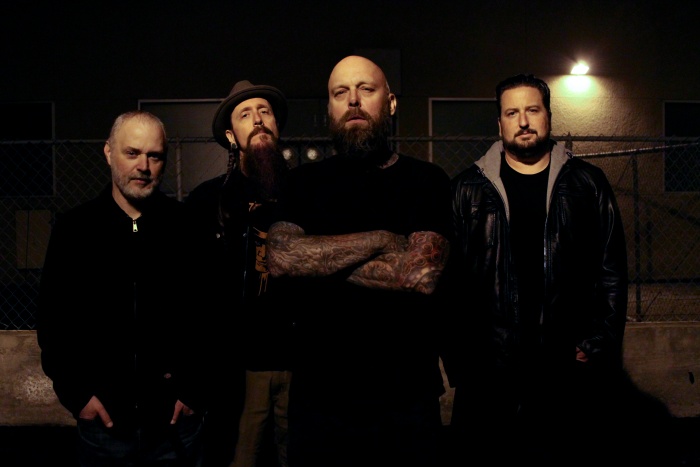 How about some surprises? "There's gonna be a lot of fun stuff throughout the weekend. I can't mention some of just yet, but one fun thing will be the Saturday morning Bloody Mary drone brunch with Sports. Sports is an avant drone/noise band. They haven't done a show in almost 10 years. It's a 3-piece band that has Brett and Jo from Pallbearer. Also, we have an old-school local band from here called Crankbait. They plan to play their '94 first demo in its entirety. Probably not many people outside of Arkansas will get this, but it's very special to us."
If this year goes off well, does CT and his team plan on making Mutants of the Monster happen again in 2020? "This year seems to be doing pretty well from ticket sales. That's a great sign for a good start. Fingers crossed it keeps up! As of now, the plan is to move the operations to Hot Springs, AR. That's what I've been working on the past 2 months. The event will go up in originality, and quality about 20 levels. Keep your ear to the ground for that one!"
Mutants of the Monster will go down from June 7-9 in Little Rock, AR. Get more info and tickets at this link.
***
If you're shopping for vinyl, CD, and cassette hardcore titles, head to No Echo's partner store, Reverb LP, to see what they have available. Every purchase you make helps No Echo with site costs.
Tagged: rwake