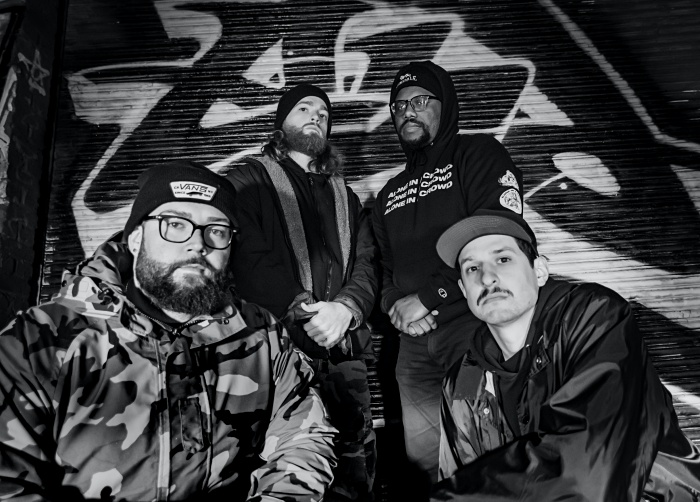 When Ricky Singh of Flatspot Records hit me up about premiering a track from End It, I didn't hesitate for a moment. I was already familiar with the Baltimore band and their East Coast-styled hardcore flavor. Think Bulldoze, Absolution, and Charm City's own, Gut Instinct. While End It's sonic DNA is rooted in the blueprint left behind by the '90s hardcore movement, their lyrics mirror the angst and tension of their hometown's inner city. The band features members of Wolvesblood, Malicious Code, and Piece Keeper.
Later this month, End It will be releasing the One Way Track EP, the long-awaited follow up to their excellent 2017 self-titled demo. As I mentioned above, Flatspot Records wanted to premiere a track called "Hardhead" from the record. So, let's get into it.
Oh, by the way, the intro section sample you hear was lifted from country singer Charlie Rich's 1997 song, "Rollin' with the Flow," which is the kind of subversive kind of shit I love to see:
"'Hardhead' is my declaration, on wax, of who I am and what I'm about," End It singer Akil Godsey told No Echo via email. "The title comes from a phrase my parents always told me, which is: 'Hardhead make a soft ass every time.'"
While I've yet to witness End It do their thing in a live setting, the group has shown off their diversity by playing shows with everyone from Life of Agony and Lil Ugly Mane to Nickelus F and Turnstile. Catch them in action later this month with their Flatspot Records labelmates Outsider at one of the gigs listed below.
Pre-order One Way Track on cassette at this link, and if you prefer digital, get it on Bandcamp.
End It tour dates with Outsider:
Jan. 23 - Richmond, VA @ Discovery Zone
Jan. 24 - Washington, DC @ Velvet Lounge
Jan. 25 - Baltimore, MD @ Motor House
Jan. 26 - Asbury Park, NJ @ Asbury Park Brewery
***
Donate a few bucks to help with No Echo's operating costs:
Tagged: end it