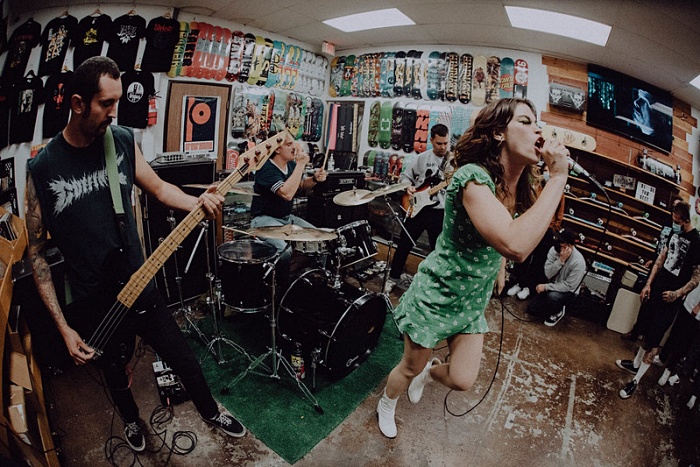 California has been putting out non-stop epic hardcore records the past couple of years and everyone has noticed. Bands like Gulch, Drain, Sunami, Xibalba, and Hands of God have dominated the scene putting out ripping tracks left and right.
Scowl is one of the younger bands out of Santa Cruz. They rep floral aesthetics heavily which I very much respect and admire. To me, there's something absolutely swag about rocking the contrast between flowers/floral art and the lifestyle of a hardcore band. Scowl make it look natural.
Kat Moss, the vocalist, is often seen in floral clothing during their sets. Some of my favorite photos are of Scowl performing live and I'm dying to catch them live in person the first chance I get.
With Scowl releasing their debut LP, How Flowers Grow, next month, I spoke with Kat about her upbringing, inspirations, and much more.
Thanks so much for taking the time to do this! I'm gonna ask easygoing questions, nothing too heavy today. Where did you grow up?-
I grew up spending my time in a few small towns west of Sacramento called Rocklin and Loomis.
Very chill. What kind of music were you listening to before punk/hardcore?
I was really into the Beatles growing up. My parents didn't introduce me to much music as a kid so I discovered pop-punk and metal on my own as a teen.
Natural progression! What drew you to the music industry?
I was interested in playing shows and being involved in subculture—I didn't pay much attention to the industry side of things initially. I knew that if I had something to say I could pick up a microphone and say it.
And when you do, people fucking listen. Who are you inspired by?
It's hard to put my finger on it but I always felt interested in VH1 and MTV live sets as a kid and wanted to combine the feeling those live sets gave me aligned with my personal style, which is quite feminine.
I love the idea of clashing the aesthetics of rock and roll with "soft" things. I loved art and showed interest in art history as a kid: Gustav Klimt, Salvador Dalí. Sonic Youth, Bikini Kill, and Billie Eillish. Very literal yet metaphorical writing from bands like Pavement.
I am obsessed with Pavement as well as yall's floral aesthetic. What made you want to pick up an instrument/microphone initially?
I wanted to be involved in music my entire life but never felt like I had the opportunity until I found punk music. I wanted to do more than just attend shows and take photos.
In my opinion, punk is the best way to get into music. As someone who is obsessed with flowers, I love the aesthetic. Who/where did this come from?
I just felt like if I was going to play music the aesthetics that came with it would have to feel true to me, the flowers just came naturally.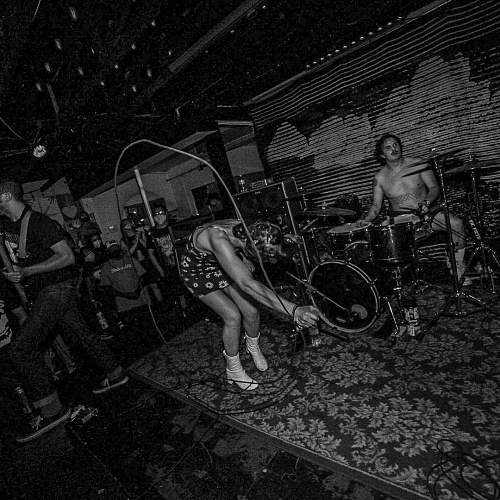 I straight up love that shit. What are your favorite splits/collabs?
Huge fan of '80s DC. The Faith/Void split… when I discovered the Jesus Piece/Malice at the Palace split I couldn't stop listening to it, and recently the 30th Anniversary Edition of "Hellraiser" with Ozzy and Lemmy, that song is on repeat.
That Faith/Void split is legendary! Random question; Whats your favorite sea bird?
Puffins are really cute.
What are your favorite places/dishes to eat?
Rudy's Pizza PDX in Portland, OR. Vegan pizza and wings.
I have only been to Voodoo Doughnut [laughs]. Please explain your creative process.
I tend to procrastinate a lot when it comes to writing—it's easy for me to lose motivation. More recently I've been working on poetry in my free time and I've found that a lot of it can translate into my lyrics.
My attention span doesn't last long so when I'm at work, driving, or otherwise preoccupied and come up with something, I usually have to write it down as soon as I can… before it gets forgotten forever. It's a scattered stream of consciousness.
Aside from this interview, please send me some poetry to put in my zine! What kind of stuff do you like to do outside of the band?
I love to do art and read! Also indulging in fashion and makeup.
I'll be snagging some floral designs from you some day I'm sure. Is there a hidden meaning in any of your music?
I tend to write pretty literal so the point isn't hard to miss. But there's a few songs on the new record where I'm discussing topics/experiences using more metaphorical writing styles.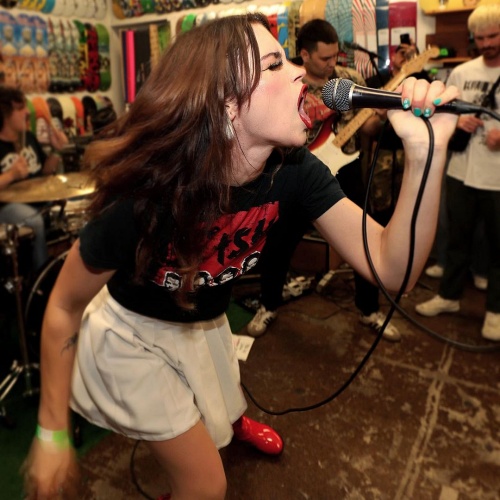 I seriously can not wait until the new record comes out. What is your favorite venue to play and why?
My favorite venues to play are houses because it's always such a unique setting and usually everyone goes off!
I couldn't agree more. I grew up going to house shows in Viriginia Beach/Richmond and rarely find any in Raleigh/Durham. What is your favorite city or state to play and why?
I love Chico and of course San Jose. Denver was incredible when we where there last.
SoCal is something else! What is your favorite/least favorite part about this line of work?
I love everything about it! The only part that's tough on me is clocking back into my day job after tour.
The secondhand post-tour anxiety is killing me! Tell me a little bit about your community/scene in the Bay Area.
It's insanity. Everybody is so about involvement and fun, supporting our own scene. It's impossible not to get hyped seeing how intense and expressive everyone is here! there's a lot more support these days and it all feels very genuine.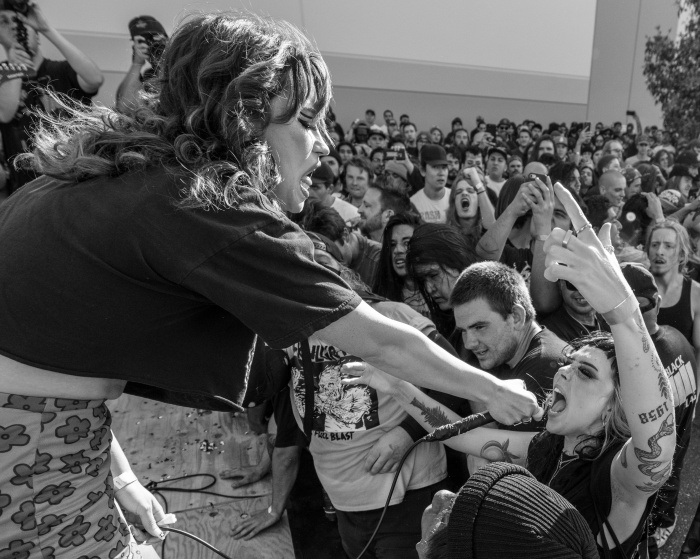 What are your favorite current bands?
Chubby and the Gang, Spice, Turnstile, Drain, Viagra Boys, IDLES. Probably more but i have a hard time keeping track!
That new Chubby might be Album of the Year for me. What are your favorite bands to play with and why?
Zulu, Drain, Dare, Section H8, Punitive Damage. They all rock and sound incredible live.
All great bands and people! Have you ever dealt with performance anxiety? How do you deal with it?
I get very very nervous before we play almost every show. I just get psyched out. When I started playing shows I would do breathing exercises and stuff…but now I just try to keep myself pre-occupied until a few minutes before we play with vocal warmups, running through my lyrics + the set list.
I've accepted that no matter how prepared I am, I'll still feel nervous. I just set myself up for success—warm ups, no sugar, dairy, and caffeine the day we play, practice as much as possible. All of it is just insurance to push away the fear of failure.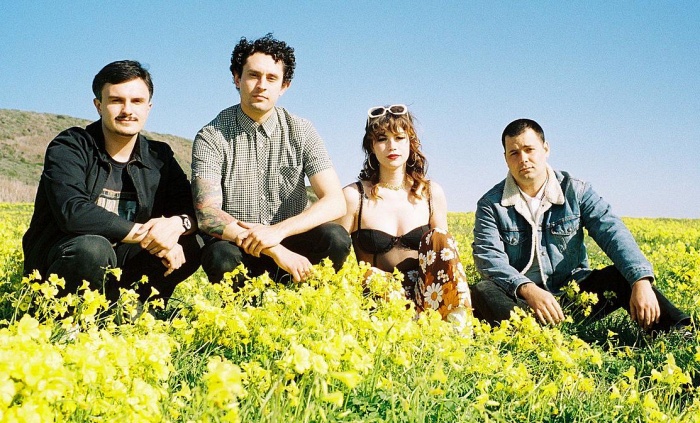 Thats some good advice! What advice would you have for someone wanting to follow in your footsteps?
Do what you want and have fun, that's the only thing that kept my head above water when I was worried about what everyone else might be thinking. Focus on yourself and do the damn thing…It's cheesy to say but literally anything is possible.
Thanks so much Kat once again. I am literally preordering your new record as we speak!
***
How Flowers Grow is out on November 19th via Flatspot Records. Pre-orders for the album are live now for US and EU/UK customers.
Scowl on social media: Instagram | Twitter | Bandcamp
***
Help Support What No Echo Does via Patreon:
***
Tagged: scowl