Melding a potent stew of post-hardcore, screamo, and a helping of '90s hardcore grit, Hundreds of AU is a band No Echo covered for the first time last year.
Featuring musicians who have also played in You and I, Hell Mary, and Black Kites, the group spent 2020 working on material for their forthcoming third studio album.
Working with Patient Zero Records (Burning Strong, Discourage), Hundreds of AU are getting ready to release that aforementioned album, Acting From Remote Satellites. But even though we can't share that yet, No Echo got you covered with the exclusive premiere of "Bait," a great track from the full length:
"My lyrics are my way of getting something out that I may not feel comfortable addressing in another way, so sometimes revisiting them for further explanation doesn't come easy...and it shouldn't," Hundreds of AU vocalist Paul Alan told No Echo in an email. "It takes a lot for me to get to a point where I am ready and can hone it in. Luckily, it's often buried in reverb and the mix.
"As for 'Bait,' I've wasted a lot of energy, emotion and time in conversations I shouldn't have. You ever simply choose not to engage with a self-proclaimed devil's advocate just looking for an argument for the sake of? It can be fun to watch them have a conversation with nobody but themselves. Sometimes you say more by saying nothing at all. Not everybody is entitled to a response."
"I've done vocals in a band (Hell Mary) with Tom [Schlatter] before. Doing vocals and guitar at the same time is something I really didn't put time into learning until Hundreds of AU. I was always worried that the dual duty would cause one of the areas to suffer.
"When Tom presented the skeleton of this song, I thought I'd lay low when we decided who would sing it because at first listen, it just sounded too wild to sing and play at the same time. It also introduced rhythms I wasn't too familiar with.
"However, once it became muscle memory and I sat with it, it was a challenge I wanted to take."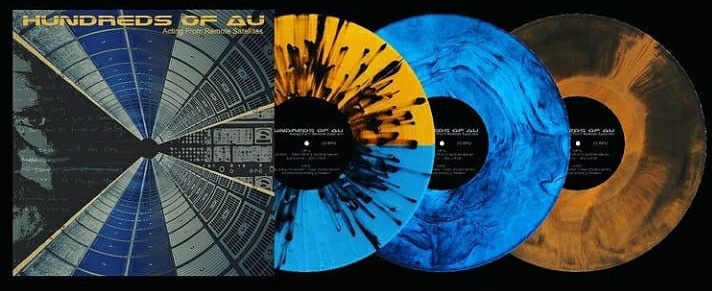 Acting From Remote Satellites is up for pre-order from Patient Zero Records starting today.
Hundreds of AU on social media: Facebook | Instagram | Bandcamp
***
Help Support What No Echo Does via Patreon:
***
Tagged: hundreds of au