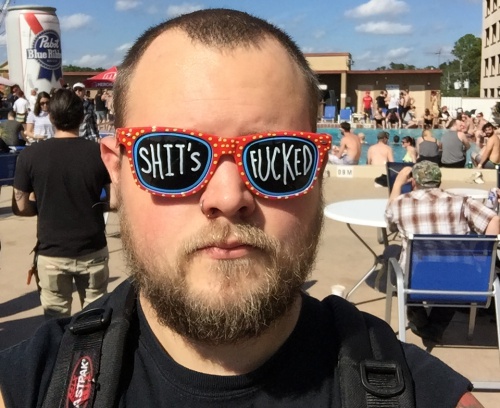 If you're on Instagram like I am, the app's algorithm will often recommend a profile that grabs your attention. That happened recently when I came across a profile under the handle "backpatchesoffests." There, punk fan Ian Bowers posts nothing but backpatches from the several music festivals he's been attending as of late. It's fun to scroll through the various images, and it's the exact kind of time-killing activity I can always get behind.
I decided to hit Ian up to get his story.
Tell me a bit about yourself.

My name is Ian Bowers. I was born, and currently live in, Sandusky, Ohio, which is about halfway between Cleveland and Toledo. I work for a little record store here called The Exchange. I also run a label called Messy Life Records and play in the band Varsity Pinball in my spare time.
When and how did you get into punk/hardcore music?

I got into punk rock when my best friend got ahold of his older brother's copy of Blink 182 Dude Ranch. We were around 10 or 11 and it was the greatest thing we'd ever heard. I listened to that CD a ton and ended up reading every line of the liner notes and noticing all the bands they thanked. Through just those liner notes I discovered NOFX, Descendents, The Vandals, Screeching Weasel, and a bunch of other bands. That also lead to me joining various internet punk message boards and by the time I was 16 I was driving an hour to Cleveland once or twice a week to see shows in stranger's basements.
When and what sparked your interest in the whole backpatch thing?

I was always pretty enamored by punk jackets and vests. Every vest and jacket is so personal. People put a lot of thought and craft into what goes on it. Your vest/jacket becomes an extension of yourself. I have a lot of different band shirts, but only my absolute favorite bands go on my vest.
Tell me about the Instagram you started for the festival stuff.

So, I've been going to The Fest in Gainesville, FL since 2008 and I've always loved that 3,000+ punks take over this tiny college town for an entire weekend. Over the years I'd always take notice of all the jackets and vests I'd see over the weekend. During Fest 14 in 2015, I saw someone with a backpatch that was just Larry David from Curb Your Enthusiasm's face and I took a picture of it and posted it to my personal Instagram. That sparked the idea: "What if there was an Instagram page just dedicated to all the backpatches at The Fest?" So, the following year in 2016 I created an Instagram account called "BackPatchesOfFest15." I discovered when I would ask people to take a photo of their vests, everyone was very enthusiastic about it. Punks are very very proud of their vests. After Fest 15 I decided to put the page on hold until Fest 16. Then I attended Punk Rock Bowling in New Jersey last weekend and there were so many great backpatches that I decided to revive the page. I changed the name to just "BackPatchesOfFests" to broaden the scope beyond just The Fest in Gainesville.
What is the best patch you've seen so far since starting to shoot them?

My favorite patches tend to be the non-band or oddball ones. The patch of Larry David's face still remains a favorite. I was also impressed by a huge Legend of Zelda: Majora's Mask backpatch. One of the absolute best ones was just a cat's face, but if you shined a light on it (or flash photography) the eyes and teeth were reflective. So, in natural light it looked like a sleeping cat, but if you shined light on it, it turns into a ferocious cat baring its teeth. You always see so many band patches that I always love to see something really unique or off the wall.
***
Follow Ian's backpatch-dedicated Instagram page for more photo action.
Tagged: punk hardcore metal backpatches