Hard Foul and These Bastards are two West Bay hardcore punk bands featuring some veterans from the scene.
Comprised of Kurlee Daddee, Dan Lactose (Spazz, Shed Dwellaz, Funeral Shock, Deny the Cross) Frank Ripple (Agents of Satan, Plutocracy, Deny the Cross, Redacted), and Cris R. (Deadpressure, Connoisseur, Socioclast), Hard Foul formed a couple of years ago.
These Bastards' current lineup is made up of Alex "Stoney" Yeung, Dave "Bruno" Bruno, Leech, and T.C. Bonelocs. Some of the other bands the guys have played in include Agents of Satan, Conquest for Death, and Venkman.
Working with the recently reactived 625 Thrash label, Hard Foul and These Bastards have teamed up for a split EP.
Following a lengthy exchange of emails, I spoke with Hard Foul's Dan Lactose and These Bastards' Stoney and T.C. Bonelocs to talk about the collaboration.
How and when did each of your respective bands initially form?
Dan Lactose: Hard Foul physically manifested itself sometime around 2018. It was, initially, a concept that Franko [Frank Ripple] and Kurlee [Daddee] would talk about on their podcast. At some point, they asked if I wanted to play guitar because they had gotten Kalmex [Thomas Perez] from Redacted to play drums.
I hesitated for a bit because where we practice is a pretty far drive from my house, but, eventually, came to terms with the fact that it's really fun to jam to jam with Frank (See: Deny the Cross.) Kalmex bailed and Frank got Cris [Rodriguez] from Deadpressure to agree to play drums, which was dope because I would always chop it up with Cris when I was at shows in San Jose. I knew he would be a great fit.
Stoney: Bruno and I started talking about jamming. Bruno and T.C. were in Dioretix, but they had just broken up. We met at a burger spot and drank Racer 5. T.C. said, "I know this weirdo who has never been a singer in a band, but does funny stuff with furniture." Leech was [one] of These Bastards.
How did this collaborative split come to fruition?
Dan Lactose: We had talked to [These Bastards] about doing a split and everyone was down. We didn't really know how or who was going to release it, at the time, but we just started working on getting all the material ready.
While we were doing this, Max [Ward] was getting 625 back in action, so I pitched the idea to him and he was down. He wanted us to try to find a label to split the cost with, but after talking with everyone in the bands, we decided it would be easier for the bands to throw in the other half; so, it's, actually, a split release between 625 and the bands.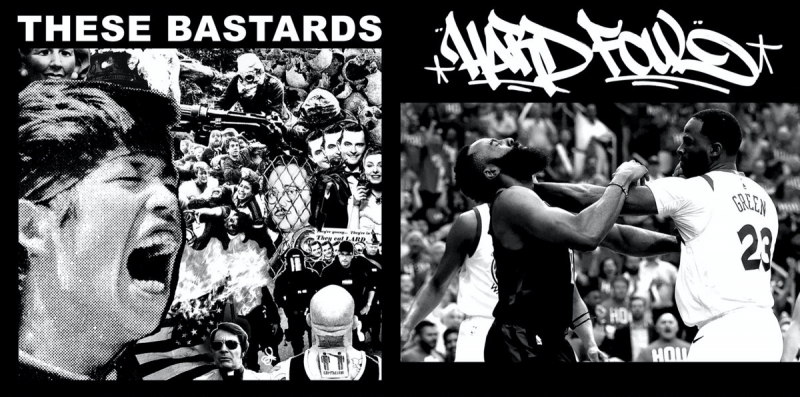 Can you tell us a little bit about the long-standing relationship between HARD FOUL and These Bastards' members, even prior to this particular release?
Dan Lactose: I met Leech from [These Bastards] in kindergarten. The reason I started playing guitar is because he got a drum set for X-mas. I always wanted to play drums, but we couldn't have a band with two drummers, so I went for the guitar.
I met Stoney [Alex Yeung] through the Plutocracy guys. He played saxophone on some Spazz tunes. I met T.C. [Bonelocs] through Leech and we've collaborated on quite of bit of hip-hop stuff over the years.
Stoney: West Bay.
What's the story behind each separate image seen across the three panels on the 7 inch's layout?
Dan Lactose: The picture of all of us is from when we both played in the 89.7FM KFJC pit. While we were setting up, we found out that Genesis P-Orridge of Throbbing Gristle had died. Frank remembered that [Throbbing Gristle] had taken a picture outside of the station and used it on the insert for the 20 Jazz Funk Greats album, so we took a picture of all of us in homage.
Frank was, actually, the one who pushed me to dig deeper into the [Throbbing Gristle] catalog many years ago and we both attended the 24 Hours of Throbbing Gristle multi-media event that KFJC held in 2003.
So, what's the story behind These Bastards' "San Francisco 2050" feat. Frank Ripple from El Puente Benefit Compilation Album, Vol. 3? Will it likely ever see a wider re-release?
Stoney: These Bastards wouldn't pass up a chance to have a monster bassist like Frank do a bass solo on our song. What are you, high?
T.C. Bonelocs: One of our early shows was at a place in Berkeley called The Dildo Factory. While there, I picked up a flyer for an upcoming cassette tape comp. called Plastic Island, Volume 1 that Robert Eggplant was putting together. In a fairly ambitious move, especially, for These Bastards, we wrote "SF2050" the next Thursday night and recorded it the following day at our practice spot to meet the deadline.
Fast-forward to our next studio recording and Bruno had brought up the idea of asking Frank to roll [through] and kick a bass solo during the outro of the song. Frank came [through] and ripped it up! As far as a wider release for the song, I think, it's fairly safe to say that there will be, we just gotta make it happen!
What were the typical writing, creating, recording, etc. processes like for each band's respective side of the Hard Foul/These Bastards split?
Dan Lactose: The first few Hard Foul songs we wrote were written together, but now that we've found our sound, a bit more usually, Frank and I come to the jams with songs already written. Kurlee writes all the lyrics.
We recorded this session with old friend, Bart Thurber (Meat Shits, Tony Molina), on his 16-track 1-inch machine and we mixed it down to his old 2-track tape machine. A lot of historic signals have been sent through those machines.
Stoney: T.C. Bruno, and I write tunes. We bring them to practice. We work out details or parts that aren't working. Leech puts words to it.
How difficult was it to put the split together during the COVID-19 lockdown?
Dan Lactose: The Pandemic really didn't have much of an effect on releasing the record because both bands had already recorded their sides before The Lockdown. We communicated via email and sent various parts through The USPS. Everything went really [smoothly].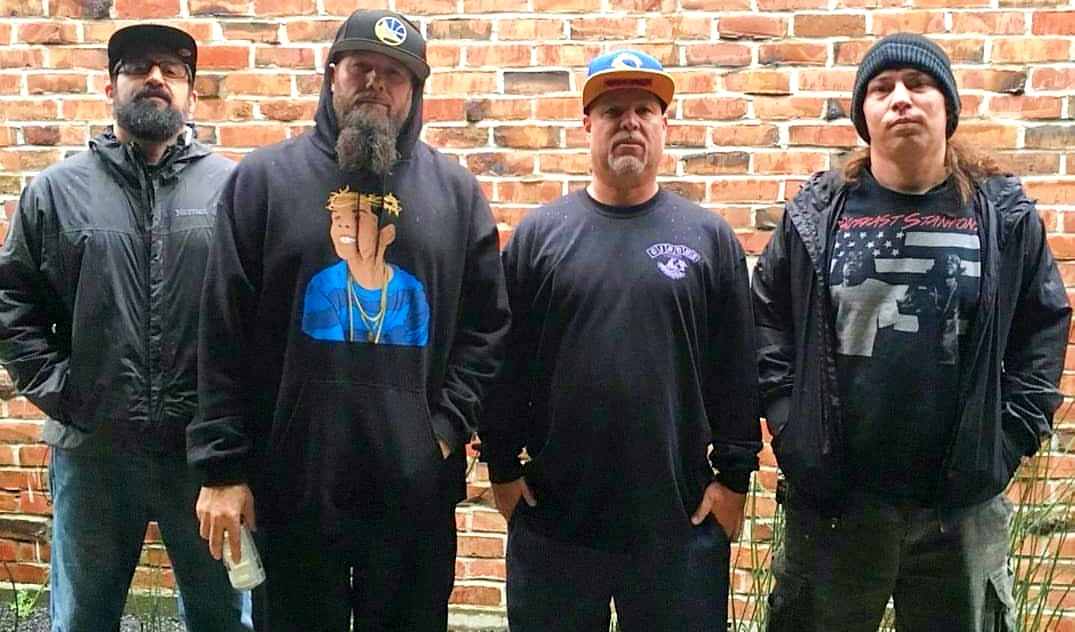 What would each band cite as some of their greatest source of inspiration and influence while concocting their side of this new split?
Dan Lactose: The Golden State Warriors, strong-ass IPAs, Neurosis' Aberration 7 inch, Crossed Out, that dank right, Poison Idea, GXFR, Asbestos Death, etc.
Stoney: These Bastards 2.0.
Now that the Hard Foul/These Bastards split has been unleashed into the terribly unsuspecting world, what's planned next for each band?
Dan Lactose: 625 is releasing a cassette of the entire Hard Foul session we did with Bart [Thurber] (the split + 3 more songs) on one side and our live set from KFJC earlier this year on the other side. Hard Foul is already writing new stuff for whatever comes next.
T.C. Bonelocs: A split 7 inch with Sacramento band Sick Burn on Alimentary Music is in-the-works and will be available soon, too.
Stoney: These Bastards got some new sh*t brewing. Fast, short, and loud batch of new tunes currently being wrenched on. More bong rips, too.
In addition to Hard Foul and These Bastards, are any of you currently part of any other bands that have upcoming releases you might like to mention within this very space?
Dan Lactose: Cris [R.] is in a sick grind band with Matt [Gomes] from In Disgust called Socioclast and they have an amazing LP coming out any day now on Carbonized Records]; heads are gonna trip on that one. Cris, also, plays in Connoisseur and they have a split with Trappist coming out at some point. Kurlee is always posting new mixes on his website.
Frank plays bass in Redacted and Healer, and they just put out a killer 7 inch on 625. He's also been working on the Redacted LP and a bunch of other filthy projects. Grand Invincible's Demolition Strictly LP should be out before the end of the year on Iron Lung, and I'm working on wrapping up the Dank Goblins LP that will be released at some point next year.
Stoney: F**k 2020, but, fuck, I have been part of a bunch of releases this fucked up year.
All these are on Bandcamp: VOCO - Goat Haggle at the Black Market on Monkey King Records, Conquest for Death - A Maelstrom of Resentment & Remorse on Refuse Records, These Bastards/Sick Burn split on Alimentary Music (coming soon), and Morbid Life Society - Demos 1987 & 1991 on 625 (coming soon).
***
The To Live a Lie webstore will be getting more copies of the Hard Foul/These Bastards 7 inch within the next few days. Hit up 625 Thrash's Bandcamp page if you want it on digital.
***
Donate a few bucks to help with No Echo's operating costs:
***
Tagged: hard foul, these bastards