BrainxToilet is an absolutely crushing North Carolina grind outfit. Forged from the fastcore flames of both the highly recommended Priapus, Torch Runner, and myriad others, their newest slab of depravity is an essential listen for extreme music fans of any stripe. Painmaker is ready and willing to do just that... should you dare.
With a brand new cassette released via the staunchly DIY To Live a Lie Records, it's less "fresh" off the presses as it is newly rotting. Pick it up to find out what's bubbling beneath the surface of Greensboro's bogs. Will Butler has been painstakingly adding gold stars to his roster and BXT are no exception. Their punishing grindcore opus Painmaker brings all the hyper speed devastation and bewildered aftermath of a tornado. In the grand grind tradition, music is none of their business. This is a sonic exploration of nihility and terror... a road map into the dustier corners of our subconscious.
Jordan Noe, the mangled throat at the eye of this Southern storm, was kind enough to take the time to give us some background on all things BXT. Let's peek into the surprisingly eloquent and thoughtful mind of the toilet brain himself.
"BXT formed in late 2012 by myself, Jeremy (drums) and Dustin (guitar). Jeremy and I were in the band Priapus together and the intention of starting BXT was to form a band with our homie Dustin (another NC grind freak) and play grind that was a little more straightforward and moshier than what we were doing in Priapus. We started playing shows and self-released our self-titled EP and split with Budd Dwyer. Since then, we've had a few bass players—Nick Brown (The Fuss, Vesu) and Scott Hughes (Torch Runner, Mourning Cloak)—but at the moment we are back to the tried and true trio/bassless grinder format. Jeremy has stepped down for a bit to work on grown man shit, but our comrade Kevin from Priapus has jumped in on drums so we can bang out some shows in support of our new record, Painmaker.
"We are very pumped to have Painmaker come out some of these songs have been kicked around for 3 or 4 years—and we are even more psyched when Will/TLAL offered to release the cassette. Will has been a homie for years and his label has put out some killer shit over the last decade. We recorded it with our dude Jacob Beeson at his house here in Greensboro, NC and our bud Mauro from Maruta mixed/mastered it. Art was done by a true Midwest grind freak by the name of Travis Papkey and we are thrilled with how everything came together. This is easily my favorite recording I've been a part of and I think it is a good representation of how we sound live - chaotic, noisy, riff heavy and extremely angry.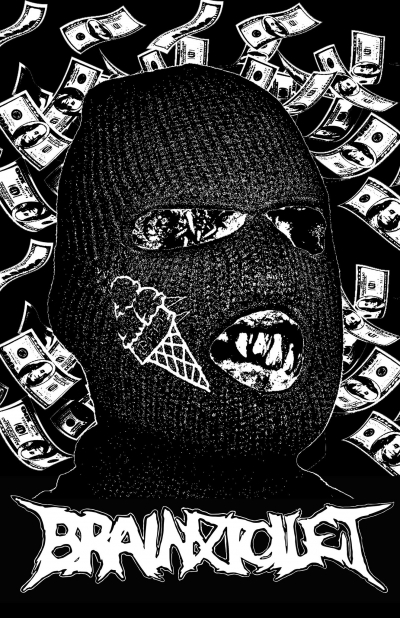 "We haven't strayed too far from North Carolina for shows and I don't see that changing too much in the future since we are all older dudes with jobs and families—but we have a few shows in Raleigh and Greensboro coming up this summer with some heavy hitters like Tomb Warden, Hallucination Realized and Los Reyes Bong Death. If you're reading this and want us to play a show or fest outside the confines of North Carolina— hit us up!"
Admittedly, grindcore is oftentimes split into various camps. BrainxToilet shy away from the wacky, gonzo end of the spectrum, leaning deadly serious where others embrace the madcap. There's a heavy sense of cross-pollination with grind and power violence that pairs them well with the TLAL roster. Balancing their lightning fast attack with a penchant for excruciatingly heavy and slow passages hints at a varied record collection, likely to include well worn LPs by Insect Warfare, Endless Blockade, Iron Lung and the like. At times, there's dalliances with the more death metal inclinations of Wormrot, Benumb, or Nasum. Ultimately, though, they fall more on the punk end of this black rainbow. Fans of Agathocles, early Phobia, Cripple Bastards, and Unholy Grave take note. In both presentation and the finality of their execution, this is heavily DIY punk in ethos.
The opening track begins with a lurching, mid-paced menace. It conjures images of looming intimidatingly over fallen prey or perhaps an overly confident stroll to the starting gate. An unsettling "Do you submit?" sample issues the perfect question. Their answer is the same regardless, for submission isn't voluntary on Painmaker. The derelict scuzz of a bass line is a killer touch, adding again to their Power violence flecked palette. Their take on doomy, pain-making sludge imbues the proceedings with a violently-minded mission, throwing colossal rainmakers. Alas, this (for them) glacial pace was born to die...
"Chewing Gravel" fulfills the promise of the intro, feeling as if the gates are bursting open into a grindcore speed trial. After upping the BPM's, BrainxToilet plays with vocal trade-offs, violently seesawing between the precise type of gravel being chewed. Noe's artillery is a rabid battering of mouth ooze, the lower gutturals a claustrophobic fit with the higher register bark.
Third track "Devour" does just that. After the intro quickly devolves into a predatory mess of drums and bass, they unleash a secret and monstrous tool. The guitar, when not gasping for air between divebomb riffs, finds a squealing tail that recalls the ferocity of Prowler in the Yard-era Pig Destroyer. Much like those Mid-Atlantic maniacs, BrainxToilet manage to thread the needle between DIY grind with a more seasoned compositional approach.
"Friendshit" opens with woozy feedback and an intimidating ratta-tat-tat snare announcing the impending cyclical craziness. There's a mid song sample that posits that drunkenness = Godliness. Though the preferred altered state of subculture never actually achieves transcendence, the embrace of self-abuse and punishment sounds harrowing enough to lure us into a drunk tank all its own.
The opening salvo of 'Sour Ground" begins with the loving genre trope of "1,2,3,4" as counted off by a taut and tightly wound snare drum's martial cadence. There's something comforting about finding room to squeeze the expectations of fastcore diehards into their bilious purgation. It's the equivalent of being slapped in the mouth after, well... getting slapped in the mouth. That we know what's coming doesn't lessen the impact or keep us safe from the blasting zone. The utter tornado of blast beats is complemented by unconventional drum fills and a caterwauling, torturous guitar sound.
"Underbelly" begs the question... if this is the side of their subconscious they chose to air publicly, what exactly lurks in the aforementioned underbelly? Employing a buried vocal mix and a devastatingly crusher of a groove breakdown, the sonic hysteria is that ensues when the vocals turn up is a fully fledged pummel. Lurking in the shadowy collective of BrainxToilet is a death metal streak that shows up when they need the cavalry.
If it's yellow, let it mellow. This shit ain't mellow. Dive into the BrainxToilet and then seek out your putrid copy from To Live a Lie Records (cassette/digital). You're welcome.
Tagged: brainxtoilet