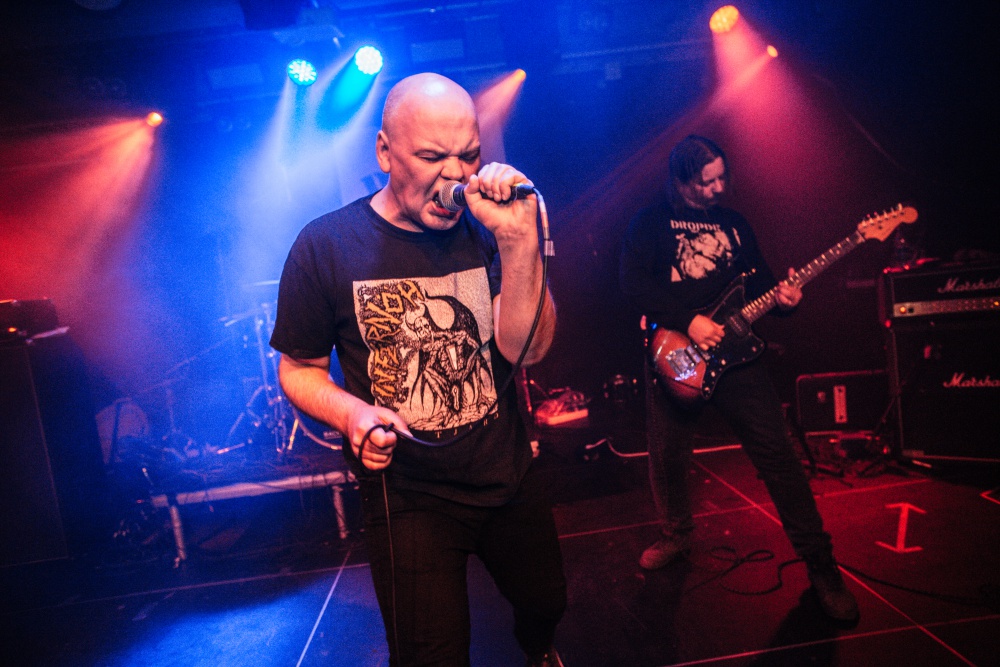 One of my favorite things about European and especially Scandinavian punks is their longevity and commitment to hardcore. While most American early adapters of playing loud and fast quickly downshifted into navel-gazing, introspective noodling like Fugazi or Mogwai or Texas Is the Reason, random Euros put pedal to the metal and continued to rage onward into that good night.
Made up of members of legendary bands like Avskum, Totalitär, Makabert Fynd, and Krigshot, Dissekerad unleashes and skullcrushing blitzkrieg of Swedish råpunk. A pummeling rage-o-thon of ripping Discharge through a lingonberry infused cocktail of stomping UK82 (think Blitz smashed into Chaos UK) hardcore and AntiCimex viciousness.
This is primal hardcore—this is the sound of John Watson pounding you in some sort of ritualized act of violence at the A7 before handing you a flyer inviting you to chant hare-kirshna.
This is a mob of Latin Kings and Detroit skinheads whirling about in a speed induced fervor in a strip club in Toledo, Ohio while Bloodclot and Harley hold court. This is a bunch of glueheads pogoing while holding onto one another for dear life while the Skeptix rip through "Death and Destuction." Raw, fast, go for the jugular hardcore--no metal, no clean singing, no indie-rock, no pop—just pure unadulterated fury from a team of legends.
So far Dissekerad have released two LPs—one eponymously titled via Skrammel Records and another thanks to Phobia Records christened Mörkret Tilltar along with two EPs (Attack and IV) both thanks for Phobia Records. All of them are worth your time.
And bonus! They are gracing our North American shores come October as they head to play the infamous Varning From Montreal fest. In its 12th year, it features bands from Russia, Japan, Sweden, U.K., Mexico, Canada, and USA.
Dissekerad tour dates:
Sept 21st: Philadelphia, PA @ Cousin Danny's
Sept 22nd: Brooklyn, NY @ Windjammer
Sept 23rd: Pittsburgh @ Rock Room
Sept 24th: Richmond @ Mojo's
Sept 25th: Washington D.C. @ Slash Run
Sept 26th: New Haven @ The State House
Sept 27th: Boston @ The Elks
Sept 29th: Varning Fest XII @ Katacombes venue
Tagged: dissekerad, international hardcore bands