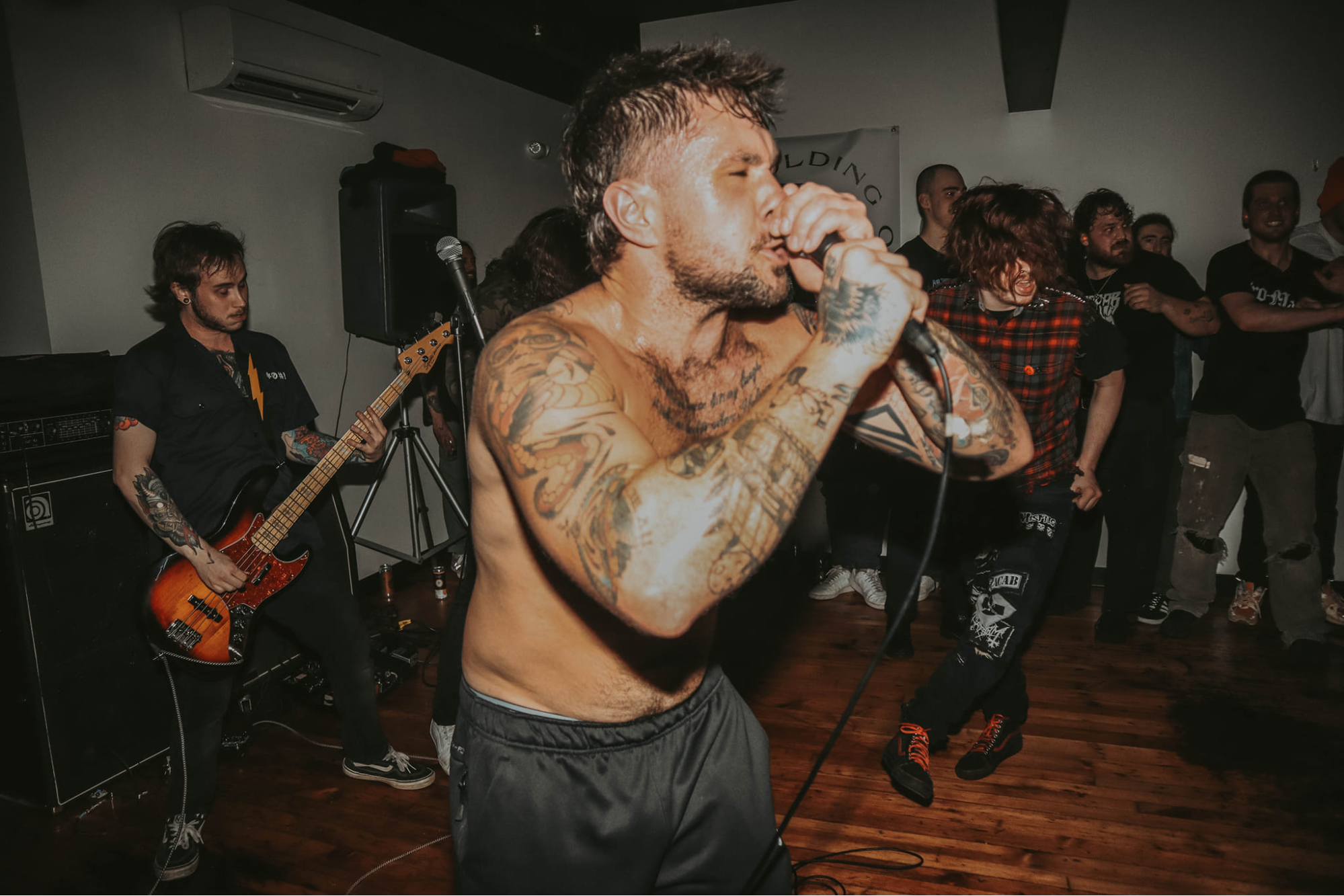 One of the Maine hardcore scene's finest exports in the last few years has to be the band Gumskab. Taking cues from all the great corners of hardcore and pushing them to the next level of ferocity has earned them a serious following in just under a year of their formation. Whether they're forcing the two-step out of you or causing serious damage through brutal mosh riffs, Gumskab knows how to dish out some dark yet fun Northeast hardcore.
As more bands take their sound into heavier directions these days, Gumskab's darker hardcore approach is a refreshing one as they don't wallow in the mire of comatose riffage, instead charing at you with blackened crusty speed and agility.
In the 9 months since they've formed, Gumskab have already played around most of New England and have dropped tracks with features from major players in the scene such as Street Power and Buried Dreams. Even with their busy show schedule, the group can still be found showing their love and devotion to the hardcore community by attending multiple shows every week. Even if they aren't playing, they'll still travel two states over just to catch a sick hardcore show.
Quickly earning their place in the scene, Gumskab signed with Cheap Life Records this year, a label founded by fellow Maine native Chris Linkovich of Cruel Hand and Terror. Through the label, they released their demo and since then have released two more singles which already displayed a great progression in their songwriting.
The new third single, "Avarice," completes a trilogy of songs which are the first recorded by this finalized lineup. Speaking on all three of the tracks, guitarist Ethan stated, "This was one of the first tracks we wrote after releasing our demo. 'Avarice,' 'Golem,' and 'NL4Y' were the first tracks written by all 5 of us together and we really wanted to get these released to show what our sound has become since the demo."
Gumskab is debuting their new video for "Avarice" with No Echo today. Shot at Sal's Skate Shop in South Portland, Maine, video features the band playing to a characteristically rowdy crowd full of moshers and two-steppers. The track also features a verse from fellow Maine rippers Infernal Diatribe:
Gumskab vocalist Nik's lyricism has been deeply rooted in such topics as class warfare, the plight of the working man and more recently about cops on the crushing "NL4Y." When talking about the lyrics on the new track, Nik explained:"
"'Avarice' is a poem about the slime and sludge that builds inside the lazy mind of indulgence. Recognizing it in myself and in the world, it's satire. I'm grateful for my freedoms and the ability to express them, but I can't stand bullying for the sake of personal gain. The ending lyrics are an anthem to say forever fuck the greedy hands of people who destroy homes and lives take control. Underdog eats dog, working class warfare."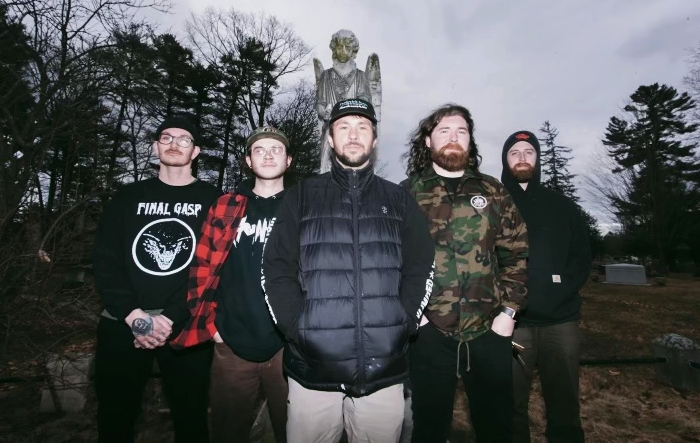 Gumskab will be recording more tracks in October and Ethan described the new material as "drawing from all parts of the hardcore/punk/death metal world. These new tracks are inspired by anyone that puts out honest, hard-hitting, fast jams. We will always draw from bands like Converge, Hatebreed, and Integrity for obvious reasons. The younger bands throughout New England are nothing short of inspiring and are without a doubt influencing us with their energy and passion for this community."
Before they do unleash these next few tracks, Gumskab will be hitting dates in Providence, Rhode Island, Peabody, Massachussets, Biddeford, Maine, and Brattleboro, Vermont with fellow hardcore upstarts, Cooked. After that, they will continue playing "anywhere and everywhere we can."
If you're in the Northeast you'd do best to catch a Gumskab show in the next few weeks because they're one of the most exciting bands to see.
Gumskab would like to shout out: Infernal Diatribe (New EP coming soon!), the homies that keep showing up and fucking with us, Maine Hardcore, Sophisticated Adult, Louzy and Chris Linkovich for being a legend of Maine hardcore and for being on our team since day one.
***
Gumskab on social media: Instagram | Twitter
***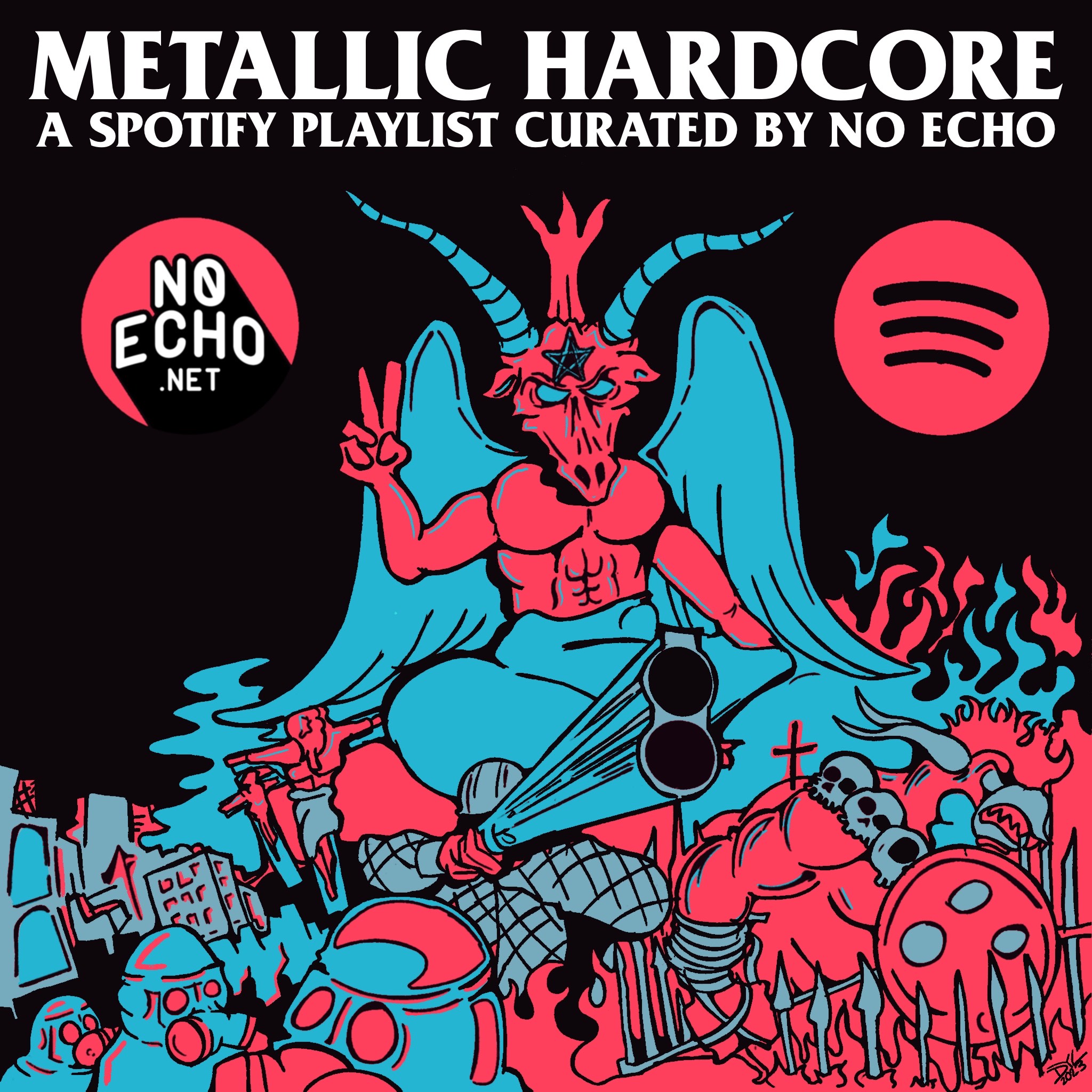 Tagged: gumskab