GILT is a band based out of Jacksonville, Florida playing a melodic yet melancholic style of music that has elements of everything from '00s emo to post-harcore to '90s alt-rock. "GILT started as a side project I was doing," says vocalist/guitarist Tyler Fieldhouse, "writing it all myself, and I just gathered people I had met while I was in other bands over the years that I liked to see if we could make it a real band.
"Tristan [Komorny] lived three hours away and played bass in a psych-rock group, but I knew they'd be an amazing lead guitarist for this project and I asked and they agreed. Everyone else kind of came together the same way over time. Our old bass player met Nico [Bacigalupo] online while we were on tour and introduced us. This is Nico's first band, but we knew they would fit well. Ash [Locke] had moved to town two weeks before we met, but we just clicked.
"And as we were adding people, we kept going over and revising the songs adding each person's spin on it, until we were sure this was the final iteration of the album and the band itself."

The album Tyler is referring to is Ignore What's Missing, which just dropped in late August:
Though No Echo offered its take on the GILT sound, Tyler is probably a better person to discuss their influences: "All the canceled '00s emo bands you shouldn't support anymore, we're trying to fill that void for you in an ethical way. Plus, newer stuff like Title Fight, and classic post-hardcore like Touché Amoré. I'd call us post-hardcore, but emo and punk are equally fitting because of our content and ethos.
"Personally, I draw a lot of inspiration from Thursday's song structures, even if we don't do the metalcore guitar that much, and the overall emotional ride of Manchester Orchestra's I'm Like a Virgin Losing a Child was a big deal to me, and it's why I felt confident letting our album peak and valley like it does."
In terms of their lyrics, GILT cover LGBTQ+ topics, mental and physical disability advocacy, and political activism, all topics the band members are extremely passionate about, as bassist/vocalist Nico explains: "One of the things I'm really proud of is our annual festival, called Snipfest, that we put together. It's a charity festival/fundraiser where we raise money for people transitioning.
"It's been a very rewarding and fun experience to be able to raise money for a good cause, and also create a space for LGBT+ folks to perform, as well as educate others."
When asked for some thoughts on the current state of affairs in America, GILT drummer Ash had the following to say: "In my personal opinion and experience, what's happening in the US regarding the current human rights fight, has not only been happening forever but it's been even more encouraged in recent years. I think it may feel more amplified because the veil that tries to hide all the prejudice, racism, and bigotry is just getting thinner.
"Every day, more and more people are not only being encouraged to not only hide their hate but to also act on it. While outright human rights is not a political issue, the awful politics of this country is wrongfully influencing people. I think the way this country runs is horribly outdated and needs to change, we cannot keep being in a position to have two awful people competing to be 'president.'"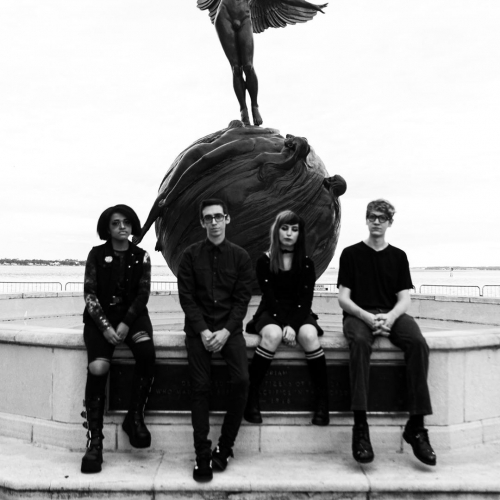 Like countless other bands, GILT had to put their touring plans on indefinite hold this year, but No Echo asks them what else we can expect from them now that their album is out. "We are writing new music with a potential member of this band as the new lead vocalist in mind," Tristan reveals. "It's up in the air right now, but it's incredibly exciting to experiment with the writing process at this moment."
"We are playing a My Chemical Romance livestream cover set this month on Halloween," says an excited Nico. "We might even be dressing up, too."
Ignore What's Missing is available now on Bandcamp.
GILT on social media: Facebook | Twitter | Instagram
***
Donate a few bucks to help with No Echo's operating costs:
***
Tagged: gilt, new artist focus