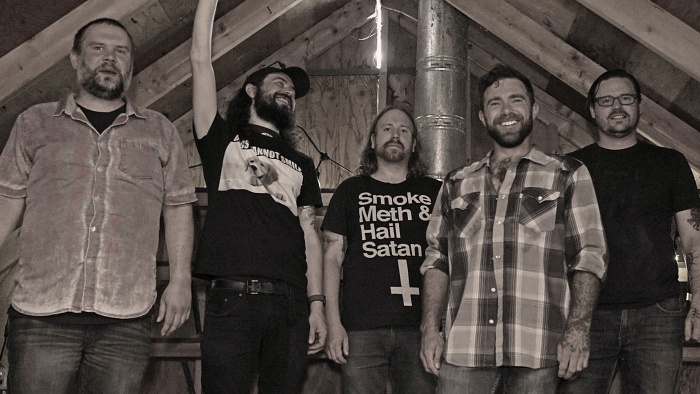 Formed by former members of such bands as Dead to Fall, Ambassador Gun, and Devilinside in 2005, Blue Ox is quintet that makes the kind of music that should appeal to a wide cross-section of heavy music fans.
Over the course of two studio albums, the Minneapolis-based group has developed a sonic palette that features everything from metallic hardcore to sludge to crust punk-like speed runs.
Yes, the genetlemen in Blue Ox clearly have great taste in underground music, but more importantly than that, they know how to write a great fucking song.
The band will be releasing their third album, a mean-sounding collection called Holy Vore, and No Echo is bringing you the premiere of "Left to the Drift," a track from the forthcoming record.

"This song lyrically is about being on board for the journey of terminal illness of a loved one and the futility of trying to keep something close that is leaving you," Blue Ox vocalist Dennis Hanson told No Echo via email.
The album was recorded, mixed, and mastered at Signaturetone Recording by Adam Tucker (he also shot and edited the performance clip above).
Holy Vore will be available on limited pressings of vinyl and cassette, and via streaming services on April 2nd. Hit the pre-order link to get in on the action early.
Blue Ox on social media: Facebook | Instagram | Bandcamp
***
No Echo has launched a Patreon with 3 tiers offering all kinds of hardcore-related goodies to help support the site:
***
Tagged: blue ox, dead to fall