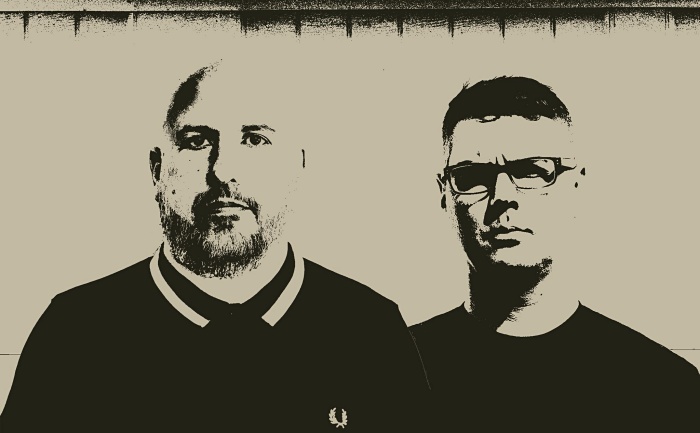 Every Scar Has a Story is a new project featuring singer Robert Fish (108, The Judas Factor, Ressurection) and guitarist Tom Schlatter (You & I, Hundreds of AU).
Written, recorded, and mixed in the midst of the COVID-19 quarantine, Every Scar Has a Story's forthcoming eponymous EP will be released by Equal Vision Records later this month. While rooted in the hardcore sound that one would expect from the pair of musicians, there's a sharp melodic sensibility that cuts through the arrangements, lending the material a certain melancholic quality that stays with you even after the EP ends.
No Echo spoke with Robert about the origin story behind Every Scar Has a Story, their future plans, and the organizations the duo will be donating all proceeds from their record and shirts sales to.
Give me the backstory on the formation of Every Scar Has a Story. I know there's history there between you guys, but what drew you together on a musical level this time out?
Tom and I met a number of different times since 108 reformed in 2006. Over the years, we played together quite a few times and kept in touch. Six years ago. he sent me 4 songs as a side project which I absolutely adored but, for whatever reason, I wasn't in a mental space where I could write and record the songs. His songwriting stuck with me and I kept an eye on different projects he was involved with.
In April, as were were all hunkered down in our respective homes, he posted like a 20-second clip of something he was working on. I sent him a message that I dug what I heard and that was that. A few days later, he sent me the songs. I wrote the lyrics, recorded the vocals, and that was that. Tom is just a great guy, very thoughtful and artistic, and we hit it off.
Was the stylistic direction discussed before you started writing, or did that happen organically?
Totally organic. I wanted to do something that had a sense of melody but that was aggressive and a bit chaotic. Something different for me musically but where I could do my thing and do the songs justice. When he sent me the first song, I did a quick recording and we both decided this made sense and that we wanted to do a band together.
Did you view Every Scar Has a Story as a new opportunity to say something you haven't in your past bands?
I think the best way to describe the band lyrically is that we all have the person we aspire to be and the things that got us to where we are today and many times there is conflict between the two. There is, at least for me, an inherent push and pull that I am always trying to balance.
Like most people, I have baggage, things that trouble me or that I am not proud of, but I also know that the person I am today doesn't exist without experiencing those traumas, making those mistakes, and the baggage they bring.
The idea is to not live in a constant state of regret rather to see those aspects of our lives and experiences as lessons, to not forget the good, and that such things don't stand between us and the person we aspire to be.
Give me some more info on the actual recording of the Every Scar Has a Story EP.
The music was recorded in Tom's home with vocals at my abandoned office thanks to everything being closed due to COVID-19. We worked with Kevin Carafa on the drums, mixing, and mastering.
What's the plan for Every Scar Has a Story in terms of playing shows and touring? I'm sure it's going to be tough to juggle everyone's work and family schedules with the band.
Once the ability to play live opens up we plan to do so. I travel quite a bit for my job, so I have an abundance of air miles which we plan to put to use. I am very excited to play these songs live and continue to work on new material.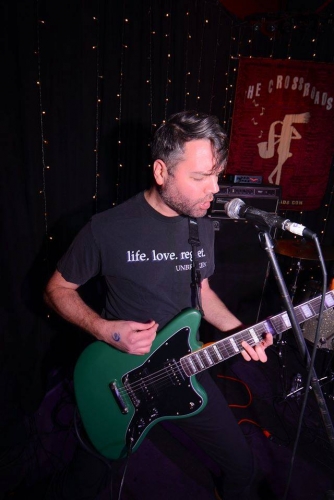 I would love your thoughts on what we're experiencing in the world right now.
As a band that is thankful to be part of a scene that is rooted in progressive politics and education, we want to seize this moment to stand in solidarity with the Black Lives Matter movement. This moment has encouraged many of us to confront our own actions and recognize how we contribute to or benefit from systemic racism. Let this be a moment to learn how to combat these systems, let this be a moment that re-frames your perspective and priorities.
We can use our art/music/energy as a supplemental tool to combating these systems and raising money for organizations doing great work. Every Scar Has a Story will be contributing the proceeds from our record and shirts sales to the following organizations:
The Bail Project is a critical tool to prevent incarceration and combat racial and economic disparities in the bail system.
Brennan Center for Justice is an independent, nonpartisan law and policy organization, the Brennan Center conducts rigorous research to identify problems and provide in-depth empirical findings and compelling analyses of pressing legal and policy issues. We also pioneer and champion policy solutions, such as automatic voter registration and small-donor public financing.
***
The Every Scar Has A Story EP out June 18th via Equal Vision Records.

Tracklisting:
1. "Every Scar Has a Story"
2. "Move On"
3. "Price of Admission"
Every Scar Has a Story on social media: Facebook | Instagram
***
Donate a few bucks to help with No Echo's operating costs:
***
Tagged: 108, every scar has a story, ressurection, the judas factor, you and i