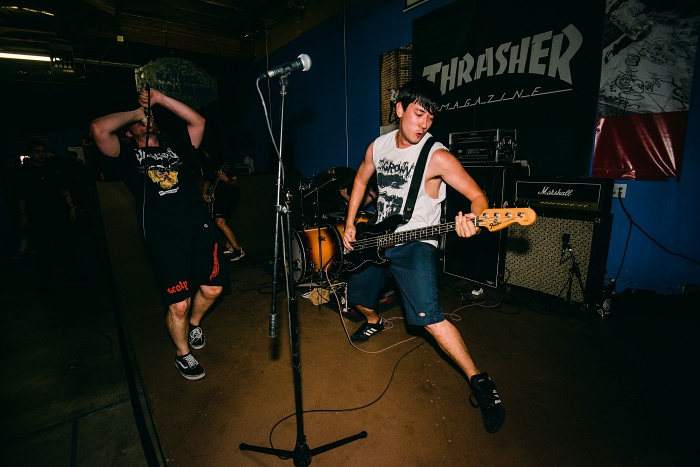 Maintaining the 2021 Hardcore Releases playlist on the No Echo Spotify account has kept me in the loop in regards to what newer bands to cover on the site. That's how I found out about Complex. The California hardcore crew recently released a 3-track mosher called Living Low that I've been enjoying.
I reached out to bassist Nick to get their story. "Complex started as a passion project when Justin (drums) and I lived up in Chico for several years. We used to play music together in high school and have always wanted to start another project. The scene in Chico is full of DIY bands/shows and I always really dug that ethic.
"In comes my brother, Jeremy, who plays guitar and records demos for his other band, Dematerialize. He helped us flesh out several instrumentals, and when I sent our buddy Daniel the songs, he was immediately down to throw some vocals on it, and that's basically how the first demo came together."
While their 2020 demo showed promise, Living Low does a better job of delivering Complex's stylistic approach. "We try to not be a band that writes cookie-cutter songs and focus on the grooves that make hardcore fun and distinctive to listen to," Nick told me.
"When writing the initial music for Complex we definitely had some Helmet, Iron Reagan, Turnstile, The Rival Mob, Mizery, and Fire & Ice in the mix. That seems to hardly scratch the surface, though."
Though the members of Complex are spread out geographically, they're making it all work. "Living Low is a long time in the making, we started writing the songs when half of us lived in Chico and half of us were in San Jose. It's a short, easily digestible piece of music that encapsulates who we are as a band and what we want to sound like.
"Lyrically, nothing groundbreaking, just a lot of our experiences growing up in our mid-20s and trying to navigate becoming adults in a world that makes it increasingly hard to do so. Just a way to make my voice heard and get it all off the chest."
You know I asked Nick about some other bands No Echo readers should check out: "The Cutthroats, Eightfold Path, Jawstruck, and These Streets, just to name a few. Basically the 40831 scene up to Sac and to the CV."
Complex on social media: Instagram | Bandcamp
***
Help Support What No Echo Does via Patreon:
***
Tagged: complex