If you haven't checked them out before, Dry Socket is a hardcore punk outfit based out of Portland, Oregon formed out of a love of Kill Your Idols shared by vocalist Dani and guitarist Drew. Not a bad way to start!
I'm a big fan of what they're doing, and with a new EP called Cessation coming out soon, I caught up with Dani to update me on their plans, and give No Echo readers an early taste of the record via a premiere of a ripper called "Shake."
The last time Dry Socket appeared on No Echo was on my 12 Newer Hardcore Bands to Watch in 2021 list. How did last year end up going for the band? I imagine you tracked this 7-inch during that time?
This last year has been a wild one for us as a band and individuals. We put out Shiver, our last 7-inch, almost at the start of the pandemic. It felt like we had all this magical momentum for this release we were really proud of, then all of our lives got pulled out from under us. Music was a background thought to much bigger worries and plans.
This 7-inch came to be when we finally were able to come back together after the initial quarantine period, pulling together few but long practices with masks on. Like everything during the last two years, we made do with what felt safe.
We recorded in our house, wearing masks and with minimal practice during a period when caseloads were low. It forced momentum for us as a band in a time when I personally had so much guilt for doing anything in life that didn't feel completely necessary. It also gave us a renewed momentum for writing.
These 3 songs became a bridge to our next release and gave us the tools to be a band safely within a pandemic. I think we have around 13 other new songs with plans to record next month about 10 of them.
Personally, this last year has been awful. The lyrics of this release and the next are probably the most personal I've ever written, and I am hopeful people will connect to the absolute despair and anger. More than anything this recording and the momentum that followed gave us purpose and some sense of community during a period when all of us were struggling.
What can you tell me about "Shake" and its lyrics? Also, in terms of what you write for Dry Socket, what generally comes first, the lyrics or the music?
"Shake" is about my health over the last two years. Last summer, while Geoff, our guitarist, was recovering from a very brutal back surgery that prevented his foot from becoming paralyzed, they thought I had a stroke. It turns out I didn't, but it's been a journey to finding a diagnosis and a learning curve on how I now interact with the world with new limitations.
The title, "Shake," is a reference to the newfound tremors I experience in my entire body. The lyrics are about losing yourself, coming to terms with my own deep-rooted ableism in both how I see the world and myself, and overall discussing as a band how we all feel like we are falling apart. We all struggle with health issues, and it seems like the stressors of the last two years made them light up. "Shake" is my reaction to that.
Also, Dani said the following about the Portland punk scene the last time we spoke: "I feel lucky to have transplanted to a scene where I've never had my band billed as 'female fronted.'" What is it about the community there that makes it so special to you?"
To be honest, after the last two years I feel pretty disconnected from most of the hardcore and punk scene. It seems like there is a big split between people who are OK going to shows and touring during a global pandemic, and folks who either were not or could not be. There is a lot of nuance to all of that and strong feelings, but overall I've found myself questioning how I connect and belong more and more.
Two members of Dry Socket lost parents to COVID. Most of us have underlying health issues that make us susceptible to complications. Most of us have been working this entire time and forced to be in the public, some of us in healthcare. Seeing shows without masks, seeing shows happening in general during surges, touring bands getting, spreading and lying about COVID has made me question a lot of how I even fit into the scene.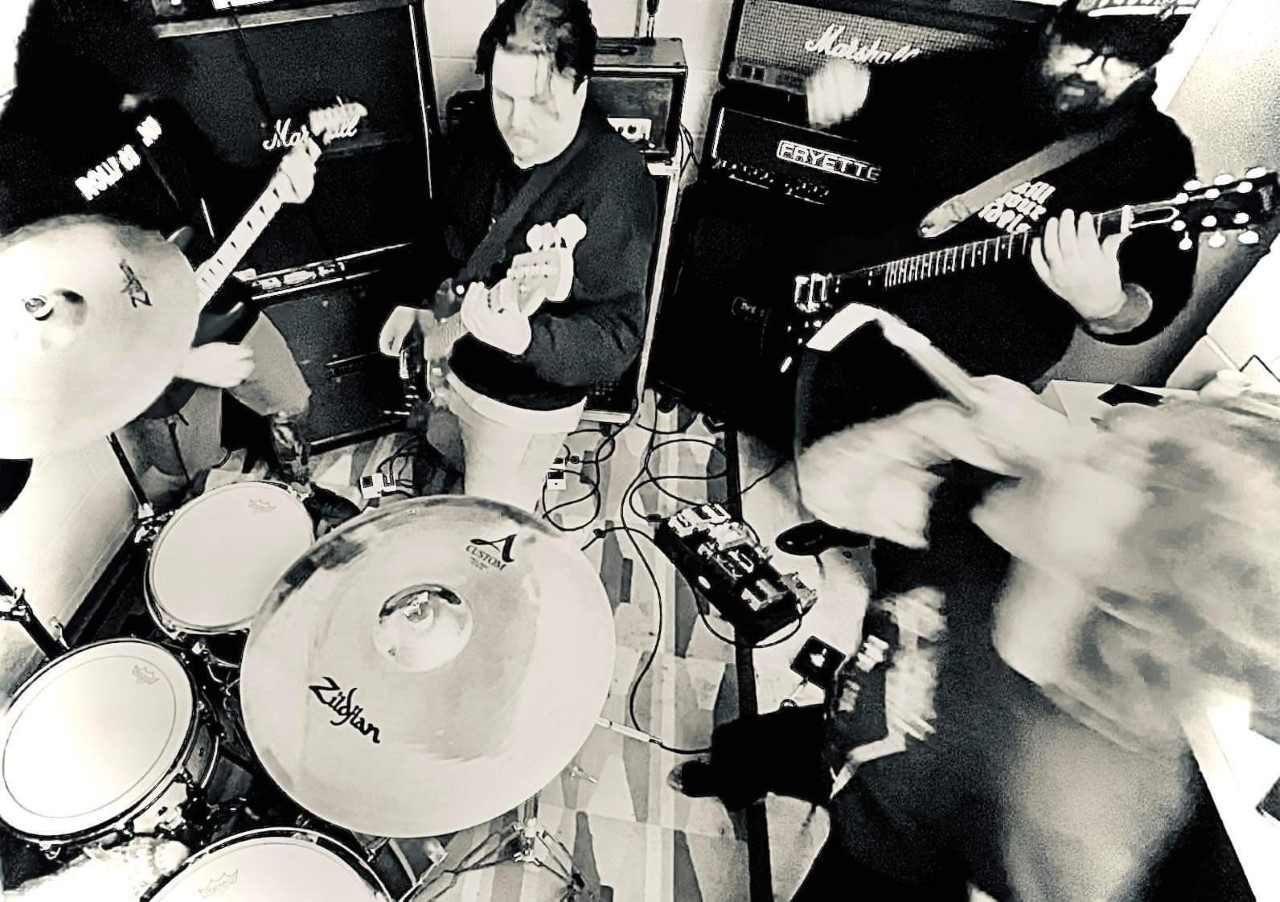 I am incredibly thankful for punk and hardcore. I love the material we have been writing and playing together throughout the pandemic. I am so pumped for this release, and I cannot wait to record this next release. Personally, writing the lyrics for this 7-inch and further material have been huge for my mental health this year. But I just don't know how we will fit in with people who have ignored a global pandemic with massive inequity where millions of people have been dying or experiencing possible permanent disability.
I feel a split, between friends and bands I support on who put hardcore first, and who put the collective safety of all first. We all have very different lived experiences of the Pandemic dependent on where we live, our jobs, income levels, the privileges around who in our lives might be high risk, how we have been affected and so much more.
I can recognize that. But when you say goodbye to a parent over a walkie talkie through a window and then see people at shows on Instagram and people you know flying around the country to play shows during a period when Delta is raging and killing people, it's hard to reconcile how to feel connected to a scene.
***
Cessation will begin shipping in April via Dropping Bombs in the US (pre-order) and Crew Cuts in the UK (pre-order).
Follow on Dry Socket on Instagram.
***
Help Support What No Echo Does via Patreon:
***
Tagged: dry socket