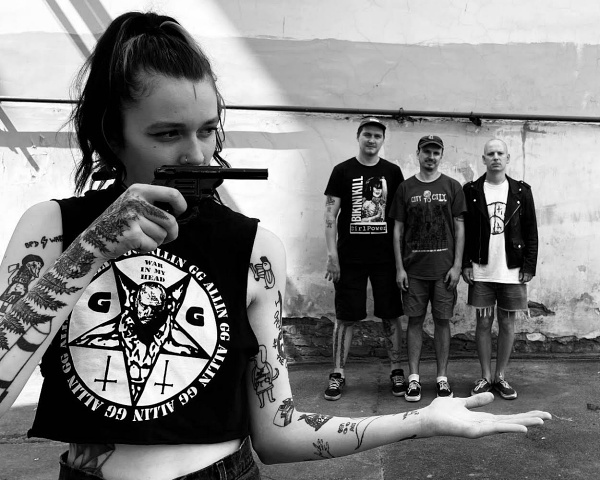 Coax's 5-song debut EP caught my attention a few weeks while I was updating the No Echo 2021 Hardcore Releases Spotify playlist. Released in September, the Russian outfit's EP is a nasty offering of fuzzed-out guitar, blown-out vocals, and tasty mosh parts.
"The idea to start a band came to me and my friend Sasha one year ago," Coax bassist Sergey told me via email from his home in St. Petersburg. "We both got bored during the lockdown and wanted to do something interesting and distinct from our local punk scene, something like Lumpy and the Dumpers or Beta Boys style, so we decided to give it a try. I had a couple of half-finished songs and we chose to start with them.
"Sasha recommended his friend Lesha for the role of drummer, with whom they played in several bands. I was open to anything and had no other options anyway so we began rehearsing. When we started getting good at it, we started to think who we can get on vocals.
"I suggested my friend Alena right away, because I knew she has great voice and was interested in taking part in a band. Almost immediately, she brought finished lyrics in English and won us over with her vocals and charisma. Honestly, at the end of the day our style is nothing like Lumpy and the Dumpers, etc., but we just stopped caring and enjoy what we do."
Coax guitarist Sasha told me the following about their stylistic lane: "The basis of our sound is dirty lo-fi fuzz, more like synth than guitar, plus Alena's crazy vocals, immersing you in the gray reality of a very gloomy northern city that is St. Petersburg.
"It's hard to name any specific bands that influenced us on the record, but we were undoubtedly impressed by a bunch of crazy chain and egg punk bands. The worse the better."
Alena sent me this: "I sing and write lyrics. This is about critical social things, mostly based on real experience, but in general, my lyrics are about lousy life in Russia and about the things that ruin one's mental health."
Sergey let me in on the Russian hardcore punk community's current state of affairs: "Sometimes, it seems that the punk scene in our area is not having an easy time. Oftentimes most of the bands that you hear about are based in either one of two major cities of Russia: Moscow or St. Petersburg.
"However, now more and more cool bands are coming from smaller towns, and this is very cool. The highlights would be the bands like:
...and though they're from Minsk and not Russia, you still need to check out Please."
The Coax EP was released on cassette via Noise Merchant Records, and City to City Records will also be issuing copies in the near future.
Coax on social media: Instagram | Bandcamp
***
Help Support What No Echo Does via Patreon:
***
Tagged: coax, international hardcore bands