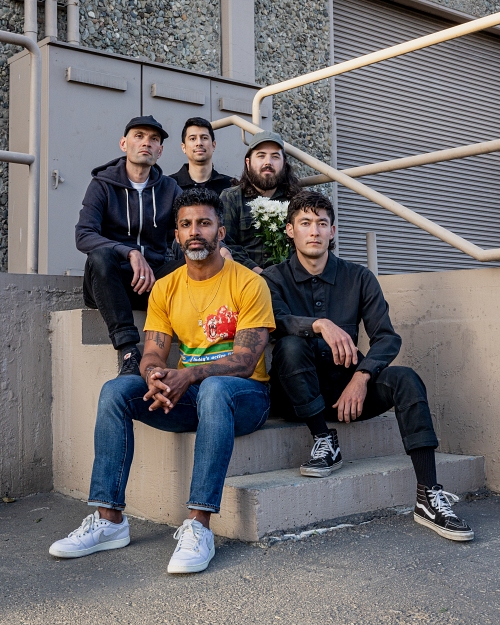 With a sonic palette pulling from both classic screamo and post-hardcore, Drought are clearly aiming to capture a certain musical spirit with their songwriting.
Comprised of vocalist Viggy Ram (Plush Palace, ex-Untrust Us), drummer Ray Avila, bassist Dev Bleyle (Obsolete Man, Failed Earth), and guitarists Eric Nakano (ex-Caulfield) and RJ Rabe, the Oakland quintet formed in 2022.
When asked about specific influences, Viggy says Pianos Become the Teeth and Suis La Lune are a couple of the bands they all share a deep fondness for.
This coming Friday, Drought will be releasing their self-titled EP on Bandcamp, and you can check out a track called "Oh, Javelin!" below to get yourself acquainted:
In vintage DIY fashion, they will self-release their debut EP on June 23, 2023.
Here's what Viggy from Drought sent No Echo about the song:
"'Oh Javelin' was written during a turbulent time in all of our lives. Ray's dad was ill. RJ was battling cancer. And in many ways, the band gave us the support system we needed. We shared our fears and vulnerabilities with each other, and it really set the tone for how we've moved forward since. So many of the musicians I love—Land of Talk, Tori Amos—talk about these fears, but I realized I rarely heard it from men. Even at this moment, RJ is texting me that sharing his experience helped him feel less alone. And I think it's really important in a time that we see the world becoming more fragmented and hopeless.
"The song is ultimately a love letter to aging. But it's also about finding strength through community and accepting ourselves as we grow. We all deserve love, and I hope the song helps others find self-acceptance too."
***
The Drought EP will be out on June 23rd via their Bandcamp page.
Drought on social media: Instagram | Twitter
Tagged: drought