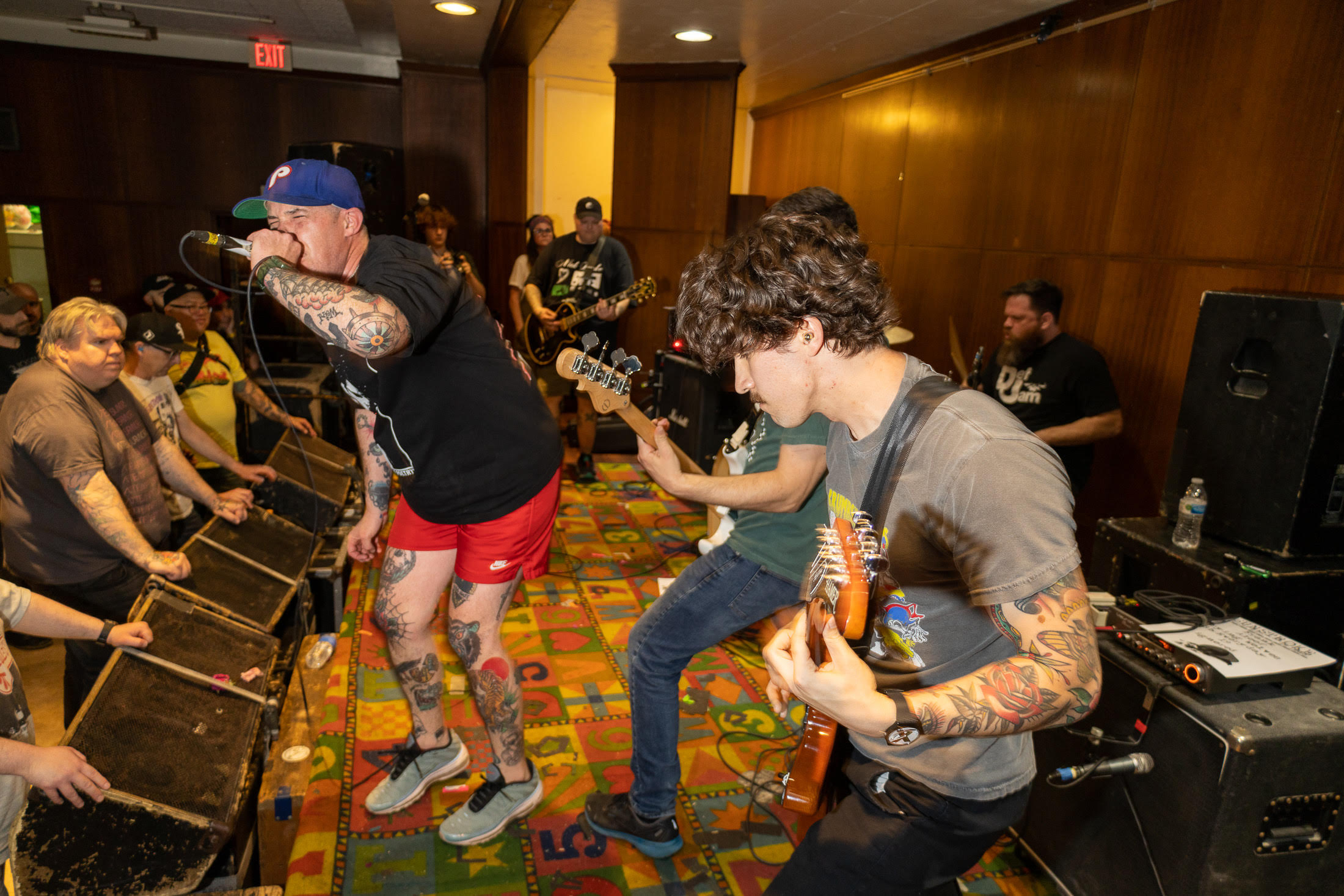 Later this month, fans of melodic hardcore should be on the lookout for a new split EP featuring two of the best bands playing that style right now: Sunstroke and Bent Blue.
Philadelphia's Sunstroke first landed on my radar via their Second Floor / Seven EP in 2018, bringing forth a sound that is melancholic and tough at the same time, their songs always frothing with catchy lines in both the vocals and guitars. Each of their subsequent releases have delivered the goods.
Bent Blue come out of San Diego and share Sunstroke's penchant for melody and driving arrangements that get stuck in your head. Their Where Do Ripples Go? was one of my personal favorite hardcore records of last year.
Fittingly, the Sunstroke x Bent Blue EP will be a co-release between WAR Records and New Morality Zine. Both bands recorded cover songs for the EP, with Sunstroke taking on "Salvation" from the Cranberries, and Bent Blue putting their spin on One Last Wish's "Shades of Strength."
In advance of the EP's release, I spoke with the vocalists of both Sunstroke and Bent Blue, Sean Farlow and Tony Bertolino, respectively.
As a bonus, the labels have sent me a track from each band to get you psyched for the release.
Sunstroke recently released a standalone cover of Dramarama's "Anything, Anything," and now you're taking on Cranberries' "Salvation" on this new split. While both songs had big success at radio, they are very different from each other.
(Sean Farlow, Sunstroke): We select songs that we like, and that we think we could pull off stylistically. "Salvation" is a fun one, and kind of an accidental straight edge song. We all love the Cranberries, and thought out of their catalog, this one made the most sense. Matt from the band Kill Lincoln played the saxes on it!
Tony, before coming together for this split release, what was your connection to Sunstroke? Have you guys shared live bills before?
(Tony Bertolino, Bent Blue): Sean and I were introduced through Indy Powers (Coin Toss Records) early on in the Pandemic. Being on opposite coasts, we've yet to share a bill, although there have been a few attempts. In fact, we've yet to meet IRL, which is wild because I consider Sean a homie. Over the past few years we've helped each other out with various projects and ideas we've individually worked on.
What is it about Sunstroke and their sound that you felt was a great fit for this collaboration?
(Tony): Sunstroke is a cool band, straight up. I was heavily into '80s DC hardcore when I first discovered Sunstroke in 2019, and I specifically remember thinking, holy shit, like these guys actually have that DC sound I had originally hoped Bent Blue could arrive at.
Sunstroke got this really cool sonic blend of Hüsker Dü and Dag Nasty that I fuck with. Being that Bent Blue and Sunstroke share a similar space in hardcore, we thought it would be cool to do a split where both bands could introduce one another to the opposite coast.
How about you, Sean, how did you first come across Bent Blue and their music, and what was it about them that made you a fan?
(Sean): In 2020, after their demo dropped, and I was in full lockdown mode, my friend Indy Powers sent me the demo, and he was the original person who suggested we do a split, over a couple months, I got tight with Tony and we started throwing tougher ideas.
We both had recorded some songs that eventually got released elsewhere that were originally intended for the split, but this final version felt right, and complete and I'm happy with how each bands side came out.
I think people tend to lump us together, and we're both sonically within the melodic hardcore spectrum, but I feel the split kinda shows how different we can sound from one another.
Bent Blue covers "Three Unkind Silences" on the split, which was originally written and recorded by One Last Wish back in the mid-'80s. Like Sean just said, that DC-bred, emotive style of hardcore is a sound that comes up a lot when people discuss Bent Blue and Sunstroke.
(Tony): One Last Wish is my favorite band to come out of the mid-'80s Dischord Revolution Summer family tree. The record feels like a time-capsule from an era where everything was super important and it's got this energy of epic immediacy that feels like a flashbang.
One Last Wish was only around for a year and the record wasn't released for another decade-and-a-half, so I also feel like it's a band that doesn't get the flowers it deserves.
I remember hearing the guitar tone on "My Better Half" for the first time and being absolutely floored. I'm also a big fan of Rites of Spring, but Guy's lyrics on the One Last Wish record are on another level for me. I envy his ability to write beautiful, observant poetry that also bites your head off.
Bent Blue has been referred to as a band that references the Revolution Summer sound from that era, and I think it's because of records like this; records that have what I find to be melodic and musically interesting, but that still pack a punch in their message. "Three Unkind Silences" is one of those kinds of songs and as a band we wanted to pay homage to the kinds of bands that inspired us when we first started writing together.
This is a joint release between New Morality Zine and WAR Records. Tell me a bit about your connection to both labels and how this project came to be.
(Sean): NMZ has been a label we've done releases with since our first physical record, and has been one of the best labels to be a part of, Nick [Acosta] has become a great friend.
WAR has put out some of our friend's records, and I knew Bent Blue had released their demo and their 12-inch EP through WAR, and WAR was also a label that seemed like they were rooting for bands to do well, even if they weren't on their label, and I love to see that kind of energy.
Each label was down to do the split, and keep it a limited release, which is something we always dig. One press, and done. When it's gone, it's gone!
***
The Sunstroke x Bent Blue split EP will be out on June 30th via WAR Records (pre-order) and New Morality Zine (pre-order).
***