If you managed to survive the arid and apocalyptic brutality that was 2016's Sonoran Derivation, prepare yourself for another equally daunting trek through unforgiving terrain. The mighty Gatecreeper have returned with their second LP, again on stalwart Relapse Records.
The band continue to embrace the scorched earth aesthetic and of their home in the barrens of Southern Arizona with the double entendre-baiting Deserted.
Co-produced by the band in tandem with engineer Ryan Bram and mixed by Kurt Ballou, Gatecreeper haven't just managed to sidestep the sophomore slump… they've dismantled and enkindled the entire thought.
In much the same way their opening gambit was an economical blast of Stockholm meets old-school death metal meets hardcore delivery, their singular take on the genre continues to burst and bloom, albeit into putrescence and rot.
Of particular interest to readers of No Echo would be the clear hardcore through-line from Gatecreeper's earliest offerings. Though clearly and firmly planted in the realm of all things DM, they've curiously always felt like one of "our" bands. Whether on the road with Full of Hell or Nails, they've never felt more than a sidestep from the VFW. Much like their southern pals and past tour mates Power Trip, they've managed to bridge disparate audiences from the jump, appealing as much to "died in the wool" hXc kids as they do to the perpetually cross armed heshers and aging Anthrax fans.
Though the similarities don't stop here, they're embraced in a manner similar to hardcore's original death metal co-signees Obituary. Due in part to their genre-mashing tours with the likes of Agnostic Front, it was also their basic, militaristic chug that appealed to both sides of the once so clearly defined picket lines between genres. The effect of these kicked open doors is still felt today, as acts continue to cross the threshold they helped build. As the zeitgeist continues to skew ever heavier, Gatecreeper sit gladly in the blurred line aesthetics brazenly laid by the Brothers Tardy.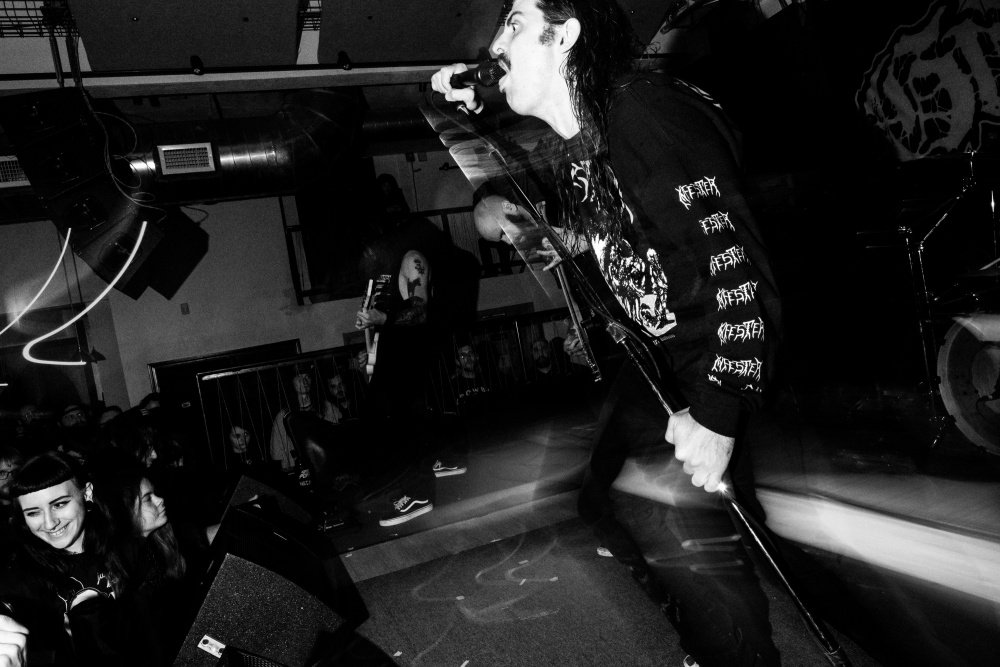 Everything that devastated on their debut is still here, but vocalist Chase H. Mason and gang seem absolutely possessed, resigning themselves to haunting seven churches in the guise of a hardcore band. The aforementioned mustachioed madman is in his finest form, this being the blackened counterpart to his soaring and, uhhh, spirited work in Spirit Adrift, with whom he somehow managed to find time to help pen yet another AOTY contender. The game here isn't simply limited to the devilish belch and guttural utterances of classic old-school death metal. It's Boone's by the "non" performative menace oft achieved only by the grizzliest of street-ready hardcore bands.
Not content with the backward glance or classic aping achieved by many of their contemporaries, they mine the past for but a partial roadmap. The Arizona metallers instead deconstruct and rebuild the very formula, leaving skin-riddled hooks that'll stay with you long after even the initial waxen spin. The 10 tracks here (plus a bonus track for buyers) are plucked and skinned of any excess moments. Let's dive into the flawless form of the predators themselves.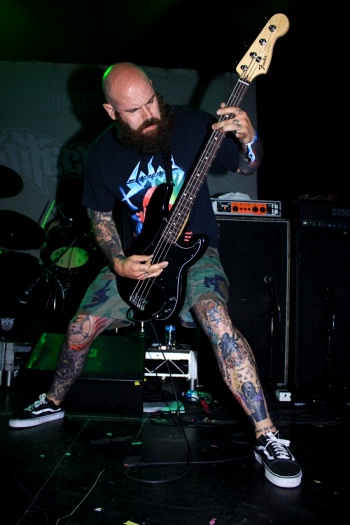 "Deserted" fires first, it's impressive lurch and stomp befitting of a title track. As a table setter, it's nigh impossible to upgrade from Gatecreeper's Bolt Thrower and Asphyx powered tank engine. They mangle ears with impossibly thick buzzsaw guitars, chest-thumping double bass, and an undeniable groove. The squealing storm of riffs that follow in "Puncture Wounds" are the perfect match for an increased rhythmic dexterity. The bass and drums vacillate effortlessly between 4/4 dominance and double blasts with song-serving fills, the effect of which is dizzyingly impressive.
Mason and company's greatest artistic leap is found on the third track. "From the Ashes" is, by their standards at least, uber melodic, with multiple hooks lobbying to be the most rotten of earworms. Employing their "trim the fat" approach, we're left with the skeletal remains of a killer death metal song that's anthemic by any metrics. There's an absolutely crushing low-end moment that's punctuated by what feels like a sonic implosion at the 2:30 mark. The final 45 seconds are a masterclass in catchy death metal a la Heartwork guitar runs and floor tom insanity that toy menacingly with the listener. This is ultimately the first highwater mark in times of flood… a trembling, towering anthem that only proves there's gold in them thar (Southwestern) hills.
The following track, "Ruthless," is a filthy number called to class with but a single putrid plucked bass note. The death chop ferocity of the guitars is matched note for note drums by the drums and their sinister bond gives off the sense of being stalked by the band itself.
"Everlasting" is trumpeted into existence with a skittering start stop riff that announces the LP's midway point. As if joining the ante pot into the race for album's catchiest moment, the chorus is already deeply rooted into my battered brain. The infectious grooves (groan) then descend into their now trademark mid-paced punishment. Mason's register, though generally living in the same desolated cavern, absolutely explodes after the 2-minute mark, culminating into what's arguably the album's most surprising and exhilarating moment.
Again showcasing their greatest talent, here they manage to shoehorn the cathciest fucking guitar runs, the song ending with what could have been another equally memorable moment if they wished. Gatecreeper's fleeting moments are chock full of mouth-watering passages of instrumentation that could just as easily be lesser bands entire songs.
Winning the album's award for truth in advertising is the aptly named "Barbaric Pleasures." It feels like the sonic equivalent to taking ravenous delight in self-flagellation all while traversing high desert. Reveling in torment, there's a particularly muscular feel to this one. Inhabiting similar territory to Hail of Bullets on their underappreciated run, they're far too tight to run off course yet still feels dangerous enough to go off the rails at any moment. Fulfilling my love affair with nonverbal exhortations, "Sweltering Madness Spewed" starts their EP callback with the admittedly difficult to spell "blegh."
Gatecreeper inject a swaggering and creepy sensibility that conjures images of the cruel and unforgiving climes from which they proudly hail. The circling buzzards and solitary organ pipe cacti give way to the most fiery of moments. Case in point is most clearly the bending cruelty of a riff around 1:45. It's the moments between being pummeled that elevate Deserted to such great heights. One can only guess that they've digested a litany of classic crust and D-beat. Ending with the album's best placed pick slide, they've littered the LP with indispensable accoutrements.
The boiling point is "Boiled Over." Lyrically, the logical extension to SSD's classic ode to unchecked anger, Gatecreeper's sonic take features a killer sludge riff a la NOLA's ugliest alumni. In what is far and away my favorite vocal performance of the entire LP, they've heated the death metal stock in their stew long enough to melt skin.
"In Chains" finds them on equally fine form, as this late album banger acts as a tour de malice, exhibiting what treasures the 10,000 Hour Rule can yield. In just over three minutes, Gatecreeper achieve what most bands need an album to. A mini epic in scope, it leaps from a killer sidewinder riff and pick slides into an absolutely monstrous chug. The track's penultimate moment is a noise-heavy climbing solo that reaches for light from the depths of a canyon.
"Absence of Light" suffocates all remaining hope. Much like Metallica's early penchant for track 8 instrumentals, Gatecreeper save the closer for a doom-laden bookend. In much the same way Pig Destroyer's Mass & Volume EP showcased another angle of unexpected sharpness, Gatecreeper excel at every speed. They're every bit as fulfilling and compelling when playing at half tempo. Were they so inclined, they could go funeral with the best of them. There's a mournful mid-song riff, delicate and soulful, that's reprised as the song fades into oblivion. Alas, we're left in what feels mid-thought, relegated to the tumbleweeds and carrion.
Brutalizing, triumphant, and lean. Look for this on year-end lists come December.
Get It
Tagged: gatecreeper