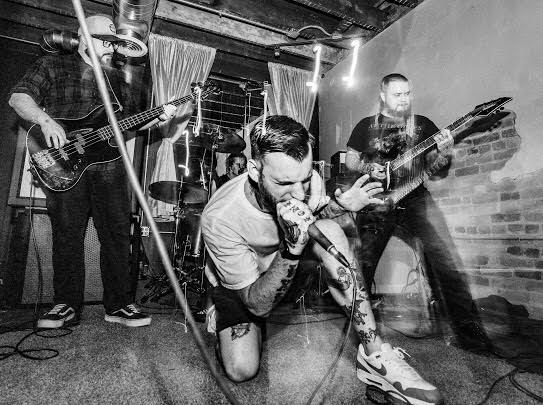 disappear., a 5 piece from Fort Wayne, IN, garnish their own style of rust belt hardcore with all the best parts of the late '90s and '00s. Forming in the summer of 2018, the group is made up of Jared Madigan (guitar/backing vocals), Mark Alan Bradley (vocals), Mickey T. Craft (guitar/backing vocals), Tristan Wright (drums), and Ian Haas (bass).
Currently part of a revitalizing scene just over two hours from Indianapolis, disappear.'s self-released full-length, Momentum, drops today and includes re-recorded versions of their earlier demos and an additional 4 new tracks. Full of crushing riffs, feedback, growling vocals and even movie samples; Momentum is as a solid DIY effort as they come. The album was recorded, mixed and mastered by guitar player Mickey T. Craft who also did the layout. Artwork was provided by Kursty Loathsome from Ohio band, Abraxas.
The opening track, "The Slip," is a strong beginning that starts with a hair-raising sermon and the record ends in a similar fashion with the majestic animal rights anthem "Conveyor." Other notable tracks are "Boiling Point," and my personal favorite, "Obedience Training."
Here is what disappear. vocalist Mark has to say about the record: "The album cover is an amalgamation of all the concepts in this record rolled into one image. The shattered glass represents both the fragility of a person's mental state and the idea of movement or 'momentum.' The record touches on a few broad topics from animal rights to mental health with a bit of political activism.
"This is a love letter, a declaration that we are more than our stress, anxiety, depression etc. we don't have to let these things define us. My hope is something on this record reaches one person, then I'll feel like I accomplished something."
Follow disappear. on their social media pages (Facebook, Instagram) and catch them on the dates below.
Upcoming disappear. shows:
8/2 Fort Wayne, IN - The Ruin
8/3 Muncie, IN - The Crawlspace
8/30 Fort Wayne, IN - The Brass Rail
9/28 Saint Louis,Mo - Fubar (New Age Midwest Fest w/ Redbait, Treason, and more)
***
If you dig No Echo, you can donate a few bucks to help with the site's operating costs:
Tagged: disappear