In roughly 20 years of booking shows, this has been by far the most difficult event I have ever been part of planning. I wish that was an understatement. More about that later.
To us kids in Redbait, New Age 30 (2018) was the greatest show we had ever played. We made so many new friends, and reconnected with old ones. There were zero fights during 20 sets. Strife, Trial, Mouthpiece, A Chorus of Disapproval, Mean Season, Countervail, Hellfire Trigger, and Collateral Damage reunited for the event.
We left California inspired. In fact, we were so inspired that we (Redbait) put together our first fest by committee: a fundraiser for Tenth Life Cat Rescue called Kitty Fest 2019. "KF19" was so much fun that we volunteered to organize "New Age Midwest," a showcase of New Age bands and some other bands we love and respect from the hardcore community. For those of us with back stories of being the one or two oddballs in small Midwestern towns, community has always been what we have strived to find. In my experiences with New Age Records, the bands' love of community has been the common thread, above identity or geography or gain.
As soon as the event was announced on No Echo in May of 2019, bands not on the label began contacting us with interest to play. This was a great sign. First, however, all bands currently and formerly on New Age bands had first dibs. Secondly, depending on the number of NA alumni who confirmed, representation had to be assessed. Gender and ethnic identity being represented onstage is paramount. If our community espouses unity and diversity, then we better damned well back it up by intentionally making equitable space.
Then, geography played its part. We know what California has to say, so let's hear from Alabama. The final lineup is as follows:
New Age Midwest at FUBAR (3108 Locust St, St Louis, MO) in St. Louis on Sept. 28:
Mean Season (Orange County, CA)
Decline (Chicago, IL)
Treason (Cincinnati, OH)
The Dividing Line (Philadelphia, PA)
Redbait (St Louis, MO)
Extricate (Orange County, CA)
Dying For It (Redding, CA)
Life Force (Houston, TX)
Heel Turn (Huntsville, AL)
Disappear. (Fort Wayne, IN)
Abraxas (Cincinnati, OH)
Thirdface (Nashville, TN)
True Self (Springfield, MO)
Kill Their Past (St Louis, MO)
Brute Force (St Louis, MO)
Friday night pre-show party at The Record Space (8716 Gravois Rd, St Louis, MO) on Sept. 27:
Gangstalker (Milwaulkee, WI)
xPaddingtonx (Cincinnati, OH)
Prevention (Springfield, IL)
Bastard Squad (St Louis, MO)
Placeholder (St Louis, MO)
Here is what you can expect. There will be some legendary figures of hardcore music present. A metric ton of merch will be present. Food will be available, and it will all be vegan. Everyone can eat food when it's vegan. Hate5Six will be returning to St Louis to film the sets.
Not bad at all, eh? So, here is where the aneurysms enter the picture. Please, allow me to share some lessons I learned during my portion of the planning of this event.
Everyone we know was really interested in which legendary New Age bands would reunite for this event, especially after all the press and photos and Hate5Six videos from NA30. The peer pressure to persuade alumni to make appearances was crushing. In the end, we have to admit that we faced a lot of rejection, and rightly so.
Historically, the lifespan of the average (and above average) hardcore band is rarely longer than a few years. Aside from Bane and 7 Seconds, hardcore bands tend not to last long. Bands also usually split up for a good reason. Sometimes a prominent member moves away. Sometimes, so-and-so breaks edge. Sometimes, sexual misconduct comes to light. Sometimes, we end up hating each other.
Yet, for reasons unknown, reunions are so common in these modern times that the recent environment contains an expectation that bands simply never break up.
Allow me to give an example. We received numerous requests for one of my old bands, 7 Generations, to play New Age Midwest. Personally, I would have loved this. I love my former bandmates and would go to great lengths to spend a few days together practicing, catching up, enjoying each other's company, and playing a set. However, one of us lives in St Louis, MO; one in Newport Beach, CA; one in NYC; one in Costa Rica; and one who broke edge and is no longer vegan, so a replacement would need to be found. The resources and effort to make a 25 minute reunion set happen are monumental, regardless of an initial desire to do so.
It should not go unnoticed that bands considered the classics of the golden era of New Age have not made new music since the 1990s. Outspoken's The Current came out in 1994. Chorus of Disapproval's Firm Standing Law in '94, as well. Unbroken's most recent recording was released in 1998. Kill Holiday in '97. Mouthpiece in '95. I don't know about you, but I have zero interest in revisiting music I made 20-25 years ago.
I remember when I was in A18 (aka Amendment Eighteen), offers would come to [New Age Records founder] Mike Hartsfield for Outspoken to play some major show while A18 was still a working band. Mike would lament "I loved Outspoken...but I want to play A18 songs now". At the time, Dennis [Remsing] was in Kill the Messenger. Jae [Hansel] was doing The Twilight Transmission. Sometimes, the glory days just don't have the allure for the players that we fans might expect.
I am hesitant to speak on this last situation. In the mid-2000s, I was in a band on New Age called Hellfire Trigger. In our three-year existence, we played over 200 shows. We also lived and often worked together, doing construction. Band dynamics in such close quarters can be brutally tense. By the time we split up, many of us wanted nothing to do with each other. Since then, the love has returned, and we speak on the regular. However, being around my old friends after such a long hiatus, and playing those old songs together for NA30, emotional memories of the dreaded times came creeping back. It was a feeling of falling backwards in a chair and catching myself.
No matter my current feelings of adoration for the lads, my subconscious kept reminding me of terrible confrontations and palpable tensions. For this reason, when the guys said that a reunion for New Age Midwest was not possible, I did not press the issue. However, the next time HFT wants to do a reunion in California, I will surely commit instantly.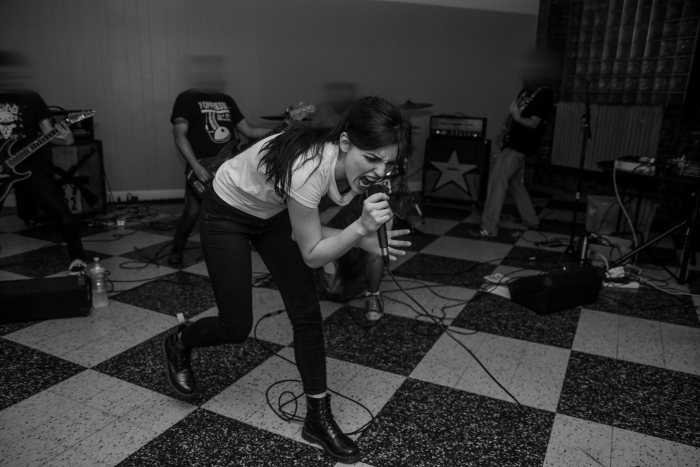 Someday I would love to see a Resurrection or Lifetime reunion, but I have learned not to pursue the issue myself. There are so many working bands out there killing it, I think it is wiser for me to support bands producing music like Mortality Rate, Cross Control, La Armada, Jocko, Inclination, Closet Witch, Terminal Nation, Faim, Clueless, Lifes, Wake of Humanity, Outcast (KY), Stay Wild, Crow Killer, Original State, Xibalba, Safe and Sound, Through n Through, and the bands playing New Age Midwest.
I leaned pretty damned hard on my old friends to play New Age Midwest, and I regret it. When Ressurection and Lifetime are ready to play St Louis, I will be, too.
New Age Midest will happen on Saturday, September 28, 2019 at Fubar, 3108 Locust St, St Louis, MO. It is all ages with a bar.
The Pre-Party will happen on Friday, September 27, 2019 at The Record Space, 8716 Gravois Rd, St Louis, MO. It is a fantastic record store, specializing in vinyl, toys, and movie memorabilia.
Hit the Facebook event page here for more info.
***
If you dig No Echo, you can donate a few bucks to help with the site's operating costs:
Tagged: abraxas, brute force, decline, dying for it, extricate, heel turn, life force, mean season, redbait, the dividing line, treason, true self