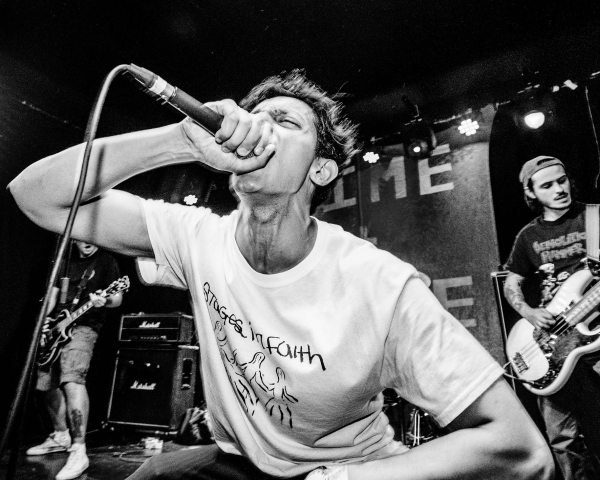 The well-worn and often deceptive adage "truth in advertising" rarely appropriate and even more seldom deserved. Yet, the London-based record label Quality Control HQ has been the overseas embodiment of that exact sentiment since their 2011 inception. Boasting a dazzling discography, the label run by one Ola Herbich has already yielded killer releases from No Tolerance, Big Cheese, Arms Race, Game, Stages in Faith, Pure Disgust, and a solid stable of others.
In what ultimately comprises a large part of what has since become known as the NWOBHC, their present status is equally vital. 2019 has seen the label continue in fine form and I wanted to highlight two of their more current must-listens from the stellar run. Enter two more of England's finest and with them, the chance to breathe the rarified air Quality Control HQ keeps pumping out.
London lads look eastward. Clearly influenced by a heavy dose of late '80s/early '90s NYHC, Mastermind open their Bad Reaction EP with the grand tradition of dubbing an instrumental, uhhh, "intro." Preceding the first track "Hoax," it feels like an exhilarating cracking of their collective knuckles, as it volleys effortlessly between groove-laden Hardcore and thrashing riffs. The lyric free barrage plays like a salvo lending a bit of excitement that you tend get on a first listen, as the wail eventually builds into the meat of the EP.
Blissfully unaware as to what road the vocals will take, Mastermind go far nastier than expected. Much like their stateside contemporaries Combust, Mindforce, and Ekulu; the band adds a burly bellowing frontperson to the proceedings. While there are certainly strains of Killing Time, Breakdown, and Leeway running through their hardcore DNA, they're an integral part of a new wave of upstarts mining the past to build the future.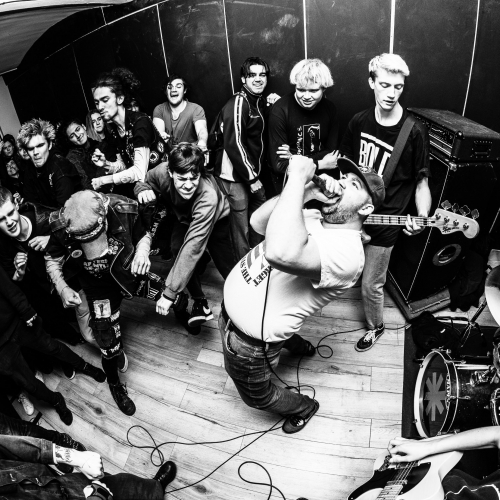 Elsewhere, "Red Handed" and "Nothin' to Lose" destroy in similarly devastating fashion. The former leans on a low slung bass break and ripping solo, while the latter would satisfy fans of Best Wishes-era Cro-Mags, vocal patterns and all. The title track that closes the 7" sounds utterly maniacal, the bellicose vocal delivery gives an unhinged vibe to the proceedings. Among their myriad talents, Mastermind focus heavily on the rhythmic and the drumming here is an absolute masterclass in killer fills. With a devastatingly heavy backdrop, there's a fiery solo impeccably tacked on to Bad Reaction that feels like bombs falling from the heavens, or lack thereof. Essential.
Again informed by the eastern fringes of the US, Payday are a ferocious proposition that also call London home. You'd be forgiven for, after listening, assuming they'd spent their formative years in the Rust Belt.
The straight edge act manage to marry the classic Clevo sound of Integrity circa the Brothers Melnick with the hardscrabble, street ready UK bands that came before them.
Capturing the depressed haze of dead industrial towns, while apropos for Ohio, is equally applicable to those who call "The Smoke" their home. For a brazenly edge band, their nihilistic, pugilistic sense of resignation is a welcome respite from the communal X'ed up sloganeering that plagues lyric sheets the scene over. Though they're likely to garner comparisons to the mighty Integrity, their fascination and mastery of mid-paced terror and D-beat informed hardcore that I more readily hear flecks of Ringworm's unique putridity.
Clearly students of the game, they have elements of the straight ahead and hard charging legends Face Value, The Infamous Gehenna or In Cold Blood. The vocals are impossibly intimidating, again pulling from a thread that, should ya care to pull on it, would yield the deformed brainchild of Dwid, Human Furnace, and Paul Bearer. More recently, they'd fit squarely on a bill with Rot in Hell, Blind to Faith, or Vegas.
Opener "Second to None," and the next song, "Touch Ah Button," lay down the gauntlet in fearsome fashion, dripping with grotesque guitar squeals akin to Dom Romeo who, fittingly, is at the axe helm of the Hellion-led crew. "Whitewash," and its spiritual successor "Whitewash II," are, to these uncultured ears, the highwater mark in an album chock full of them. The first is a sub-90 second ripper that features their secret weapon… impeccably placed backing vocals that are a perfect counterpart to the low register frenzied bark of the frontperson. There are moments of dense chugging, breakdowns, and tar thick basslines.
Part two, as it were, is nearly its equal in brevity. Touring through their faster material, the back half has touches of the mania that makes All Out War so fucking inimitable. As much as they're likely able to play circles around a number of their contemporaries, Payday are a hardcore band… a really good one. There are countless moments deserving of superlatives, but gun to my temple I'd gladly tell you "Final Finesse" is the finest moment on the album. Front-loaded with one of the year's best riffs and ending with a guttural vocal "bleh," finesse is the last word that comes to mind.
Refinement aside, this shit is all pummel.
Head to Quality Control HQ's Bandcamp page to download both releases, or if you prefer vinyl, hit this link.
***
Donate a few bucks to help with No Echo's operating costs:
Tagged: mastermind, payday